Justice Department must turn over secret testimony from Mueller grand jury, court rules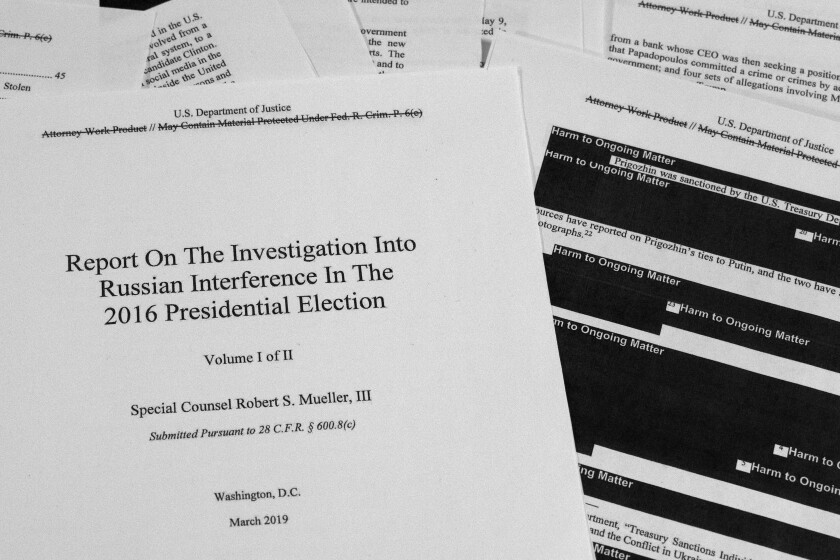 WASHINGTON —
House Democrats won a victory in a court fight to unlock records from Special Counsel Robert Mueller's 22-month probe into Russian interference in the 2016 election.
A federal appeals court in Washington ruled Tuesday that congressional impeachment proceedings met the legal standard for access to confidential materials and transcripts associated with the investigation.
The information at issue had been gathered by the Mueller probe through the grand jury process. Such records typically remain sealed to protect the identity of those who are investigated but not charged, as well as details of ongoing investigations.
The House Judiciary Committee sued to force the records' release in July, claiming it sought access to the information to better understand President Donald Trump's knowledge of and role in events chronicled in Mueller's 448-page report.
U.S. Disrtrict Judge Beryl Howell said in her Oct. 25 ruling, that the judicial nature of the proceeding warranted unsealing a limited range of grand jury information, over the Justice Department's objection.
Joining the 2-1 appeals court decision to affirm Howell's ruling were U.S. Circuit judges Thomas Griffith, a nominee of President George W. Bush and Judith Wilson Rogers, who was named to the court by President Bill Clinton. Trump appointee Neomi Rao dissented.
---
Life is stressful. Our weekly mental wellness newsletter can help.
You may occasionally receive promotional content from the Los Angeles Times.