Two arrested in Georgia as anger builds over shooting of Ahmaud Arbery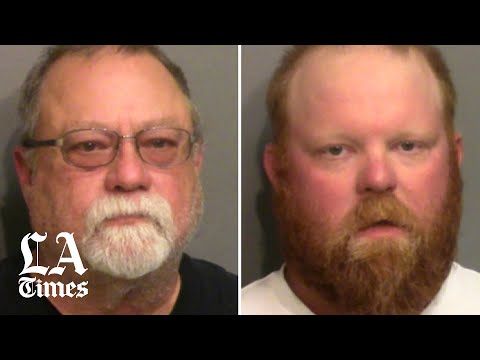 ATLANTA —
Two and a half months after a white father and son fatally shot Ahmaud Arbery, a 25-year-old black man, as he jogged in a Georgia neighborhood, the two men were arrested Thursday and charged with felony murder and aggravated assault.
The Georgia Bureau of Investigation charged Gregory McMichael, 64, and Travis McMichael, 34, of the small coastal city of Brunswick after mounting national criticism of local prosecutors' handling of the case by civil rights activists, celebrities and politicians.
"All that matters is what the facts tell us," Georgia Bureau of Investigation Director Vic Reynolds said Friday, adding: "We came up fairly quickly with the solid belief that there's sufficient cause to charge them with felony murder and aggravated assault."
Arbery was running in the predominantly white Satilla Shores neighborhood of Brunswick on Feb. 23 when he was pursued by Gregory McMichael, a white former police officer, and his son, Travis. They were armed with a shotgun and a .357 magnum.
The confrontation between the men was short. One minute, Arbery was jogging along a sun-dappled street lined with live oak trees draped with Spanish moss. The next, he was chased down by the men in a pickup truck and fatally shot.
Anger at the shooting of the former high school football player, which happened just three days before the anniversary of the 2012 death of Trayvon Martin in Florida, has simmered for months in the blue-collar town of 16,000 residents that is 56% black. But outrage has exploded across the nation this week, with a string of celebrities including basketball player LeBron James and supermodel Naomi Campbell wading into the conflict after a short cellphone video documenting Arbery's killing circulated online.
The graphic 36-second video, taken from inside an unknown vehicle, shows a black man in a white T-shirt and shorts jogging along a leafy residential street when he comes upon a white pickup parked in the middle of the road. A man stands beside the truck's open driver's side door, while another man stands in the truck bed.
After running around the truck on the passenger side, the jogger disappears briefly from view. As a shot rings out, he crosses in front of the truck to tussle with the man on the driver's side over what appears to be a shotgun or rifle. A second shot rings out, and the jogger wrestles with the man. A third shot is fired at point-blank range before the jogger stumbles to the ground.
"Ahmaud Arbery was pursued by three white men that targeted him solely because of his race and murdered him without justification," S. Lee Merritt, a civil rights attorney representing Arbery's mother, said when he shared the video this week. "This is murder."
Reynolds promised that "every stone will be uncovered" in his office's investigation of the killing. But classifying it as a hate crime will be impossible because "there is no hate crime [statute] in Georgia," Reynolds said. "There isn't. It is one of four or five states that doesn't have one."
He added that his bureau is also investigating the man who took the video.
Reynolds held his news conference about 9 a.m. Friday – the same time that thousands of civil rights activists across the nation planned to honor Arbery by lacing up their sneakers and donning workout clothes to take part in a 2.23-mile run and demand his shooters are held to account.
"It took 74 days but Ahmaud Arbery's killers have finally been arrested," Benjamin Crump, an attorney for Arbery's father, Marcus Arbery, said on Twitter. "This murderous father and son took the law into their own hands. Thank you to everyone who has supported us through this pursuit of justice!"
On Tuesday, Georgia's Atlantic Judicial Circuit Dist. Atty. Tom Durden announced that the case would be put before a grand jury for consideration of criminal charges. Because of the coronavirus crisis, the Georgia Supreme Court has declared a statewide judicial emergency and blocked grand juries from meeting until after June 12.
Merritt had said the father and son should be arrested before a grand jury decides whether to indict them — a common practice in criminal cases. He has also called on the U.S. Justice Department to investigate Arbery's death as a hate crime.
According to 911 calls first reported by the Brunswick News, the confrontation began on the afternoon of Feb. 23, a Sunday.
At 1:08 p.m., a man in Satilla Shores called 911 to report "a guy in a house right now, a house under construction."
Asked whether the man was breaking into the property, the caller responded, "No, it's all open, it's under construction."
"He's running right now, and there he goes right now," he said.
"OK, what is he doing?" the dispatcher asked.
"He's running down the street."
"I just need to know what he was doing wrong," the dispatcher said. "Was he just on the premises and not supposed to be?"
The caller did not give a clear answer.
Minutes later, Arbery was shot.
According to a Glynn County police report, Gregory McMichael, a former county police officer and investigator with the Brunswick Judicial Circuit district attorney's office, and his son, Travis, chased Arbery after the elder McMichael spotted him running through Satilla Shores.
McMichael told police that he saw the "suspect" from several recent break-ins "hauling ass" down Satilla Drive. After running into the house to summon his son, McMichael grabbed his .357 magnum and his son grabbed a shotgun.
After unsuccessfully attempting to cut Arbery off, a third man, "Roddy," joined them to try again, McMichael told a police officer.
"Stop, stop," he said they shouted to Arbery. "We want to talk to you."
Then, he told police, his son, Travis, got out of the truck holding a shotgun. Arbery began to "violently attack" Travis, the two men fought over the shotgun, and Travis fired a shot, Gregory McMichael said.
For many black protesters, the case has echoes of the case of Trayvon Martin, the unarmed Florida 17-year-old who was shot in a gated community as he returned from a 7-Eleven after buying iced tea and Skittles. But some have gone so far as to call it a hunt or lynching, one that dredges up the Deep South's long history of white people subjecting black people to racial terrorism.
In the Martin case, the shooter, George Zimmerman, a 29-year-old part-time student and neighborhood watch captain, said Martin attacked him. Civil rights activists, however, complained that officers rushed to excuse Zimmerman because Martin was black and Zimmerman is not.
In the Brunswick case, activists say justice has been hampered by McMichael's connections to local law enforcement.
"Getting justice for Ahmaud has been an uphill battle from the start," according to a website, www.runwithmaud.com, paid for by the Action PAC. "Given the attackers' close relationship with law enforcement, transparency and accountability cannot be taken for granted in any way."
Already, two prosecutors have recused themselves from the case. The first prosecutor, Jackie Johnson, swiftly bowed out on the basis that McMichael was a former employee of her office. The second prosecutor, the district attorney of the Waycross Judicial Circuit, George E. Barnhill, spent more than a month on the case until he ceded to the Arbery family's complaint that his son worked in the prosecutor's office where McMichael used to work.
Before he left the case, though, Barnhill said there was insufficient probable cause to issue arrest warrants against the McMichaels, arguing that they had acted legally under the state's citizen arrest and self-defense statutes.
"We do not see grounds for an arrest of any of the three parties," Barnhill wrote in a letter last month to Capt. Tom Jump of the Glynn County Police Department.
In his letter, he mentioned a third man, Bryan William, whom the family's attorneys have identified as the "Roddy" mentioned in the police report.
"It appears Travis McMichael, Greg McMichael and Bryan William were following, in 'hot pursuit,' a burglary suspect, with solid first hand probable cause, in their neighborhood, and asking/telling him to stop," Barnhill said. "It appears their intent was to stop and hold this criminal suspect until law enforcement arrived. Under Georgia Law this is perfectly legal."
At a video news conference Wednesday, Arbery's mother, Wanda Cooper Jones, said she believed her son "was just out for his daily jog," and she called for the immediate arrest of the McMichaels.
She also said she could not bring herself to watch the video.
"I saw my son come into the world," she said. "And seeing him leave the world, it's not something that I'll want to see ever."
Sign up for Essential California for the L.A. Times biggest news, features and recommendations in your inbox six days a week.
You may occasionally receive promotional content from the Los Angeles Times.