China approves national security law for Hong Kong against threats of U.S. retaliation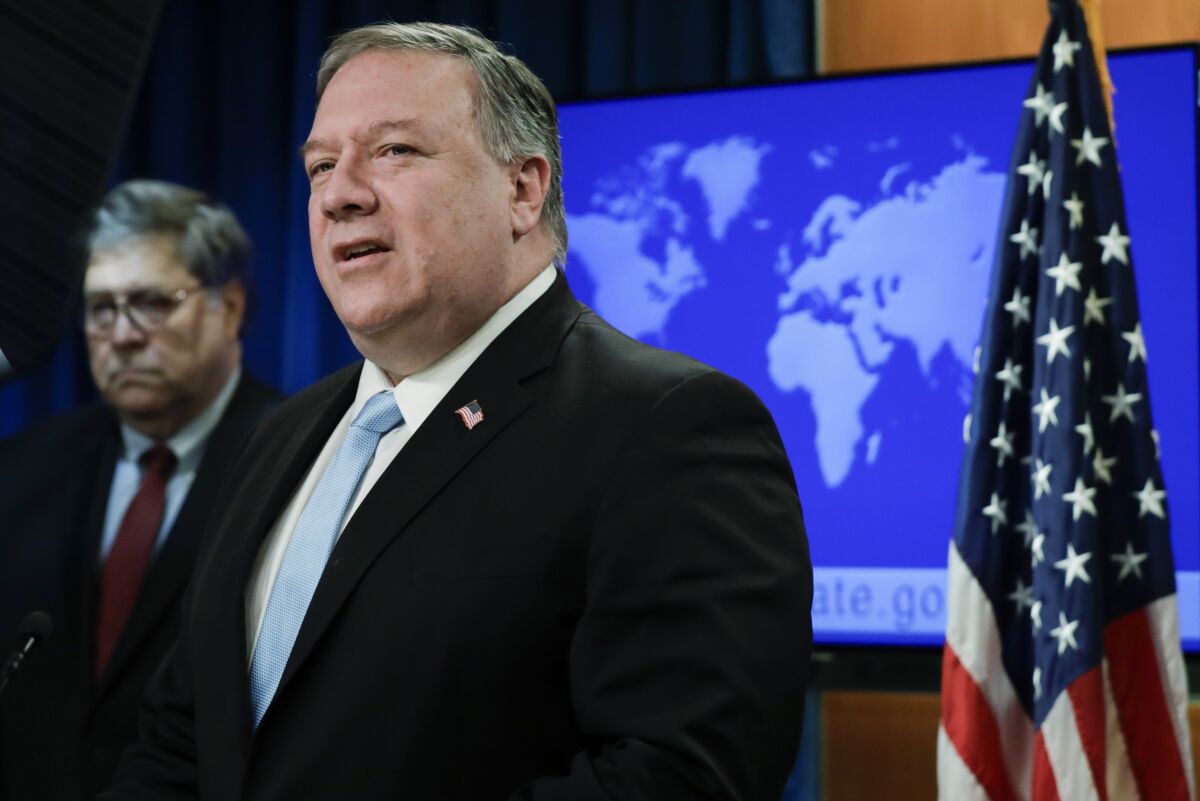 SINGAPORE —
China approved a sweeping new national security law for Hong Kong Tuesday aimed at crushing dissent in a city where millions protested the past year demanding greater autonomy from Beijing.
The law drastically changes the complexion of Hong Kong society, which has long enjoyed special freedoms absent from the mainland that for decades have contributed to the city's status as a global financial hub and a cosmopolitan redoubt for expats.
"Beijing has passed the sweeping #nationalsecuritylaw. It marks the end of Hong Kong that the world knew before," tweeted Joshua Wong, Hong Kong's most recognizable opposition figure.
The unanimous passage of the law by China's top legislature veers Beijing's relationship with other major powers into deeper uncertainty. In just the past few months, China has taken a more confrontational nationalist stance with Taiwan, India, Australia and what analysts are calling a new Cold War with the U.S.
In anticipation of the law, U.S. Secretary of State Michael R. Pompeo announced Monday the U.S. would restrict exports of defense equipment to Hong Kong: "The Chinese Communist Party's decision to eviscerate Hong Kong's freedoms has forced the Trump Administration to re-evaluate its policies toward the territory," Pompeo said in a statement.
China and Hong Kong could still face stiffer penalties for the law, which comes at a time when the Communist Party is determined to bring the semiautonomous city more tightly into Beijing's orbit.
The State Department told Congress in May that Hong Kong was no longer autonomous from China, a move that could threaten the city's special trading status with the U.S. and curtail its image as a freewheeling metropolis. The new law reportedly goes into effect starting Wednesday, the 23rd anniversary of the 1997 handover of the former British colony to China.
Mounting fear in Hong Kong centers on how the law will topple the firewall that separates the city of over 7 million with the mainland. Unlike Hong Kong's British-style common law, China wields its laws arbitrarily to silence any opposition to the ruling Chinese Communist Party.
Hong Kongers are accustomed to the inherent landmarks of Western societies, such as freedom of speech, freedom of assembly and an independent press. The law, which targets acts of secession, subversion, terrorism and collusion with foreign forces to endanger national security, will have a chilling effect on all forms of dissent against China, critics say.
Its passage permits China's domestic spy agency to officially establish offices and jurisdiction in Hong Kong.
Few, if any, of Hong Kong's leaders were privy to the details of the law — highlighting Chinese President Xi Jinping's increasingly autocratic rule and his desire to stem a pro-democracy movement that has unnerved Beijing at a time Xi is seeking to expand his nation's global influence. The move is also an indication Xi wants to bypass Hong Kong authorities and run the city with agencies and officials more closely linked to the mainland.
Democracy activists in Hong Kong are still trying to determine if the law will be applied retroactively. Many in Hong Kong say they've been deleting their social media accounts to hide support of the protest movement. Others are making plans to emigrate overseas.
Members of Hong Kong's opposition parties are also unclear if their public support for greater autonomy will disqualify them from seeking office.
"It is clear that from today Hong Kong has changed permanently, and perhaps most alarmingly of all is that no one — including our most senior government officials — yet knows precisely in what way," said Antony Dapiran, a lawyer and author of "City on Fire: The Fight For Hong Kong."
Hong Kong's chief executive, Carrie Lam, has said the law will only target a small minority of criminals.
Hong Kong was supposed to maintain a high degree of autonomy from China for 50 years after the British returned the colony in 1997 under a special one-country, two-systems arrangement.
Beijing has reinterpreted that agreement as it's grown frustrated over its inability to coerce Hong Kong's population to submit to its rule. A bid in 2003 to impose a national security law was scrapped because of protests. Later, a patriotic education initiative was blocked by massive opposition.
Major protest movements erupted in 2014 and 2019, paralyzing swaths of the city and driving a wedge between supporters of Beijing and those that wanted greater autonomy — a split that often appeared along generational lines.
A recent poll by Reuters showed support for the protest movement waning. However, 49% of respondents said they very much opposed the national security law while 27% said they very much supported it.
The new national security law was implemented because it bypassed Hong Kong's mini constitution, known as the Basic Law.
What role Hong Kong's courts will have in upholding the law remains unclear. The city's business community could now be subject to the same arbitrary application of national security rules that exist across the border in China.
With the firewall gone, experts say that could accelerate a shift of corporate headquarters out of Hong Kong to Singapore and cities in the mainland such as Shenzhen and Shanghai.
Though Hong Kong represents just a fraction of China's economy compared to the past, the financial center still serves as a vital source of capital and foreign currency since Beijing has yet to make the yuan fully convertible.
Must-read stories from the L.A. Times
Get the day's top news with our Today's Headlines newsletter, sent every weekday morning.
You may occasionally receive promotional content from the Los Angeles Times.