Israel delays West Bank annexation plan, as British prime minister joins in condemnation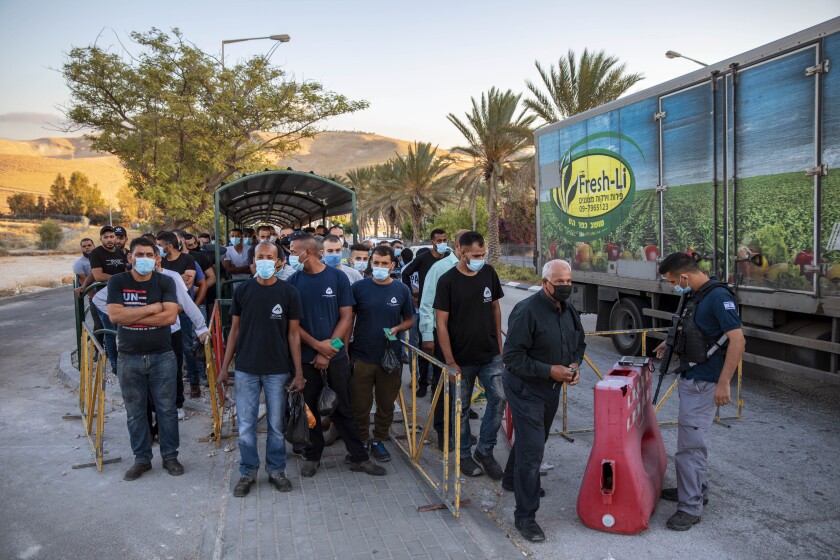 JERUSALEM —
Israeli Prime Minister Benjamin Netanyahu's planned annexation of parts of the occupied West Bank was scheduled to start Wednesday, but instead it faced delays and a growing chorus of international condemnation from some of Israel's closest allies, including British Prime Minister Boris Johnson.
The developments cast further uncertainty over whether Israel will ultimately follow through on the explosive annexation initiative.
Speaking on Israel's Army Radio station, Cabinet minister Ofir Akunis, a Netanyahu confidant, confirmed that the annexation process would not begin Wednesday, saying that officials were still working out the final details with their U.S. counterparts. He said he expected the annexation to take place later in July.
"Coordination with the American administration is not something that can be dismissed," he said.
Netanyahu had aimed to start the process by Wednesday, saying he wants to begin annexing West Bank territory in line with President Trump's Mideast plan.
The prime minister's office issued a statement saying that Netanyahu held discussions Wednesday with American diplomats and Israeli defense officials on the issue of annexation, and that "additional discussions will be held in the coming days."
The plan, unveiled in January, envisions bringing some 30% of the territory under permanent Israeli control, while giving the Palestinians limited autonomy in carved-up pockets of the remaining land.
But the plan to redraw the Mideast map has come under fierce international criticism.
Johnson, in a front-page op-ed Wednesday in the Israeli daily Yediot Aharonot, urged Israel not to pursue annexation, calling it a violation of international law.
"As a life-long friend, admirer and supporter of Israel, I am fearful that these proposals will fail in their objective of securing Israel's borders and will be contrary to Israel's own long-term interests," the British prime minister wrote.
In addition, the United Nations secretary-general, the European Union and key Arab countries have all said Israeli annexation would violate international law and undermine the goal of establishing a viable independent Palestinian state alongside Israel. The Palestinians, who seek all of the West Bank as part of a future state, have rejected the Trump plan.
Israel captured the West Bank from Jordan in the 1967 Mideast war. The international community considers the territory to be occupied and Israel's more than 120 settlements to be illegal.
Hoping to prevent annexation of the West Bank, Palestinians look to international allies, Israeli politics and the lack of a mandate from President Trump.
But Trump has taken a far more conciliatory line than his Republican and Democratic predecessors. Netanyahu, a close ally of Trump, has said Israel must take advantage of what he calls a "historic opportunity," and is eager to move forward before the November U.S. presidential election.
Palestinian officials have condemned the annexation plan. They contend that it would make an independent Palestinian state nonviable.
In an unsourced report, Israel's public broadcaster Kan published a graphic Tuesday showing what it said were proposed Israeli modifications to the initial annexation map put forth by the Trump administration.
The map calls for turning over additional West Bank territory allocated to the Palestinians, specifically land surrounding settlements and highways. In return, it proposes "compensating" the Palestinians with territory that the Trump proposal had allocated to Israel.
Israel's Channel 12 TV reported that American negotiators are asking Israel to make "a significant step" as a gesture to the Palestinians, such as handing over West Bank territory to Palestinian control comparable to that annexed. Israel currently has full control over 60% of the West Bank. That report also was unsourced.
Many Jewish settlers in the West Bank aren't thrilled with President Trump's new peace plan, even though it favors them over the Palestinians.
Netanyahu says his goal of annexing all the settlements, as well as the strategic Jordan Valley, is necessary to protect Israeli security. He also has defended it in religious terms, saying the territories are part of the biblical land of Israel.
Besides international opposition, Netanyahu has encountered some resistance from his governing partner, Defense Minister Benny Gantz.
The coalition agreement for their new government, which took office in May, gives Netanyahu the authority to present an annexation proposal after Wednesday. But U.S. officials have said they do not want to move forward with a plan unless Netanyahu and Gantz are in agreement.
Gantz, who also holds the title of alternate prime minister, said Monday that the July 1 target date was not "sacred." He also said that annexation "will wait" while the government grapples with the health and economic crisis caused by the coronavirus.
---
Must-read stories from the L.A. Times
Get the day's top news with our Today's Headlines newsletter, sent every weekday morning.
You may occasionally receive promotional content from the Los Angeles Times.