Seoul Mayor Park Won-soon found dead after extensive police search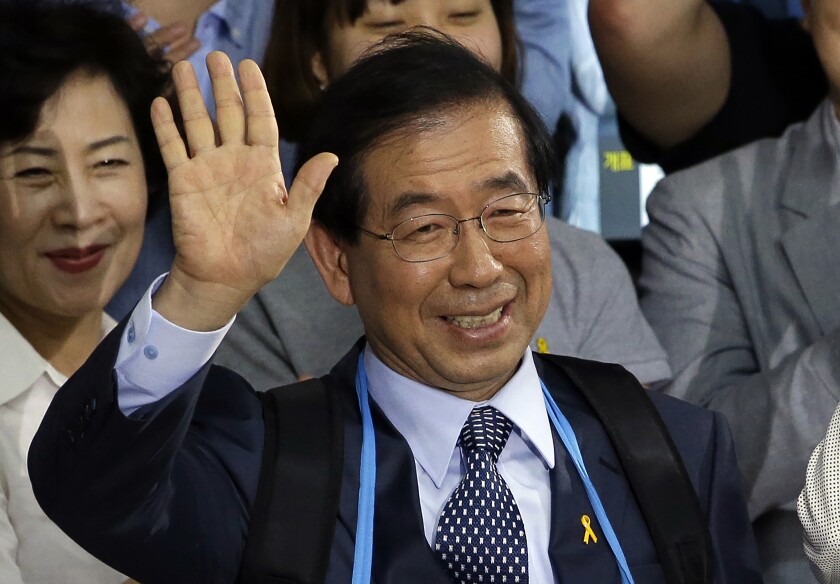 SEOUL —
Park Won-soon, the mayor of South Korea's capital, Seoul, and an often-discussed presidential contender who was recently accused of sexual harassment, was found dead early Friday by apparent suicide, police said.
Park — in his third term as mayor of the metropolis of nearly 10 million — was discovered seven hours after he was reported missing by his daughter. She said she was unable to reach him after a phone conversation in which he made comments that sounded like final remarks. He was found by rescue workers in a park in the northern part of Seoul just after midnight.
Police declined to give an exact cause of death, saying there were no immediate indications of foul play and that the investigation was ongoing. They said no note had been found.
Park's death came a day after a former secretary went to police with reports of being sexually harassed while working for the mayor. The secretary told police she had been harassed and assaulted beginning in 2017, according to several local media reports. A police spokesman confirmed they were investigating the report.
Park Won-soon first visited Los Angeles many years ago as a young civic activist, visiting thrift stores and the L.A.
Hundreds of emergency workers using drones and search dogs combed a hillside park along the Seoul city wall for hours in search of the mayor late Thursday. He was captured on security cameras entering the park shortly before 11 a.m.
A longtime liberal stalwart who was imprisoned and expelled as a college student in the 1970s for protesting against authoritarian rule in South Korea, Park, 64, rose to become one of the most powerful politicians in the country. As a human rights attorney and social justice activist, he worked against political corruption and income inequality.
In 1993, he was one of the attorneys who brought South Korea's first-ever civil lawsuit for sexual harassment, on behalf of a teaching assistant at Seoul National University, winning a verdict for the victim after a six-year court fight.
He was first elected Seoul mayor in 2011 and focused on environment and housing policies. In 2018, he and his wife lived for a month in a cramped, rooftop home in a poor part of the city, saying he wanted to experience the daily life of less privileged citizens.
Park was a vocal advocate for the widespread protests against then-President Park Geun-hye in 2016 and 2017 amid a political corruption scandal that resulted in her impeachment.
South Korea, which has the highest rate of suicides among members of the Organization for Economic Cooperation and Development, a group of developed nations, has had past instances of high-profile politicians taking their own lives amid scandal. Former president Roh Moo-hyun leapt to his death in 2009 after leaving office in the midst of a bribery investigation involving family members.
North Korea's destruction of a 'useless' inter-Korean liaison office just inside its border with the South has boosted tensions on the peninsula.
---
Must-read stories from the L.A. Times
Get the day's top news with our Today's Headlines newsletter, sent every weekday morning.
You may occasionally receive promotional content from the Los Angeles Times.