Portland protesters showered by tear gas again — and with solidarity from across the U.S.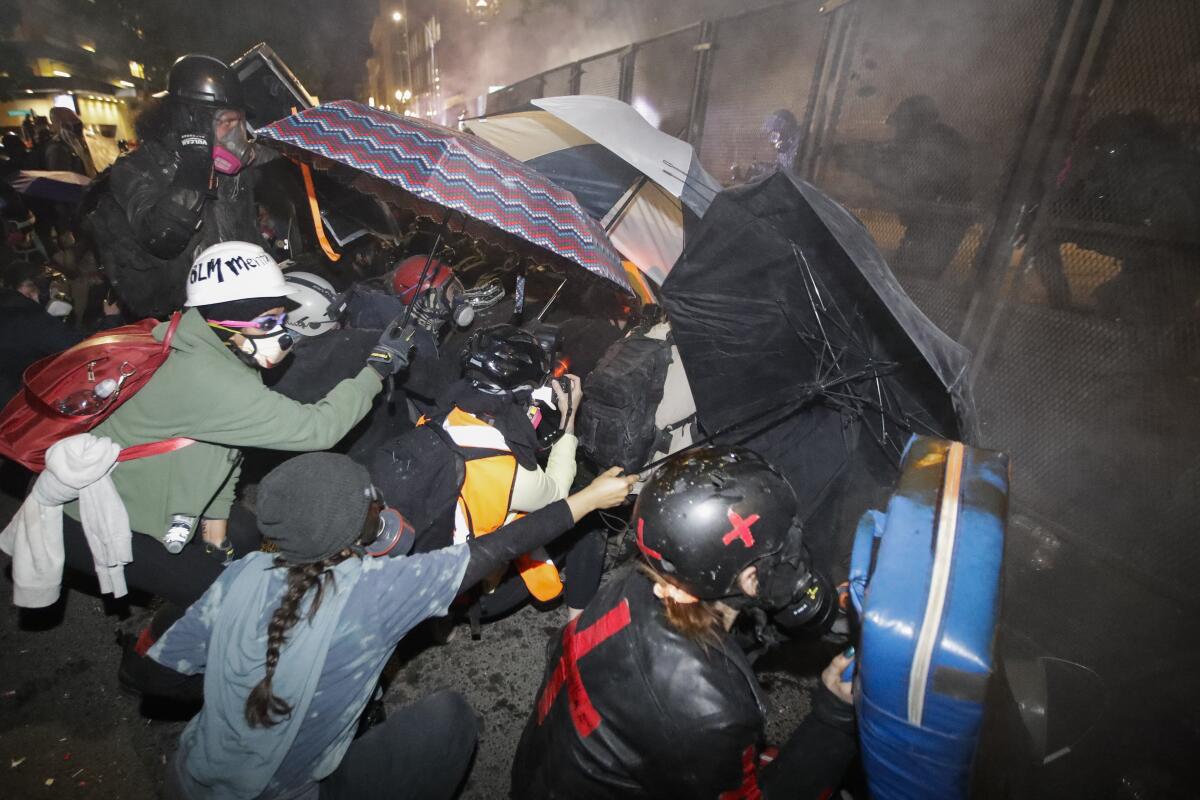 PORTLAND, Ore. —
The nightly standoffs in downtown Portland between protesters and federal agents continued early Sunday, with several dozen agents in camouflage deploying tear gas and other munitions as they waded into the streets beyond the federal courthouse to push back demonstrators who authorities said had breached a fence.
The confrontation was one of several nationwide over the weekend, including in Seattle, Austin, Texas, and downtown Los Angeles, sparked by anger over police brutality and by President Trump's recent orders to send federal agents into cities around the U.S. to address ongoing protests.
In Seattle, the situation turned violent and according to the Associated Press, 21 officers suffered minor injuries and 40 arrests were made.
In downtown Portland, several thousand protesters from all walks of life came to the federal courthouse to show support for the Black Lives Matter movement, including teachers, Portland-area healthcare workers and LGBTQ allies. But after several hours, authorities declared it to be a riot, saying that some in the crowd had torn down fencing at the perimeter of the courthouse and were creating a "grave risk of public alarm."
Federal agents used tear gas on the crowd in what has become a nightly ritual that this weekend appeared to reawaken the protests elsewhere in the country.
Some protesters set off fireworks and used leaf blowers and hockey sticks to redirect the plumes of white tear gas toward federal agents.
Police had demanded people leave the area surrounding the courthouse around 1:20 a.m. and said that those who fail to adhere may be arrested or subject to tear gas and impact weapons. Several dozen federal agents in camouflage proceeded to push protesters several blocks. The protesters dispersed but eventually regrouped.
Mitchell Felton, 26, and his friend Zach Woods, 21, were among the protesters who saw federal agents as they emerged from the federal courthouse.
According to several media reports, demonstrators organized the protests in response to federal agents being sent to Portland, Ore., to put down nightly protests that began two months ago following the killing of George Floyd by Minneapolis police.
The pair are from South Carolina and were on a road trip when they decided to stop in Portland in order to participate in the protest.
"We decided to come because we wanted to show our support to Portland and for the Black Lives Matter movement," Felton said.
Up the street, about a block away from the federal courthouse, protesters started an impromptu dance party for a few minutes as music blared from loudspeakers.
Nearby, Eboni Washington, 36, said she felt compelled to come out because she wants to demonstrate solidarity with protesters who have taken to the streets in cities across the country Saturday to protest against police brutality and the presence of federal officers sent by Trump.
"I'm proud to be Black. And I want to show everyone that what we need right now is more solidarity," she said as she leaned against a building about a block from the federal courthouse.
"Especially in Portland. I have friends who've gotten shot by the police. I'm here for them."
Police say a man was fatally shot at a protest in Texas when he approached a vehicle and the driver inside opened fire.
Demonstrations have happened in Oregon's largest city nightly for two months since George Floyd's death in Minneapolis police custody in May.
Trump said he has sent federal agents to Portland to halt the unrest, but state and local officials say that is making the situation worse.
And mayors of several other major American cities Sunday reiterated on national TV that they do not want Trump to send agents into their own cities.
Chicago Mayor Lori Lightfoot pointed out that along with many other cities around the country, hers has long cooperated with federal agencies including the FBI and the Drug Enforcement Administration in addressing issues including violence.
But she said a Portland-style federal presence was something else entirely. "I have drawn a very hard line — we will not allow federal troops in our city," Lightfoot said on CNN's "State of the Union."
The mayor said she and other city officials "will not tolerate unnamed agents taking people off the street, violating their rights, and holding them in custody. That's not happening here in Chicago."
Late Friday, a federal judge denied a request by Oregon's attorney general to restrict the actions of federal police.
White House chief of staff Mark Meadows on Sunday echoed Trump's insistence that a federal presence was needed to maintain order in the city.
"They're throwing Molotov cocktails and doing all kinds of rioting there in Portland around a courthouse that they desire to burn down," he said on ABC's "This Week," adding: "I mean, we can't have this in American cities."
Staff writer Laura King in Washington, D.C., contributed to this article. The Associated Press also contributed to the article.
Sign up for Essential California for news, features and recommendations from the L.A. Times and beyond in your inbox six days a week.
You may occasionally receive promotional content from the Los Angeles Times.