Philadelphia officials pledge better responses to emergency calls, and set curfew to stem unrest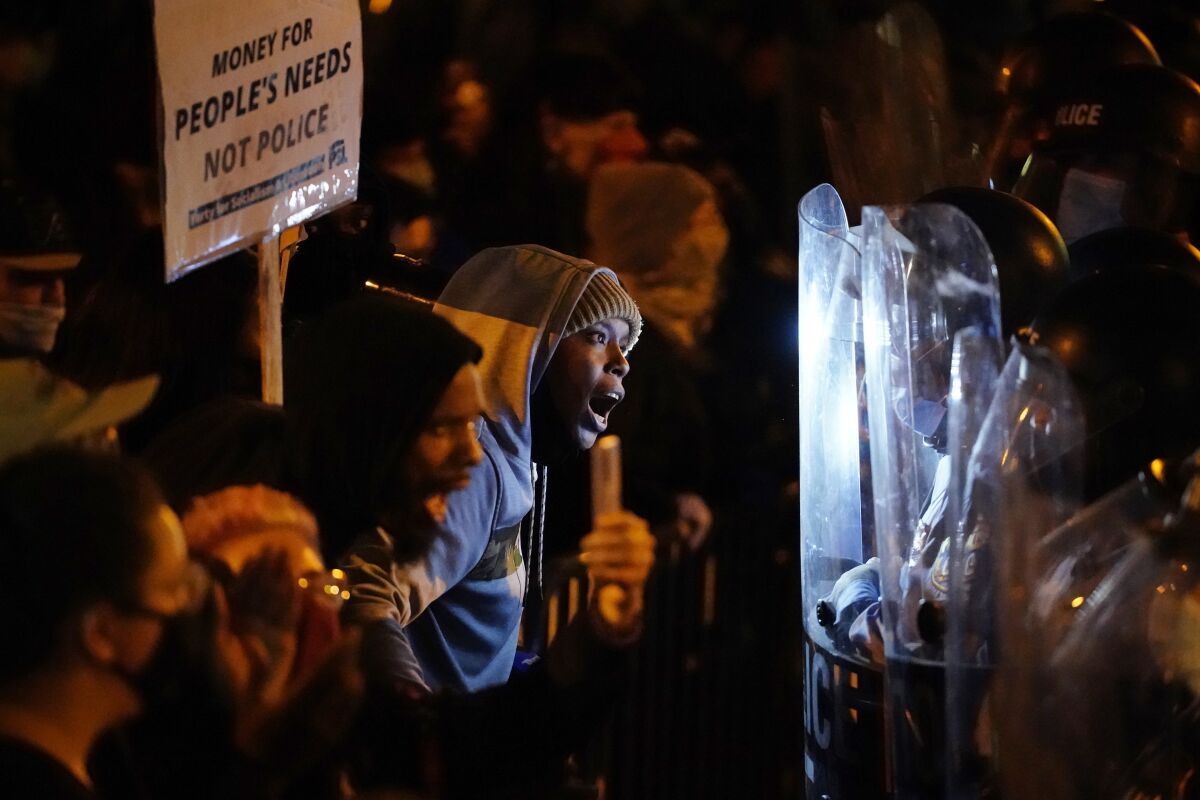 Philadelphia's police commissioner said Wednesday that the department sorely needs a mental health unit and nonlethal devices to help prevent fatal police shootings such as the one this week that killed Walter Wallace Jr.
Commissioner Danielle Outlaw said the Police Department needs a better way to coordinate emergency calls with health specialists, and that it has only about 2,300 Tasers instead of the hundreds more needed for every officer to be equipped.
Outlaw, who condemned unrest that left more than 50 officers injured after Wallace's death Monday, also pledged to release 911 recordings and body camera video related to what happened on Locust Street shortly after 4 p.m. that day.
"There's clearly a disconnect on our end in terms of knowing what's out there," she said.
Mayor Jim Kenney said a citywide curfew would be enforced from 9 p.m to 6 a.m. to help protect property. The Pennsylvania National Guard would be deployed this week, he said.
Authorities said officers fatally shot Wallace after he ignored their orders to drop a knife. Relatives of Wallace, a 27-year-old father of nine, said they had called 911 to get him medical assistance.
Wallace's shooting immediately set off protests at a time of heightened tension nationwide tied to police killings of other Black people, such as George Floyd in Minneapolis in late May, as well as systemic racism and other issues including the presidential race between President Trump and his Democratic challenger, former Vice President Joe Biden.
A federal investigation revealed in 2015 that in the previous 14 years, 80% of those shot by police in Philadelphia were Black people and nearly half were not carrying weapons.
Outlaw said the officers involved in Monday's shooting did not possess the less-lethal option of stun guns.
Video of Monday's deadly encounter posted to social media shows the man later identified as Wallace walking behind two cars parked at the curb, and two officers in the street with guns drawn. A family member is seen trying to keep Wallace away from the officers.
The officers yell for him to get on the ground. As he rounds the second car and steps off the curb toward the officers, they walk backward. One officer yells to a member of Wallace's family, "Move! Move!" As Wallace walks forward, the two officers fire at least a dozen times.
Wallace drops to the ground, and his relatives dash forward and surround him as he lies in the street.
Police rushed Wallace to a hospital, where he was pronounced dead.
Outlaw said Wednesday that the 911 call, information on previous calls to the home, and the officers' body camera footage will be released once Wallace's family has reviewed the materials.
Wallace's family has called out the department's failure to deescalate the situation and use less-lethal means than shooting.
"When you come to a scene where somebody is in a mental crisis, and the only tool you have to deal with it is a gun ... where are the proper tools for the job?" family attorney Shaka Johnson said.
Retired Los Angeles Police Sgt. Cheryl Dorsey, who saw video of Wallace's shooting, said the officers perhaps could have tried to prevent a confrontation by, for example, taking a position of cover and waiting for police with less-lethal weapons to arrive.
Dorsey said in an interview that Wallace was not in close proximity to the officers initially.
"As an officer, you can only use deadly force to meet deadly force when it is reasonable," she said. "Deadly force is a last resort."
Ed Obayashi, a use-of-force expert and Northern California sheriff's deputy who trains others across the state, said Wallace's behavior, especially if he was carrying a weapon, presented lethal force.
"Deescalation isn't going to work here," he said. "The individual appears to be stalking the officers, refusing his relatives' efforts to back him off, and officers have tried backing off and he keeps advancing. Even if they had a Taser, I don't think they may opt for it."
Obayashi, who is also a lawyer and legal advisor to California counties, noted that the U.S. Supreme Court has ruled that police use of force must be reasonable in light of the circumstances.
"There is no doubt this is a legal shooting," he said.
Mayor Kenney said the video raises "difficult questions that must be answered."
His comments came after nights of unrest that included skirmishes between protesters and police, ransacking of buildings and numerous arrests, with officers using pepper spray and batons.
Philadelphia City Councilwoman Jamie Gauthier said the public deserves "a full, unvarnished accounting" of what happened.
"Had these officers employed deescalation techniques and nonlethal weapons rather than making the split-second decision to fire their guns, this young man might still have his life," she said.
Johnson, the family attorney, told reporters that Wallace's wife, who is pregnant, told the officers upon their arrival that her husband had mental health issues.
"Officers who are properly trained should notice certain things when they arrive at a scene," Johnson said. "Especially when his wife tells you, 'Stand down, officers; he's manic bipolar.'"

Must-read stories from the L.A. Times
Get the day's top news with our Today's Headlines newsletter, sent every weekday morning.
You may occasionally receive promotional content from the Los Angeles Times.