Hong Kong's Jimmy Lai charged under security law; Bloomberg reporter detained in China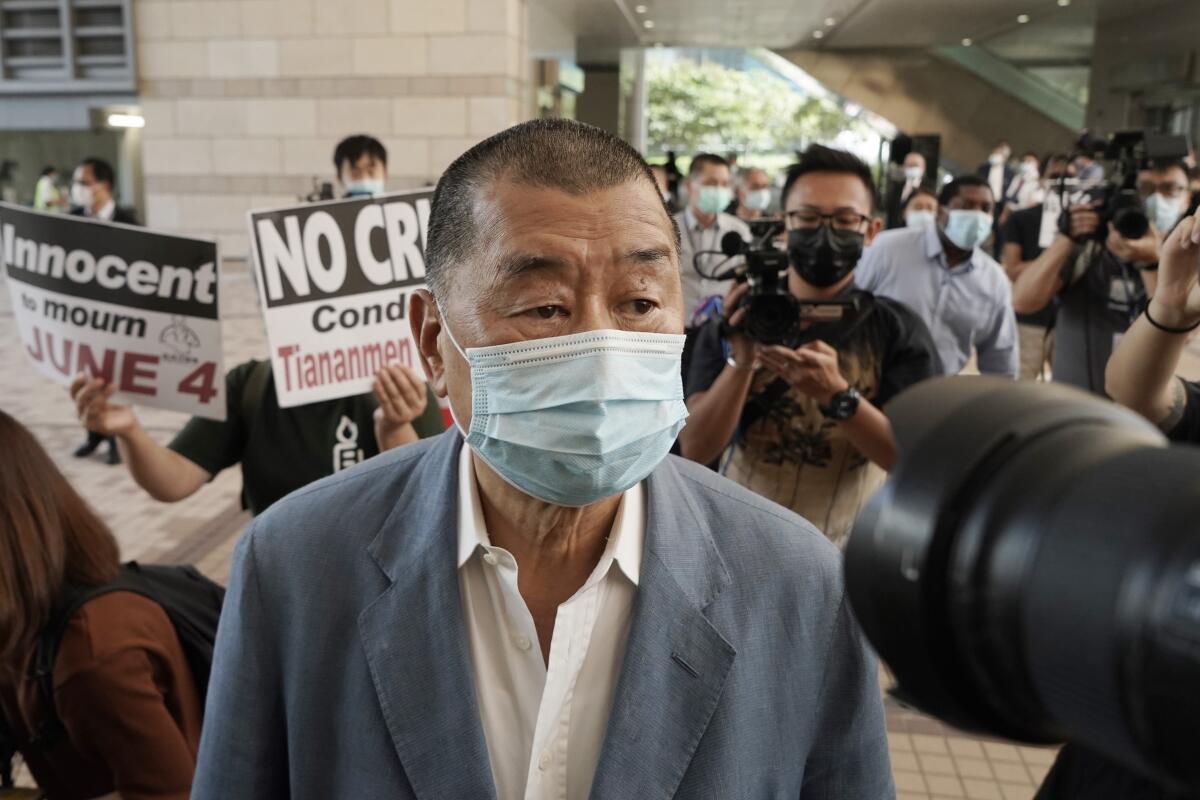 HONG KONG —
Hong Kong pro-democracy activist and media tycoon Jimmy Lai has been charged under the city's national security law amid a widening crackdown on dissent, according to local media reports.
Meanwhile, the U.S. financial news service Bloomberg said Friday that Chinese authorities have detained one of its Beijing-based news assistants on what they said was suspicion of endangering national security.
Lai, who founded the Apple Daily tabloid, was charged in Hong Kong on suspicion of colluding with foreign forces and endangering national security, local broadcaster TVB reported Friday. He is the most high-profile person out of more than two dozen charged under the law since it was implemented in June.
He is scheduled to appear in court on Dec. 12 and could face a maximum punishment of life imprisonment.
Lai was arrested under the national security law in August. He and two executives of Next Digital, the company that operates the Apple Daily newspaper, were later charged with fraud over accusations that they violated lease terms on office space for the company. He was denied bail earlier this month.
The Trump administration has approved a new major arms sale to Taiwan and is slapping sanctions on Chinese officials over the crackdown on pro-democracy advocates in Hong Kong.
Beijing imposed the national security law in response to protests in Hong Kong that began in June 2019 over a proposed extradition law and expanded to include demands for greater democracy in the former British colony. The legislation outlaws secession, subversion, terrorism and collusion with foreign forces to intervene in Hong Kong's internal affairs. In certain cases, those charged under the national security law could also face trial in mainland China, where the legal system is highly opaque.
In Beijing, Bloomberg reported that Chinese citizen Haze Fan was seen being taken from her apartment building accompanied by security officers in plainclothes at about noon Monday, shortly after her last contact with her editors.
Bloomberg quoted a Chinese government statement as saying Fan was detained by the Beijing branch of the National Security Bureau "according to relevant Chinese law on suspicion of engaging in criminal activities that jeopardize national security."
China permits Chinese citizens to work only as translators, researchers and assistants for foreign news organizations, not as registered journalists able to report independently. China's own media are almost entirely state-owned and tightly controlled, and the country has long been one of the leading jailers of journalists.
Bloomberg said it has been seeking information about Fan's whereabouts from the Chinese government and from China's embassy in Washington.
It said its parent company, Bloomberg LP, was informed Thursday that she was being held on suspicion of endangering national security, a vaguely defined charge that can lead to lengthy detention with little recourse to legal assistance.
"We are very concerned for her, and have been actively speaking to Chinese authorities to better understand the situation. We are continuing to do everything we can to support her while we seek more information," a Bloomberg spokesperson was quoted as saying.
Fan began working for Bloomberg in 2017 after stints with a number of other foreign news organizations in China, the company said.
China has detained news assistants in the past over reports that angered the ruling Communist Party, and authorities have also sought to punish foreign media by limiting their operations, expelling journalists or issuing them only short-term visas.
In Hong Kong, Lai has advocated for other countries to take a harsher stance on China, and last year he traveled to the U.S. to meet with Vice President Mike Pence and Secretary of State Michael R. Pompeo to discuss the proposed extradition bill.
He was also arrested in February and April on charges of taking part in unauthorized protests. He also faces charges of joining an unauthorized vigil marking the anniversary of the June 4, 1989, crackdown on pro-democracy protests in Beijing's Tiananmen Square.
Sign up for Essential California for news, features and recommendations from the L.A. Times and beyond in your inbox six days a week.
You may occasionally receive promotional content from the Los Angeles Times.