'It shouldn't be this way': Texans face more misery as power outages, water crisis persist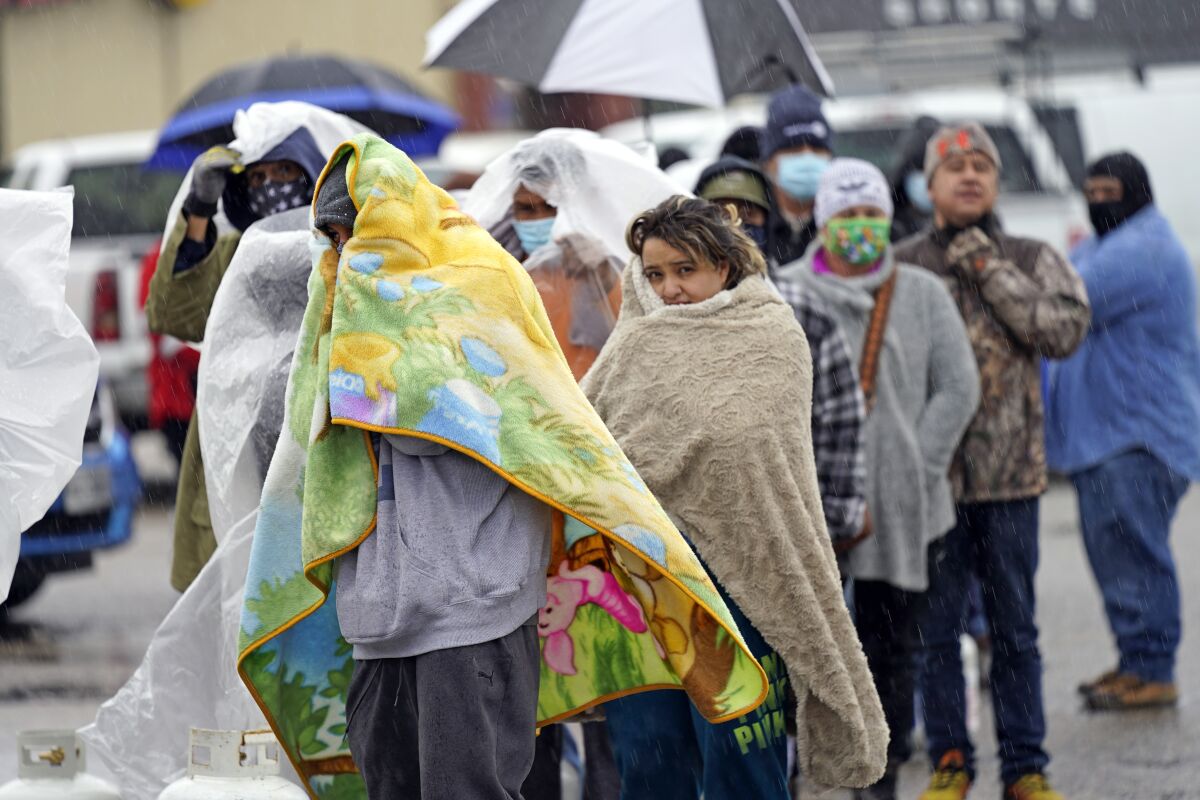 HOUSTON —
Soon after her apartment lost power during the winter storm that paralyzed Houston — the country's fourth-largest city — Gaylen Diego's 2-year-old daughter Mayisha got sick.
Diego, 39, a Honduran immigrant who lives in one of several sprawling low-income apartment complexes near Hobby Airport, called her clinic, but it was closed. So was every other doctor's office she called. That was but just one of her challenges. She had to use a neighbor's grill to cook spaghetti outside. Then her apartment complex lost running water Wednesday. She and her neighbors started scooping water from the pool to run their toilets.
Desperate, Diego walked to a nearby Fiesta grocery store in search of medicine. She had to wait in line outside for 45 minutes. By the time she returned home, she, too, was sick with a cold. She had lived without power in Honduras before, but those outages lasted only a day at a time, and she never had to do without running water.
Deadly blast of winter overwhelmed the electrical grid and left millions in the deadly cold this week.
"I hope the power stays on," she said Thursday as her sister arrived from across town with ice to melt for water. "People die of the cold."
The winter storms sweeping the country have already caused more than three dozen deaths and many more hospitalizations as people struggle to find heat, food and clean water. The freeze triggered massive power outages and a slowdown in oil and gas production that experts warned could impact the rest of the country.
More than 450,000 people were without power in Alabama, Kentucky, Louisiana, Mississippi and West Virginia, and water systems were disrupted in several Southern cities, including New Orleans and Shreveport, La., where firetrucks had to deliver water to hospitals. Snow and ice shifted Thursday into the Appalachians, northern Maryland, southern Pennsylvania and the Northeast. Weather-related outages also struck Oregon, where some customers have been without power for almost a week.
The energy emergency is a "systemic failure," with major climate change implications.
In Texas, the hardest-hit state, outages persisted for fewer than 500,000 — down from more than 3 million the day before — according to Poweroutage.us, but officials warned that depending on demand, rotating outages could soon resume. Compounding the disaster, nearly 12 million people had water service disrupted. Hospitals and nursing homes faced water pressure problems, shortages and flooding from burst pipes. The Federal Emergency Management Agency sent generators to support the state's water treatment plants, hospitals and nursing homes, along with thousands of blankets and ready-to-eat meals, officials said.
U.S. Immigration and Customs Enforcement reported power and water outages at its migrant detention centers in Texas, including family facilities.
With temperatures expected to dip again overnight, many in the state's largest cities were scrambling to find supplies or plumbers to repair storm-damaged pipes. The cold weather caused oil production to plunge by a third this week, more than twice the shortfall seen after Hurricane Katrina in 2005.
"It shouldn't be this way — we're the energy capital of the world," said Diego's brother-in-law, Anthony Martinez, 42, a father of three whose apartment was without water Thursday.
Martinez, a technician at a truck dealership, blamed Texas leaders for being unprepared. "They're going to have to answer," he said.
In Houston, local leaders were not spared by the storm. Mayor Sylvester Turner lost power at his home. In suburban Fort Bend County, the county executive's pipes burst. Gas stations closed, and lines formed at restaurant takeout windows and hardware stores.
Turner said at a briefing Thursday that the city's more than 2 million residents would have to boil tap water through Monday, and officials directed those who still had water to shut it off to protect their plumbing.
"Tonight will be another hard freeze," Carol Ellinger Haddock, the city's public works director, said at the briefing. "If you've been lucky and have had water so far, drain the pipes."
Sen. Ted Cruz (R-Texas) faced backlash online after photos surfaced of him departing a Houston airport Wednesday to vacation with family in Mexico.
"With school canceled for the week, our girls asked to take a trip with friends. Wanting to be a good dad, I flew down with them last night and am flying back this afternoon," Cruz said in a Thursday statement, adding that his family had also lost heat and power during the storm. Upon his return stateside, Cruz said the trip was "obviously a mistake," as he was greeted by protesters.
Police officers flanked Cruz after he deplaned in Houston, where a woman waited to greet him with a cardboard sign that referred to the storm toll: "24 dead Ted!"
"The decision to go was tone deaf," Cruz told reporters as he arrived home, with protesters nearby chanting "resign." "All of us have made decisions — when you've got two girls who've been cold for two days, and haven't had heat or power and they're saying we don't have school ... let's get out of here."
We prepared for a natural disaster in Houston. Then our electrical grid went down, taking our water with it.
"This has been an infuriating week for Texans," he said, earlier in his statement.
In the Houston suburb of Missouri City, Lamont Johnson shook his head at Cruz's reasoning.
"He's the only one who can hop on a plane," Johnson said as he waited outside Home Depot with his 6-year-old son, Alexander, for his wife to return with supplies.
They needed to fix broken sprinkler pipes outside their house and further insulate indoor pipes, he said. Johnson, 40, an oil and gas project engineer, said the storm had revealed problems with the state's electrical grid that he hopes get addressed soon.
"Mother Nature happens. The biggest thing is to be prepared next time. We need to improve our infrastructure and have more energy on standby," he said.
At a Thursday briefing, Gov. Greg Abbott proposed state lawmakers pass an emergency law mandating and funding winterization of Texas' power system.
Johnson said the state's Republican leaders were wrong to blame the outages on green energy sources like windmills, which froze during the storm after leaders eschewed regulations that would have required winterization.
"They have wind power all over the world. That's why you winterize. We need regulation to make sure this doesn't happen again," he said.
Inside the Home Depot, staff blocked the plumbing section and allowed shoppers in one at a time from a line of dozens. Some waited for more than an hour only to find the shelves practically empty.
Jose Alvarez waited with his father-in-law, a handyman just released from the hospital Sunday after suffering a stroke. Alvarez, 28, a landscaper, had driven down from Dallas before the storm with his wife, three small children and two generators. By Thursday, they had power but a pipe had ruptured and their tap water turned brown.
"We're trying to figure if we can rig something" to fix the pipe, Alvarez said as he waited for his father-in-law in his pickup truck, frustrated that they can't fix neighbors' broken pipes either.
Alvarez searched for plumbing supplies online, but was upset to discover local vendors had inflated prices: A $10 pipe fitting was now selling for $80.
"We can't find parts," he said. "You want to help them out, but you can't."
Must-read stories from the L.A. Times
Get the day's top news with our Today's Headlines newsletter, sent every weekday morning.
You may occasionally receive promotional content from the Los Angeles Times.