Jordan says its military killed 27 suspected drug smugglers in border shootout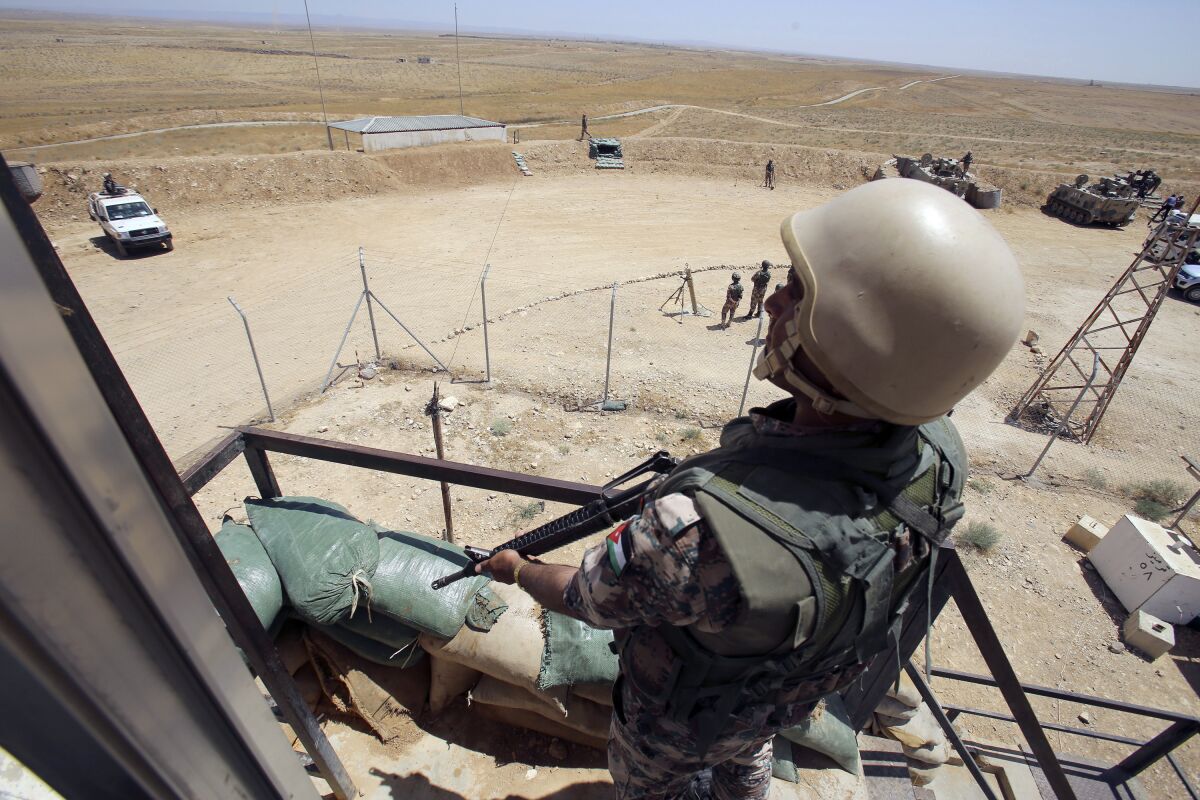 BEIRUT —
Jordanian troops killed 27 suspected armed drug smugglers and wounded a number of others attempting to enter the country from Syria at dawn Thursday, the Jordanian military said — the deadliest encounter so far in a rising wave of confrontations on Jordan's northern border.
The deaths come almost two weeks after a Jordanian army captain was killed and three other military personnel were wounded when smugglers reportedly shot at an army outpost as they tried to cross. That attack prompted a change in the rules of engagement governing smuggling operations, a Jordanian army official said in a statement Thursday.
The army "will strike with an iron fist and deal with absolute force and firmness any infiltration or smuggling attempts to protect the border," said the official, whose name was not given.
The surviving smugglers, who the statement said were "supported by other armed groups," fled back into Syrian territory, leaving behind a cache of drugs. Search operations were ongoing to ensure the area was clear of people as well as narcotics.
Pictures published by the Jordanian army show drug-filled burlap bags stacked inside the trunk of a vehicle. Another photo shows a point along the border — a snow-covered military road with barbed wire on one side and guard towers on the other — where the incursion occurred.
The smugglers hoped to take advantage of a severe snowstorm affecting the region, said a Jordanian officer who spoke on condition of anonymity in order to discuss the matter with a journalist.
Over the last year, Jordan has complained of a large uptick in smuggling attempts along its 225-mile border with Syria, which experts say has turned into a regional center for the manufacture and export of drugs such as Captagon, an amphetamine that is popular in the Middle East and was often used during Syria's civil war by combatants both to stay awake and to embolden themselves. The army thwarted about 361 smuggling attempts last year; one incident involved intercepting a drug-delivery drone flying over the border.
More than 100 Islamic State fighters attacked a prison in northeast Syria to try to free thousands of comrades locked inside.
Jordan and Lebanon function as transit countries for Captagon shipments to Saudi Arabia, North Africa and Europe. Recent months have witnessed drug busts with Captagon stuffed into pomegranates, oranges, milk cartons and other items. In April, Saudi Arabia announced a ban on Lebanese agricultural products after capturing a large haul of Captagon-filled produce in the port of Jeddah. In November, Saudi authorities confiscated 2.3 million Captagon pills at al-Haditha crossing on the border with Jordan.
During Syria's decadelong and still-ongoing civil war, Jordan upped security on its northern border as hundreds of thousands of Syrians fled the violence; more than 650,000 Syrian refugees remain in Jordan, official estimates say. Since then, the Jordanian army has deployed drones, night-vision and infrared scopes and patrols. Syrian government forces clawed back Syria's southern border with Jordan from rebel fighters in 2018.
Thursday's inclement weather meant no drones could fly and visibility was low, presenting an opportunity for smugglers who crossed the border from a sparsely populated village on the border a few dozen miles east of the Jordanian city of Mafraq and south of the Syrian city of Sweida, said the Jordanian officer.
The change in the army's rules of engagement, he added, was due both to an increase in incidents on the border and the smugglers' use of arms.
Jordan's King Abdullah II denies impropriety in his purchases of luxury homes abroad, which were revealed in a massive leak of financial documents.
Jordanian authorities said over the last two days that they seized more than 5 million Captagon pills and 6,123 bags of cannabis near the northeastern part of the border.
Jordanian officials blame the Lebanese Shiite group Hezbollah and other Iran-backed militias allied with Syrian President Bashar Assad for the rise in smuggling from southern Syria. Hezbollah denies the allegation. An investigation last year by pro-opposition news outlet Enab Baladi said Sweida had become a main conduit for drug and arms smuggling into Jordan. Bedouin tribes with familial ties on both sides of the border control the routes, the report said.
Syria says it is combating drug smuggling. Syrian security officials have met with their Jordanian counterparts to discuss border violations. Discussions, however, have led only to temporary reductions of smuggling activities that soon get reversed, the Jordanian official said.
The escalation in border confrontations comes amid a hesitant thawing of ties between Amman and Damascus.
At the beginning of the Syrian civil war, Jordan provided some support to the opposition, including weapons, materiel and training, while maintaining some diplomatic links with the Syrian government. In September, the Nassib-Jaber border crossing — a vital economic link between the two countries that saw $1 billion in trade before the war — fully reopened. A month later, Assad and Jordan's King Abdullah II spoke for the first time since the start of the conflict.
Must-read stories from the L.A. Times
Get the day's top news with our Today's Headlines newsletter, sent every weekday morning.
You may occasionally receive promotional content from the Los Angeles Times.