Man sought in killings of homeless men in New York and Washington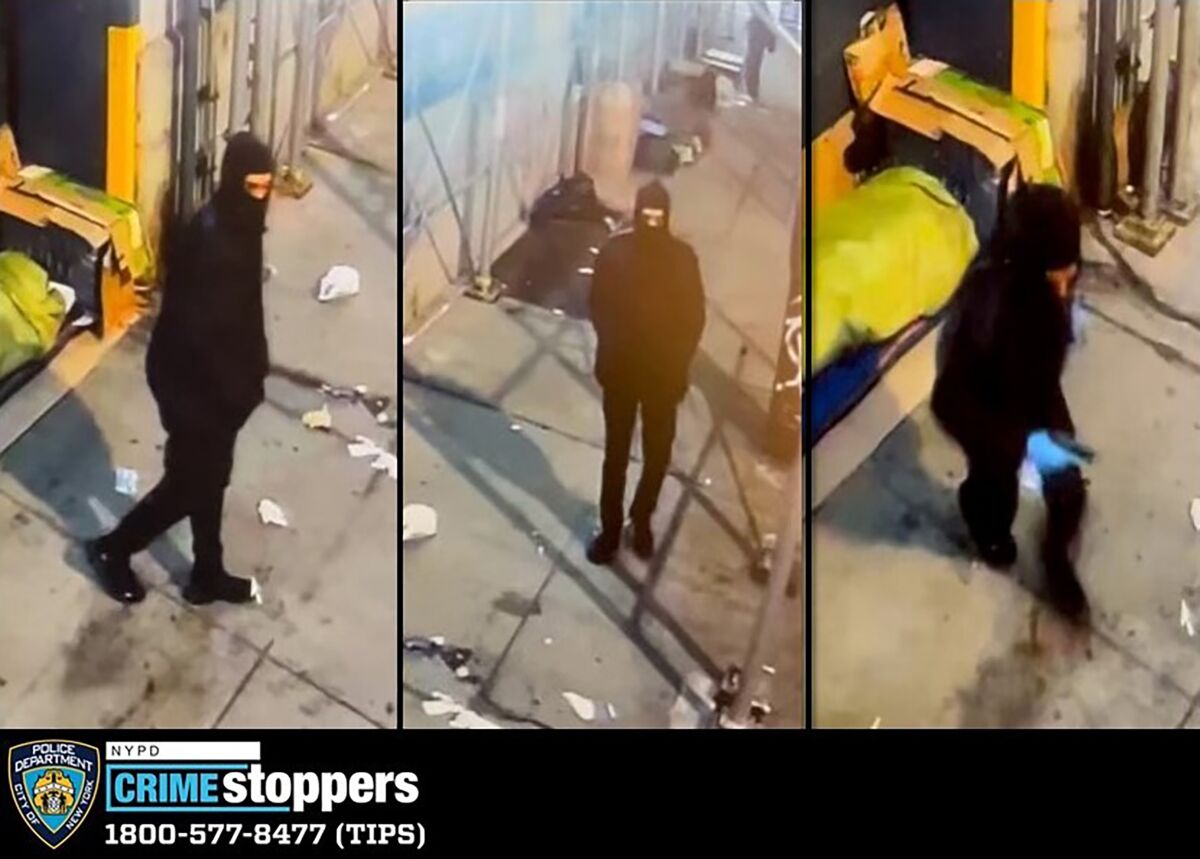 NEW YORK —
A search was underway Monday for a gunman who has been stalking homeless men sleeping on the streets of Washington, D.C., and New York City, fatally shooting two people and wounding three more in less than two weeks.
Police released surveillance photographs of the suspected gunman late Sunday, including one in which the hooded man can be seen holding a pistol in a blue glove.
The killer's motive — if any — was unknown, and authorities turned their attention Monday to trying to offer what protections they could to homeless people who might become targets.
New York Mayor Eric Adams said police officers and homeless outreach teams would focus on finding unhoused people in the subways and other locations and would urge them to seek refuge at city-owned shelters.
"The case is a clear and horrific intentional act of taking the life of someone, it appears, because he was homeless," Adams said at a news conference late Sunday. "Two individuals were shot while sleeping on the streets, not committing a crime but sleeping on the streets."
In Washington, city outreach workers were passing out flyers among the homeless population, urging people to "be vigilant" and featuring multiple pictures of the suspect.
"Our shelters have space and are ready to welcome residents needing a place to stay," the flyers said.
The latest violence underscored the urgency to get the homeless off the streets and into safe housing, said Jacquelyn Simone, the policy director for the Coalition for the Homeless in New York City.
"The reason that these people were attacked is because they didn't have that safety of permanent housing," she said. "And that's why we really need to use these tragedies as an opportunity to redouble our efforts to ensure that people have a better option than the streets, where they're exposed to both the elements as well as people who might wish to do them harm."
Three people were killed along Compton Creek in the last year. Their killer, authorities say, was a man who lived in a homeless encampment along the creek.
Simone and other advocates for the homeless called on the city to use vacant hotel rooms for temporary shelter for those who would rather stay on the streets than opt for dormitory-style housing.
The earliest known shooting happened at around 4 a.m. on March 3 in Washington D.C., police said, when a man was shot and wounded in the city's Northeast section. A second man was wounded on March 8, just before 1:30 a.m.
At 3 a.m. the next day, March 9, police and firefighters found a dead man inside a burning tent. A subsequent autopsy revealed that the man had died of multiple stab and gunshot wounds.
The killer then apparently traveled north to New York City, police said.
At 4:30 a.m. Saturday, a 38-year-old man sleeping on the street in Manhattan not far from the entrance to the Holland Tunnel was shot in his right arm as he slept.
The victim screamed, and the gunman fled, police said.
About 90 minutes later, the gunman fatally shot another man on Lafayette Street in SoHo, police said. The man's body was found in his sleeping bag just before 5 p.m. Saturday.
"Any one of us who's homeless could have went to that same situation," said Kess Abraham, who fell into homelessness last month.
After finding refuge in parks and other places across Brooklyn and Manhattan, Abraham tried to find help at the Bowery Mission, which houses hundreds of homeless people in its facilities across the city.
He said he was "pained" to learn of "a guy who lived on the streets who probably was minding his own business getting murdered for no reason."
Joel Castillo, a 24-year-old experiencing a first brush with homelessness who was also at the mission's downtown facility, said more should be done to keep the city's residents safe — homeless or otherwise.
"I don't know if it's a police problem, but given the circumstances, the police should actually kind of step up and do a little bit more. I'm not saying that they don't already do enough," he said, "but what I am saying is that there should be a lot more measures taken to ensure that the city's taxpayers are kept safe."
Ashraf Khalil reported from Washington, D.C.

Must-read stories from the L.A. Times
Get the day's top news with our Today's Headlines newsletter, sent every weekday morning.
You may occasionally receive promotional content from the Los Angeles Times.