Similar state abortion challenges meet different outcomes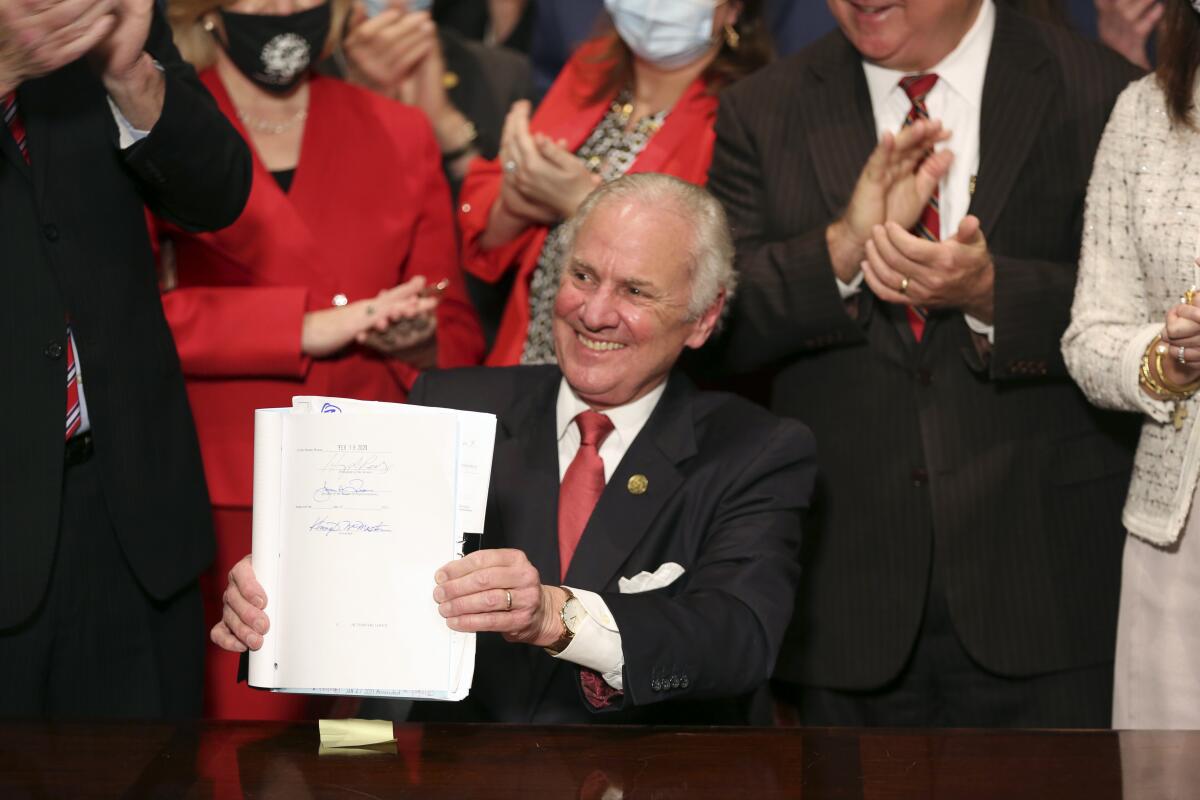 COLUMBIA, S.C. —
The top courts in two conservative states ruled the same day on similar challenges to abortion bans — and went in opposite directions.
The 3-2 decisions Thursday in Idaho, which keeps a ban on abortion at all stages of pregnancy, and South Carolina, which blocks enforcement of a ban after cardiac activity can be detected, are the latest examples of the patchwork of policies imposed since the U.S. Supreme Court last year struck down Roe vs. Wade, which had guaranteed the right to abortion nationwide for nearly five decades.
The conclusions from the state justices rest on differences in state constitutions, said Robert F. Williams, director of the Center for State Constitutional Studies at Rutgers University-Camden.
"There are also differences in the judges," Williams said. "Everybody knows by now that judges don't just call balls and strikes."
In both cases, abortion rights advocates argued that the states protect privacy, and therefore abortion.
The Republican leader's victory came at a price: McCarthy had to agree to a series of compromises that dramatically weaken the power of his new post.
The majority opinion in the 1973 Roe vs. Wade ruling was also rooted in the idea of a right to privacy. The U.S. Supreme Court rejected the idea last year in Dobbs vs. Jackson, ruling instead that the legality of abortion should be decided by the states.
The landscape shifted quickly. Several states had so-called trigger bans ready to enforce in case Roe was overturned, and two more adopted new restrictions after the ruling.
Bans on abortion at all stages of pregnancy, with various exceptions, are now considered to be in effect in 13 states. Several of those bans, plus others that are less restrictive, are being challenged in court. At least seven others are not being enforced because of injunctions imposed amid legal challenges.
Now, instead of arguing that the U.S. Constitution protects abortion access, lawyers challenging the bans are basing their cases on the language of state constitutions. Several challenges are rooted in the right to privacy.
One key difference between those documents in the states with rulings this week: Idaho's does not have a clause that explicitly declares a right to privacy. South Carolina's does.
South Carolina's right to privacy was adopted from a suggestion by a late 1960s committee reviewing the state's constitution, which was significantly rewritten in 1895 to strengthen and enforce segregation. It said the people should be secure from "unreasonable invasions of privacy."
The justices who ruled that the strict abortion law didn't violate privacy rights cited notes from the committee that the intention of the privacy clause was to protect against government surveillance in a modernizing world.
But in the majority opinion, Associate Justice Kaye Hearn, the Supreme Court's only female member, noted that the commission had no women. At the time they met, women couldn't serve on juries, and the state had not ratified the 19th Amendment to the U.S. Constitution that gave women the right to vote decades before.
"We cannot relegate our role of declaring whether a legislative act is constitutional by blinding ourselves to everything that has transpired since the amendment was adopted," she wrote.
While lawmakers have the authority to protect life, Hearn wrote, the privacy clause means women should have enough time to determine they are pregnant and decide whether to have an abortion.
"Six weeks is, quite simply, not a reasonable period of time for these two things to occur," she wrote in a ruling that means abortion remains legal in South Carolina up to 20 weeks gestational age.
The three votes to reject the strict abortion law are fragile. Hearn is 72, the mandatory retirement age for judges in South Carolina, and has to leave the court this year. If the state Legislature enacts a new law on abortion, Hearn will not be on the court that reviews it.
Thursday's decision also led some conservatives to suggest that South Carolina change how it chooses judges from the current system, in which they are picked by legislators after being screened and vetted by a committee.
In Idaho's ruling, which kept the abortion ban in place, Justice Robyn Brody noted that the constitution there does not specifically say there's a right to abortion.
"We cannot read a fundamental right to abortion into the text of the Idaho Constitution," she wrote in an opinion signed by two other justices. "If we were to jettison that disciplined approach, even in the face of a uniquely emotional and politically divisive policy issue, the Idaho Constitution would no longer be the voice of the people of Idaho — it would be effectively replaced by the voice of a select few sitting on this Court."
Two other Idaho justices dissented.
Courts have also been known to change their position on whether abortion rights are protected. Iowa's top court ruled in 2018 that the state constitution contained a fundamental right to abortion — and last year that it doesn't.
But justices aren't the only ones with a say.
Last year, voters in all the states that put it to a ballot measure sided with abortion rights. In Kansas and Kentucky, they rejected amendments that would have found the state constitutions should not be interpreted to protect abortion rights. Voters in California, Michigan and Vermont approved amendments that enshrine the right to abortion.
Sign up for Essential California for the L.A. Times biggest news, features and recommendations in your inbox six days a week.
You may occasionally receive promotional content from the Los Angeles Times.