On King holiday, the slain civil rights leader's daughter calls for action over words
ATLANTA —
America has honored the Rev. Martin Luther King Jr. with a federal holiday for nearly four decades yet still hasn't fully embraced and acted on the lessons from the slain civil rights leader, his youngest daughter said Monday.
The Rev. Bernice King, who leads the King Center in Atlanta, said leaders — especially politicians — too often cheapen her father's legacy into a "comfortable and convenient King" offering easy platitudes.
"We love to quote King in and around the holiday. ... But then we refuse to live King 365 days of the year," she declared at the commemorative service at Ebenezer Baptist Church, where her father once preached.
The service, sponsored by the center and held at Ebenezer annually, headlined observances of the 38th federal King holiday. King, gunned down in Memphis, Tenn., in 1968 as he advocated for better pay and working conditions for the city's sanitation workers, would have celebrated his 94th birthday Sunday.
Her voice rising and falling in cadences similar to her father's, Bernice King bemoaned institutional and individual racism, economic and healthcare inequities, police violence, a militarized international order, hard-line immigration structures and the climate crisis. She said she's "exhausted, exasperated and, frankly, disappointed" to hear her father's words about justice quoted so extensively alongside "so little progress" addressing society's gravest problems.
President Biden marks the Rev. Martin Luther King Jr.'s birthday as the first sitting president to deliver a Sunday sermon at Ebenezer Baptist Church.
"He was God's prophet sent to this nation and even the world to guide us and forewarn us. ... A prophetic word calls for an inconvenience because it challenges us to change our hearts, our minds and our behavior," Bernice King said. "Dr. King, the inconvenient King, puts some demands on us to change our ways."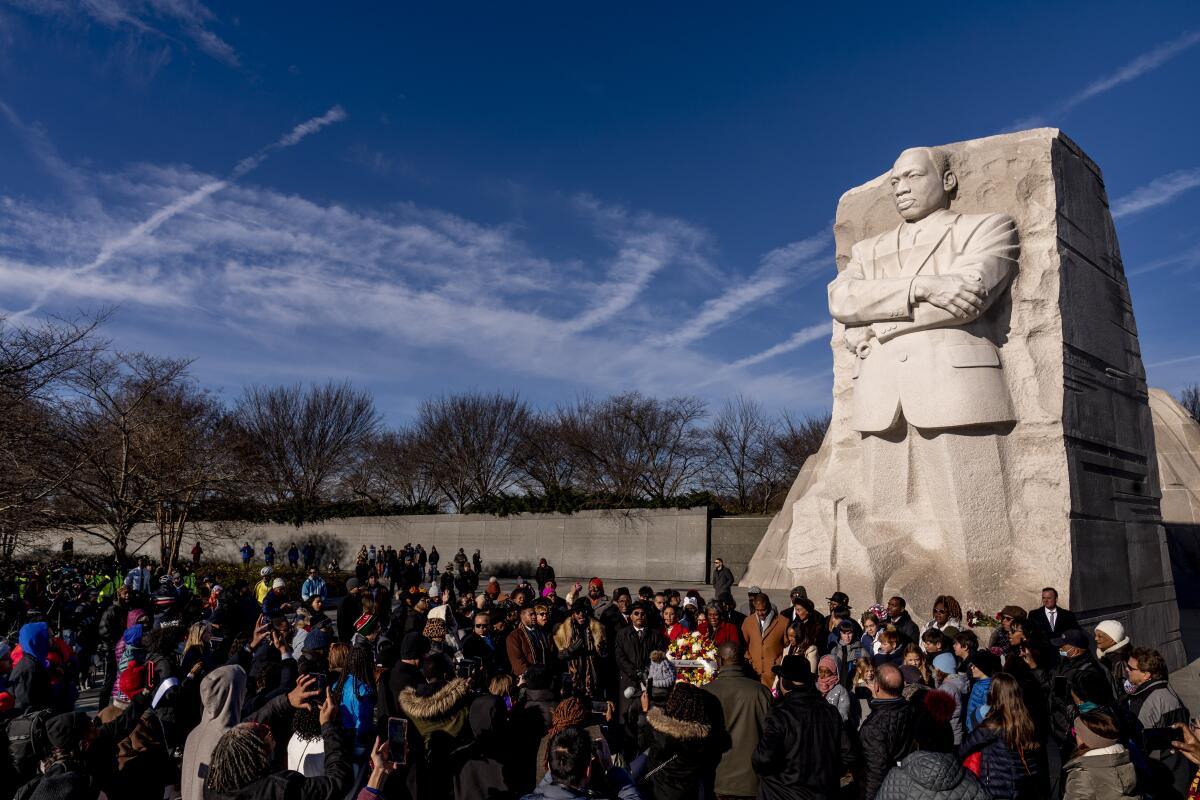 President Biden on Monday addressed an MLK breakfast hosted in Washington by the Rev. Al Sharpton's National Action Network. Sharpton got his start as a civil rights organizer in his teens as youth director of an anti-poverty project of King's Southern Christian Leadership Conference.
"This is a time for choosing," Biden said, repeating themes from a speech he delivered Sunday at Ebenezer at the invitation of Sen. Raphael Warnock, the senior pastor at Ebenezer who recently won reelection to a full term as Georgia's first Black U.S. senator.
"Will we choose democracy over autocracy, or community over chaos? Love over hate?" Biden asked Monday. "These are the questions of our time that I ran for president to try to help answer. ... Dr. King's life and legacy — in my view — shows the way forward."
Other commemorations echoed Bernice King's reminder and Biden's allusions that the "Beloved Community" — Martin Luther King's descriptor for a world in which all people are free from fear, discrimination, hunger and violence — remains elusive.
In Boston, Mayor Michelle Wu talked about a fight for the truth in an era of hyper-partisanship and misinformation.
I was 9 years old when my mom took me to hear Dr. King speak. It changed the way I saw myself and the world.
"We're battling not just two sides or left or right and a gradient in between that have to somehow come to compromise, but a growing movement of hate, abuse, extremism and white supremacy fueled by misinformation, fueled by conspiracy theories that are taking root at every level," she said.
Wu, the first woman and person of color elected mayor of Boston, said education restores trust. Quoting King, she called for overcoming the "fatigue of despair" to enact change. "It is sometimes in those moments when we feel most tired, most despairing, that we are just about to break through," Wu told attendees at a memorial breakfast.
Volunteers in Philadelphia held a "day of service" focused on gun violence prevention. The city has seen a surge in homicides that saw 516 people killed last year and 562 the year before, the highest total in at least six decades.
Some participants in the effort's signature project, led by Children's Hospital of Philadelphia, worked to assemble gun safety kits for public distribution. The kits include "gun cable locks and additional safety devices for childproofing," according to organizers. They also include information about firearm storage, health and social services information, and coping in the aftermath of gun violence.
Other kits being assembled highlighted Temple University Hospital's "Fighting Chance" program and included materials to enable immediate response to victims at the scene of gunfire, organizers said. Recipients are to be trained in the use of the materials, which include tourniquets, gauze, chest seals and other items to treat critical wounds, they said.
In Selma, Ala., a seminal site in the civil rights movement, residents were commemorating King as they recover from a deadly storm system that moved across the South last week.
A tornado devastated much of the historic city of Selma, the Alabama city that played a key role in Martin Luther King Jr.'s civil rights campaign.
King was not present at Selma's Edmund Pettus Bridge for the initial march known as "Bloody Sunday," when Alabama state troopers attacked and beat marchers in March 1965. But he joined a subsequent procession that successfully crossed the bridge toward the Capitol in Montgomery, punctuating efforts that pushed Congress to pass and President Johnson to sign the Voting Rights Act of 1965.
The Pettus Bridge was unscathed by Thursday's storm.
Maine's first Black House speaker urged residents Monday to honor King's memory by joining in acts of service.
"His unshakable faith, powerful nonviolent activism and his vision for peace and justice in our world altered the course of history," Rachel Talbot Ross said in a statement. Talbot Ross is also the daughter of Maine's first Black lawmaker, and a former president of the Portland NAACP.
"We must follow his example of leading with light and love and recommit ourselves to building a more compassionate, just and equal community," she added.
Keenan Anderson, cousin of a BLM founder, is among three men of color who have died this year after encounters with LAPD officers. A vigil was packed.
At Ebenezer, Warnock, who has led the congregation for 17 years, hailed his predecessor's role in securing ballot access for Black Americans. But, like Bernice King, the senator warned against a reductive understanding of King.
"Don't just call him a civil rights leader. He was a faith leader," Warnock said. "Faith was the foundation upon which he did everything he did. You don't face down dogs and water hoses because you read Nietzsche or Niebuhr. You gotta tap into that thing, that God he said he met anew in Montgomery when someone threatened to bomb his house and kill his wife and his new child."
King, Warnock said, "left the comfort of a filter that made the whole world his parish," turning faith into "the creative weapon of love and nonviolence."
While echoing Bernice King's call for bolder public policy, Warnock noted some progress in his lifetime.
As he's done through two Senate campaigns, Warnock noted he was born a year after King's assassination, when both of Georgia senators were staunch segregationists.
But, Warnock said, "Because of what Dr. King and because of what you did ... I now sit in his seat."
Sign up for Essential California for news, features and recommendations from the L.A. Times and beyond in your inbox six days a week.
You may occasionally receive promotional content from the Los Angeles Times.