Virginia jury mostly backs police sued by soldier over a traffic stop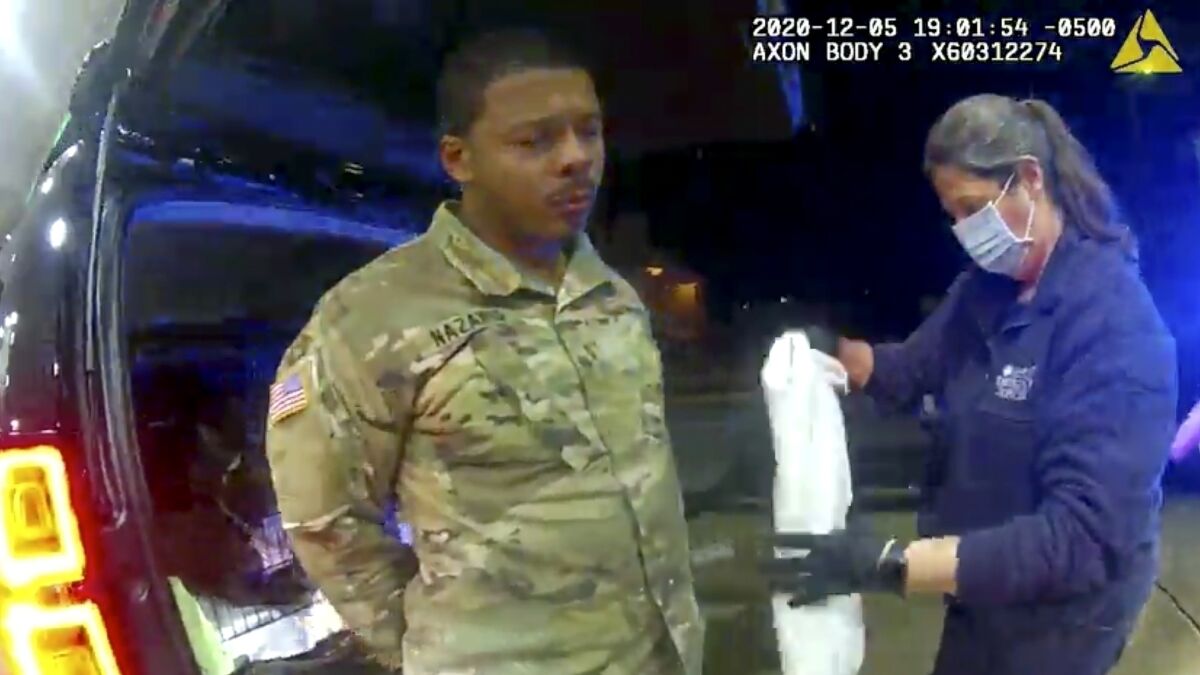 NEWPORT NEWS, Va. —
A federal jury in Virginia found mostly in favor of two police officers on Tuesday who were sued by a U.S. Army lieutenant after he was pepper-sprayed, struck and handcuffed during a traffic stop.
Video of the 2020 incident in the small town of Windsor, Va., got millions of views after Caron Nazario filed the federal lawsuit, highlighting fears of mistreatment among Black drivers and raising questions about reasonable police conduct.
The jury in federal court in Richmond found Joe Gutierrez, a former Windsor police officer, liable for assault and awarded Nazario $2,685 in compensatory damages, according to attorneys on both sides of the case.
The jury also awarded Nazario $1,000 in punitive damages for Windsor Officer Daniel Crocker's illegal search of Nazario's SUV, the lawyers said. A federal judge ruled last year that Crocker was liable for the search.
But the jury found in favor of Crocker and against Nazario's claims of assault and battery and false imprisonment, the attorneys said, and found in favor of Gutierrez regarding the soldier's claims of battery, false imprisonment and illegal search.
"Having now heard all of the evidence and learning the full picture of this case, we believe the jury reached the correct decision," one of Crocker's attorneys, Anne Lahren, said in a statement. "In the present climate, this took a lot of courage and we thank the jury for their service."
Nazario filed his lawsuit in 2021. Video shows Crocker and Gutierrez pointing handguns at a uniformed Nazario as he sits behind the wheel of his Chevy Tahoe at a gas station. The officers repeatedly order Nazario to exit his SUV, with Gutierrez warning at one point that Nazario is "fixing to ride the lightning" if he doesn't get out.
Nazario holds his hands in the air outside the driver's side window and repeatedly asks why he is being stopped.
Nazario also says: "I'm honestly afraid to get out."
"You should be," Gutierrez responds.
Nazario stays in the vehicle. Gutierrez goes on to pepper spray him through the open window. Once Nazario exits the SUV, the officers command him to get on the ground, and Gutierrez uses his knees to strike Nazario's legs, the lawsuit states.
Nazario has developed anxiety, depression and PTSD, according to his lawsuit. A psychologist also found that Nazario, who is Black and Latino, suffers from race-based trauma associated with violent police encounters, which can exacerbate injuries "in ways that do not commonly affect the white populations."
Crocker is still on the force, but Gutierrez was fired in April 2021, the same month Nazario filed his lawsuit.
Crocker and Gutierrez denied ever threatening to kill Nazario. They contended that Nazario misconstrued Gutierrez's statement that Nazario was "fixing to ride the lightning." Gutierrez spoke those words while holstering his gun and drawing his Taser and was referencing his stun gun, not an execution, according to court filings.
Crocker and Gutierrez argued that they performed their duties within the law after Nazario failed to immediately pull over and refused to exit his vehicle. A federal judge had already found the officers had probable cause to stop Nazario for an improperly displayed license plate and to charge him with eluding police, obstruction of justice and failure to obey.
In August, a special prosecutor determined that Gutierrez should not be criminally charged but should be investigated for potential civil rights violations.
The scope of Nazario's lawsuit had been narrowed by U.S. District Judge Roderick C. Young, who ruled last year that federal immunity laws shielded Crocker and Gutierrez from Nazario's claims that they violated his constitutional protections against excessive force and unreasonable seizure, as well as Nazario's right to free speech by threatening him with arrest if he complained about their behavior.
Young did allow Nazario to present claims of false imprisonment and assault and battery under state law. The judge also found Crocker liable for illegally searching for a gun in Nazario's SUV, leaving the question of damages on that point to a jury. Nazario had a concealed-carry permit for the weapon.
The jury was also asked to consider whether Gutierrez was liable for the illegal search. The former officer denied he knew Crocker was conducting the search.
---
Must-read stories from the L.A. Times
Get the day's top news with our Today's Headlines newsletter, sent every weekday morning.
You may occasionally receive promotional content from the Los Angeles Times.