Administrators were warned 3 times the day 6-year-old boy shot teacher, lawyer says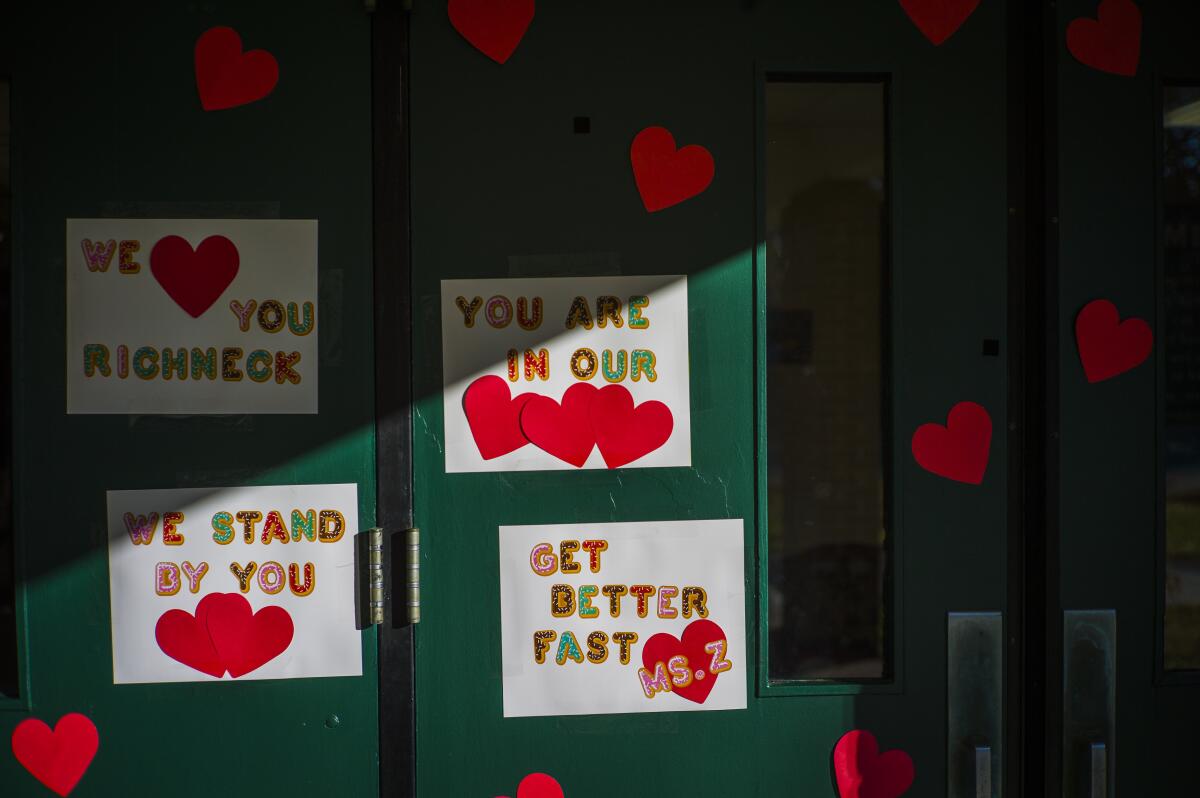 NEWPORT NEWS, Va. —
Concerned teachers and employees warned administrators at a Virginia elementary school three times that a 6-year-old boy had a gun and was threatening other students in the hours before he shot and wounded a teacher, "but the administration could not be bothered," a lawyer for the teacher said Wednesday.
Diane Toscano, an attorney for Abigail Zwerner, said during a news conference that she has notified the Newport News School Board that her client, a 25-year-old teacher at Richneck Elementary School, plans to sue the district over the Jan. 6 shooting, which left Zwerner with serious injuries.
"On that day, over the course of a few hours, three different times — three times — school administration was warned by concerned teachers and employees that the boy had a gun on him at the school and was threatening people. But the administration could not be bothered," Toscano said.
She said that around 12:30 p.m., one teacher told administrators that she had taken it upon herself to search the boy's book bag but warned that she thought he had the gun in his pocket. Toscano said that after 1 p.m., another boy told his teacher that the student had shown him the gun and threatened to shoot him, and that the teacher reported the conversation to administrators.
Another employee later asked for permission to search the boy after hearing about the gun but "was told to wait the situation out because the school day was almost over," Toscano said.
Zwerner had also told school administrators at around 11:15 a.m. that day that the boy had threatened to beat up another child.
A Virginia teacher who was critically injured when she was shot by a 6-year-old student in Newport News is showing signs of improvement.
The shooting raised questions over security at the school and stunned Newport News, a city of about 185,000 people roughly 70 miles southeast of Richmond.
Police Chief Steve Drew has repeatedly characterized the shooting as "intentional," saying the boy aimed at Zwerner and fired one round, striking her in the hand and chest. Zwerner was hospitalized for nearly two weeks but is now recovering at home, a hospital spokesperson said.
Schools Superintendent George Parker III has said that at least one administrator was told on the day of the shooting that the boy might have had a weapon, but no weapon was found when his backpack was searched.
Police have said school officials did not tell them about that tip before the shooting, which happened hours later.
A school shooting that Virginia police said was committed by a 6-year-old student represents a rare occurrence of a child that young bringing a gun into a school and wounding a teacher.
The boy's mother legally purchased the gun used in the shooting, police said. The boy's family said in a statement last week that the gun was "secured." The family's attorney, James Ellenson, told the Associated Press that his understanding was that the gun was in the woman's closet on a shelf well over six feet high and had a trigger lock that required a key.
The family also said in its statement that the boy has an "acute disability" and was under a care plan "that included his mother or father attending school with him and accompanying him to class every day." The week of the shooting was the first when a parent was not in class with him, the family said.
The Newport News School Board will hold a special meeting Wednesday evening to vote on a separation agreement and severance package for Parker, according to a posted agenda. The board is also scheduled to vote on a new interim superintendent.
Sign up for Essential California for news, features and recommendations from the L.A. Times and beyond in your inbox six days a week.
You may occasionally receive promotional content from the Los Angeles Times.