Two Army veterans deported to Mexico gain U.S. citizenship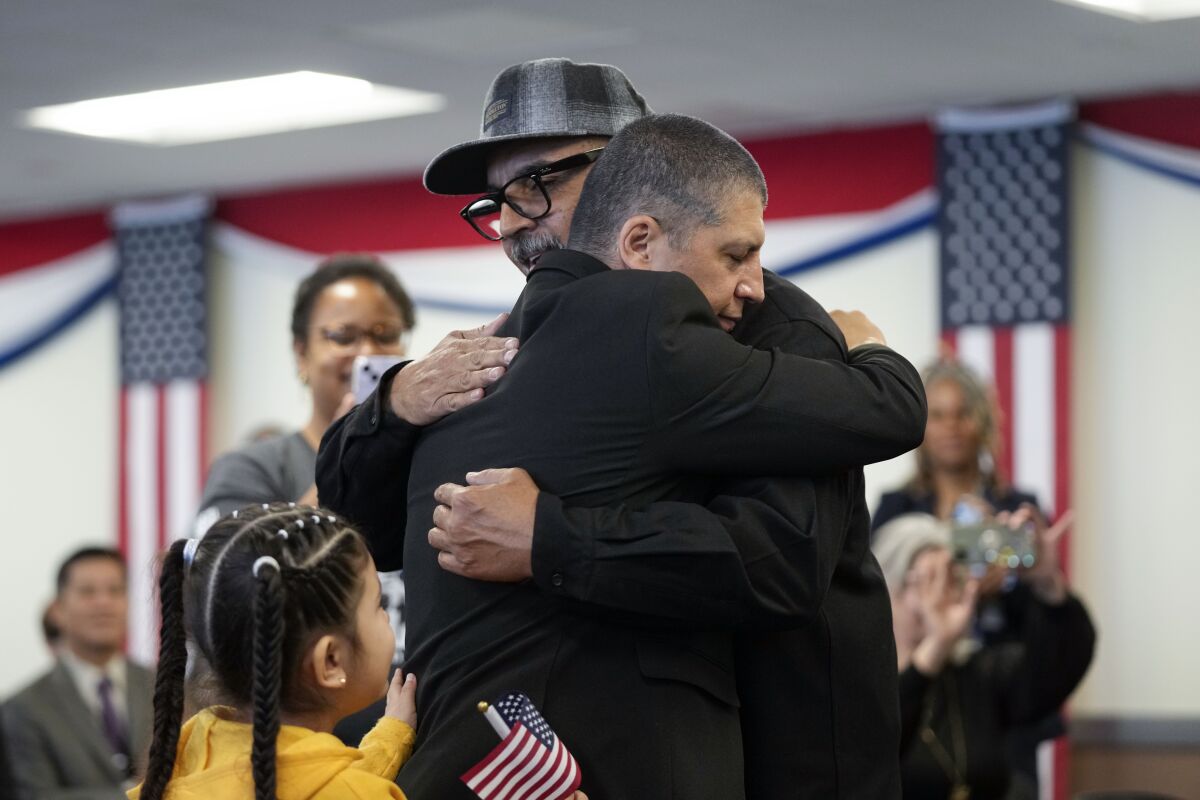 SAN DIEGO —
After fighting in Afghanistan, former U.S. Army soldier Mauricio Hernandez Mata returned home with post-traumatic stress disorder, which he says eventually led to getting in trouble with the law and being deported to Mexico — a country he had not lived in since he was a boy.
On Wednesday, he and another deported veteran were sworn in as U.S. citizens at a special naturalization ceremony in San Diego.
The two veterans were among 65 who have been allowed back into the United States over the last year as part of the Biden administration's Immigrant Military Members and Veterans Initiative, a growing effort to make amends with immigrants who served in the U.S. military only to wind up deported.
Hundreds of U.S. military veterans, including some who were charged with crimes such as drunk driving or theft, have been deported over the years in what immigrant advocates and others have called an unfair punishment to those who took up arms in the name of the United States. Many are still struggling to find legal help to return, according to the American Civil Liberties Union.
"After my deportation, yeah, I never thought this day would come," said Hernandez, 41, after he was presented his U.S. citizenship certificate. "It's definitely been a long road. I'm glad that we were given a second chance, as anybody that is either American-born or fought for America should have."
Leonel Contreras, 63, who joined the U.S. Army at 17 and served for a year, also was sworn in at the ceremony.
"I feel very blessed," said Contreras, who was allowed back into the United States about four months ago. "I feel very happy to be back on American soil."
After the Turkey earthquake, scenes of suffering and frustration play out as families and rescuers search amid rubble and the death toll hits 16,000.
Both men had spent the last decade living in the border city of Tijuana.
Contreras had been whisked away by U.S. immigration authorities from his job at a barbershop in National City, south of San Diego. His life forever changed.
He continued to work in Tijuana as a barber, and his English also helped him find work at call centers, answering questions from customers of U.S. companies. But it was not easy.
During that time his two sons grew up, and he now is a grandfather. With his U.S. citizenship in hand, he said, he is not looking back.
"I just want to go to all the places I've dreamed of seeing, like the Grand Canyon and possibly Mt. Rushmore," he said.
Hernandez said his deportation came after "irreverent actions and mistakes" arising from his PTSD. He declined to give more details. But he said that after he was allowed back into the country a year ago, he became determined to get his U.S. citizenship so he could do things like go to the grocery store without feeling "terrified" of being picked up and sent back to Mexico.
His 7-year-old daughter hugged him after he was sworn in amid cheers from a crowd that included more than a dozen other veterans from various branches. Then he turned and kissed his wife.
"I've always been an American. The difference is now I'm an American citizen and I have all the rights that any American-born citizen has," Hernandez said. "And it was important to me to have those rights just to prove the point — the point being that anybody that's willing to lay down their life, their sanity, and give everything that they hold dear for American freedom should be eventually at one point in their lives considered a U.S. citizen."
Must-read stories from the L.A. Times
Get the day's top news with our Today's Headlines newsletter, sent every weekday morning.
You may occasionally receive promotional content from the Los Angeles Times.