Native dancers want Arizona gallery owner held on hate crime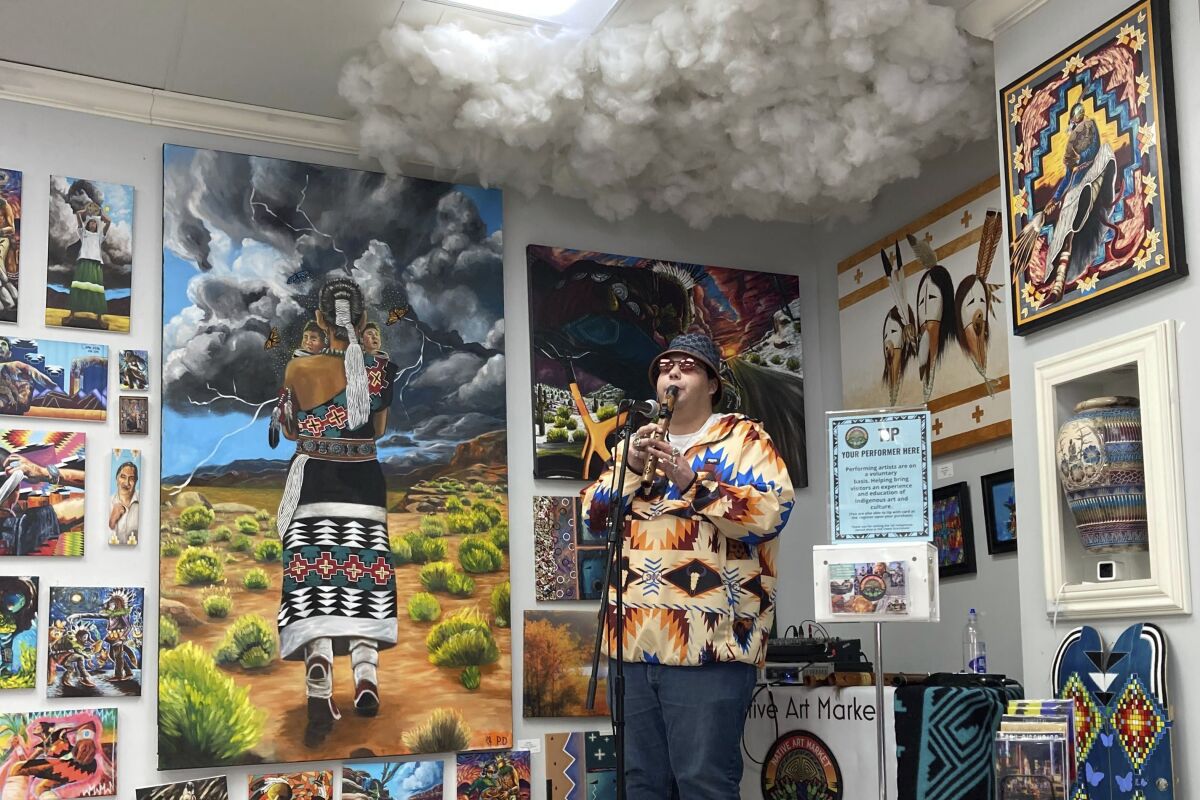 PHOENIX —
Native American dancers who were the target of a racist rant from a suburban Phoenix gallery owner as they were filmed for Super Bowl week are pushing for hate crime charges.
Gilbert Ortega Jr., owner of Gilbert Ortega Native American Galleries, has been charged with three misdemeanor counts of disorderly conduct regarding the incident, Scottsdale police said.
Cody Blackbird, a dancer and flutist who filmed the tirade, said his group doesn't feel safe. The confrontation has ruined what should have been a celebratory week.
"Us performers are now going in different entrances and parking in different places. This man is known," Blackbird said. "There's a 10-year-old girl who was there. She's forever imprinted with 'This is what happened when the Super Bowl came to town.' "
The group is seeking the involvement of the FBI, U.S. Justice Department and Arizona attorney general's office.
The confrontation occurred Tuesday afternoon in Old Town Scottsdale, which has been seeing a high volume of visitors who are in town for the big game and the Phoenix Open golf tournament. Ten dancers were performing in front of the Native Art Market on Main Street. ESPN filmed the group in the store, then had the dancers pose outside by a Super Bowl sign.
That's when Ortega started yelling at them, Blackbird said. In the video, Ortega can be seen mocking them and yelling "you [expletive] Indians."
His shop was closed Friday, and a listed number appears to not be in a service. There was no immediate response to messages from the Associated Press seeking comment that were left at phone numbers and personal email addresses listed for him.
In Arizona, there is no law specific to a hate crime. It can be used as an aggravating circumstance in the commission of a crime in which the motive was bias against a victim's race, religion, ethnicity, gender, gender identity, sexual orientation or disability.
Disorderly conduct does not qualify for a hate crime designation under the FBI's definition, according to Scottsdale authorities. The FBI website describes a hate crime as "often a violent crime, such as assault, murder, arson, vandalism or threats to commit such crimes."
Blackbird, who is of Eastern Band Cherokee and Dakota descent, said some Navajo performers heard Ortega make threats in their language that had violent and sexual innuendos. He alleges that Ortega charged at them and had to be physically restrained. He said he doesn't see why it's not being treated as a hate crime.
"That's what it's seeming like, which really creates some horrible precedents, dangerous precedents," said Blackbird, who has retained an attorney.
Meanwhile, the video has gained traction on social media and brought unwanted attention to Scottsdale. Mayor David Ortega, who is not related to the gallery owner, called the behavior "reprehensible and inexcusable."
"The behavior exhibited by this individual saddens and disgusts the people of our community," the mayor said in a statement.
Blackbird said there are growing calls on social media for artists to boycott Ortega's business. He said racism exists even among those whose business hinges on Indigenous people.
"That's always been a thing in the Indian trader world," Blackbird said. "They don't care about the people that are making the items they're selling and redesigning."

Must-read stories from the L.A. Times
Get the day's top news with our Today's Headlines newsletter, sent every weekday morning.
You may occasionally receive promotional content from the Los Angeles Times.