Iran sentences detained U.S.-based opposition figure to death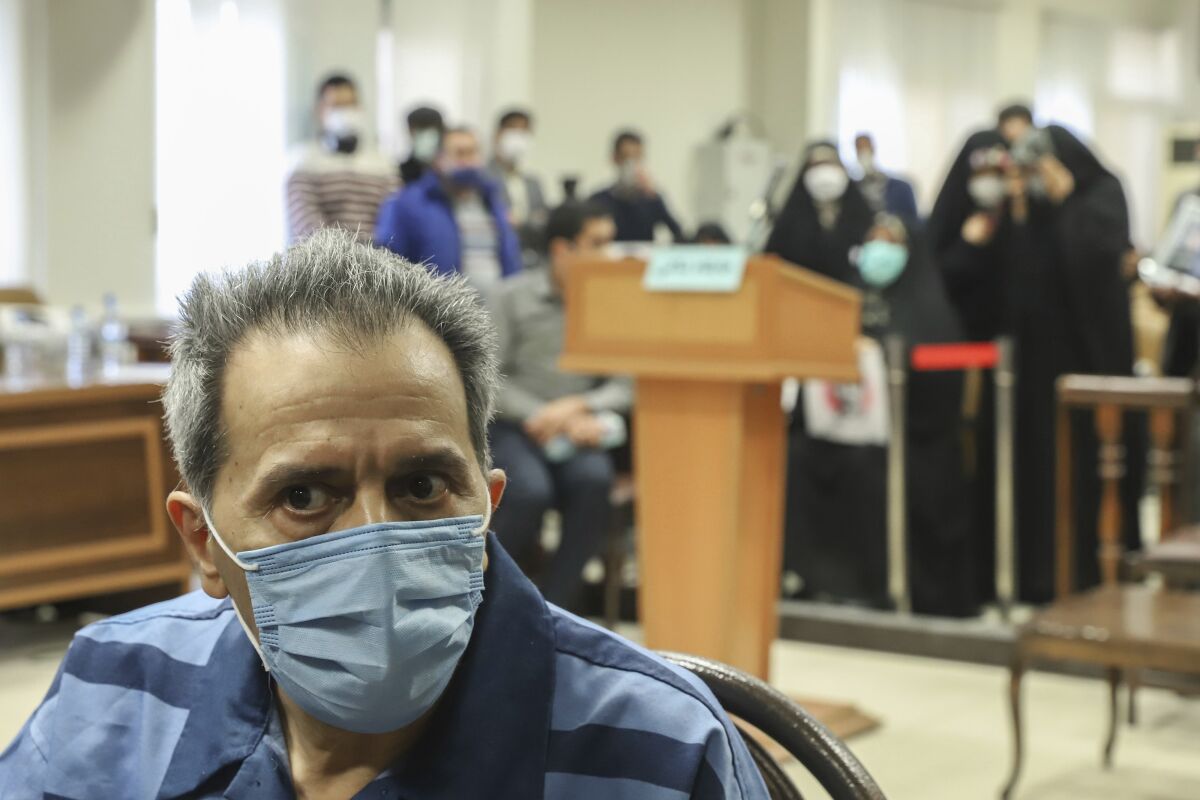 DUBAI —
A senior member of a U.S.-based Iranian opposition group who is being held by Iran and is accused of orchestrating a deadly 2008 mosque bombing has been sentenced to death, authorities said Tuesday.
Iran says Jamshid Sharmahd, a 67-year-old Iranian German national and resident of Glendora in the San Gabriel Valley, is the leader of the armed wing of a group advocating the restoration of the monarchy that was overthrown in the 1979 Islamic Revolution.
His family has said he was merely the spokesman for the opposition group and denied that he was involved in any attacks. They accuse Iranian intelligence of abducting him from Dubai in 2020.
German Foreign Minister Annalena Baerbock described the death sentence as "absolutely unacceptable" and said, without elaborating, that there would be a "clear reaction."
She said Sharmahd did not have "even the beginning of a fair trial" and that consular access and access to the trial had been "repeatedly denied."
His arrest, she said, came "under highly questionable circumstances."
The death sentence — which can be appealed — comes against the backdrop of months of antigovernment protests in Iran and a crackdown on dissent. Monarchists based outside Iran support the protests, as do other groups and individuals with different ideologies.
Chinese leader Xi Jinping has expressed support for Iran during a visit by its president as Tehran tries to expand relations with Beijing and Moscow.
The official website of Iran's judiciary said Sharmahd was convicted of plotting terrorist activities. He was tried in a Revolutionary Court, where proceedings are held behind closed doors and defendants are unable to choose their lawyers or see the evidence against them, rights groups say.
Iranian authorities have accused him of planning a series of attacks, including the 2008 bombing of the Hosseynieh Seyed al Shohada Mosque in Shiraz, in which 14 people were killed and more than 200 wounded.
He has also been accused of working with U.S. intelligence and of spying on Iran's ballistic missile program. State TV has said his group was behind a 2010 bombing at Ayatollah Ruhollah Khomeini's mausoleum in Tehran that wounded several people.
Iran says Sharmahd is the leader of Tondar, the militant wing of the opposition group known as the Kingdom Assembly of Iran. He was targeted in 2009 in an apparent Iranian assassination plot on U.S. soil.
Sharmahd's family says he was passing through Dubai on his way to India for a business deal in July 2020 when he abruptly stopped responding to calls or messages. Location data showed his phone leaving a hotel near the airport and traveling south across the border into neighboring Oman, to the port of Sohar, where the signal stopped.
Two days later, Iran announced that Sharmahd had been captured in a "complex operation," and the Intelligence Ministry published a photo of him blindfolded.
His family says he was held in solitary confinement for more than 18 months before being put on trial in February 2022.
The execution comes as other detainees also face the possibility of the death penalty for their involvement in protests that began in September.
A Middle East expert with Amnesty International's German branch, Katja Mueller-Fahlbusch, said the organization is "appalled by the death sentence." She said in a statement that the proceedings were "a show trial" and that "Iran withheld numerous rights from him, including the free choice of a lawyer."
Mueller-Fahlbusch added that Sharmahd's family has had "as good as no contact" with him for more than two years, no one knows what prison he is in, and "we have to assume that he has been a victim of torture." His health has "worsened dramatically" in custody, and Iranian authorities have "systematically denied him access to appropriate medical care," she said.
Western officials believe Iran runs intelligence operations in Dubai and keeps tabs on the hundreds of thousands of Iranians living in the city in the United Arab Emirates, which is a U.S. ally. Iran is suspected of kidnapping and later killing British Iranian national Abbas Yazdi in Dubai in 2013, though Tehran has denied involvement.
The U.S. State Department runs its Iran Regional Presence Office in Dubai, where diplomats monitor Iranian media reports and talk to Iranians.
Iran has been rocked by more than five months of antigovernment protests ignited by the death of 22-year-old Mahsa Amini, who was detained by the morality police for allegedly violating the country's strict Islamic dress code. The protesters have called for the overthrow of the ruling clerics.
Security forces have attacked the demonstrators with live ammunition, bird shot and batons, rights groups say. At least 530 protesters have been killed, and nearly 20,000 people have been arrested, according to Human Rights Activists in Iran, a group monitoring the unrest.
Iranian authorities have blamed the protests on hostile foreign powers, without providing evidence, and have not released official figures for those killed or arrested.
Iran has executed four men accused of violence linked to the protests; activists say at least 16 others have been sentenced to death.
Associated Press writer Geir Moulson in Berlin contributed to this report.

Must-read stories from the L.A. Times
Get the day's top news with our Today's Headlines newsletter, sent every weekday morning.
You may occasionally receive promotional content from the Los Angeles Times.