Gaza militants fire rockets, Israel mounts airstrikes after deadly West Bank raid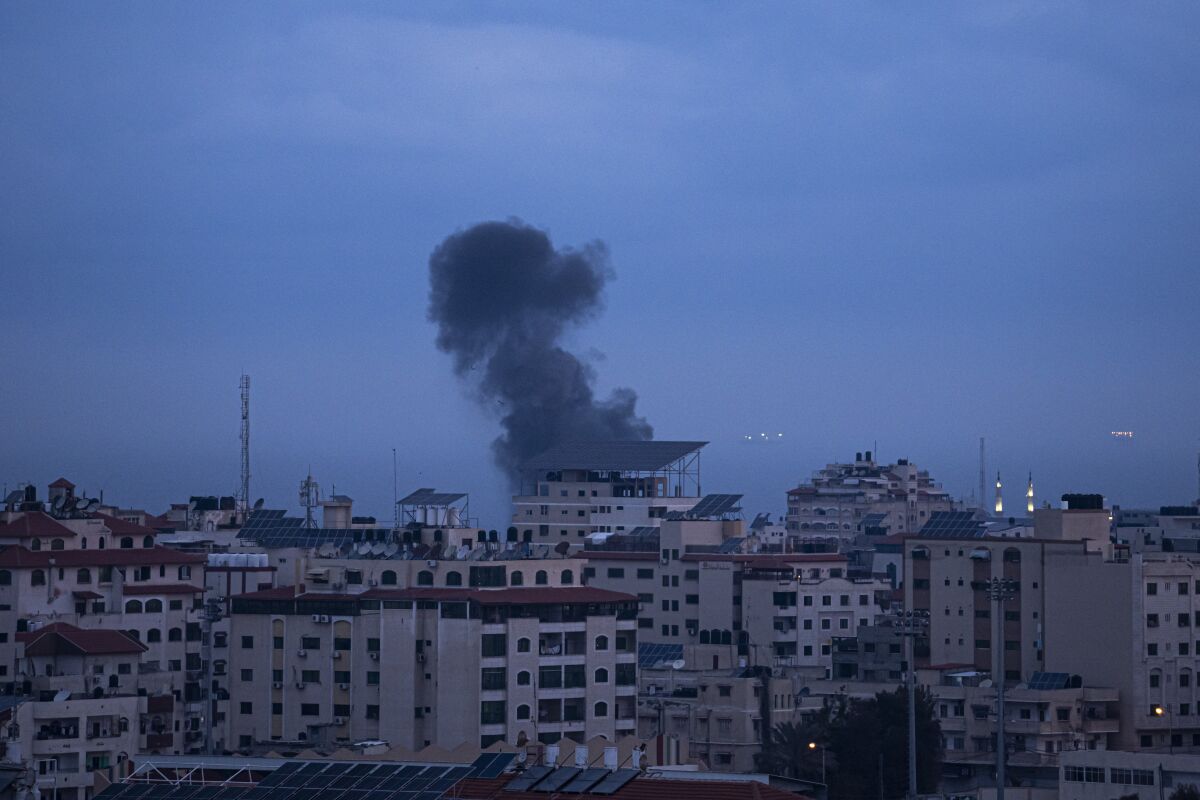 TEL AVIV —
Palestinian militants in the Gaza Strip launched rockets at southern Israel and Israeli aircraft struck targets in the coastal enclave early Thursday after a deadly gun battle with Israeli troops during a raid in the occupied West Bank that killed 10 Palestinians.
The bloodshed extends one of the deadliest periods in years between Israelis and Palestinians in the West Bank, where dozens of Palestinians have been killed by Israeli fire since the start of the year. Palestinian attacks on Israelis in 2023 have killed 11 people.
The Israeli military said Palestinian militants fired six rockets from the Gaza Strip toward the country's south early Thursday. The Israeli military said air defenses intercepted five of the rockets, which were fired toward the cities of Ashkelon and Sderot. One missile landed in an open field.
Israeli aircraft then struck several targets in northern and central Gaza, including a weapons-manufacturing site and a military compound belonging to the Hamas militant group, which rules Gaza. There were no reports of injuries in Israel or Gaza.
The violence comes in the first weeks of Israel's new far-right government, which has promised to take a tough line against the Palestinians and pledged to ramp up construction of Jewish settlements on lands that Palestinians seek for their future state. Israeli security forces have stepped up arrest raids in the West Bank since a series of deadly Palestinian attacks last spring, operations that Israel says are meant to dismantle militant networks and thwart future assaults.
But they have shown few signs of slowing the violence, and Wednesday's raid in the West Bank town of Nablus resulted in one of the bloodiest battles in nearly a year in the West Bank and East Jerusalem, raising the likelihood of further bloodshed.
The U.S. is so far empty-handed in dealing with Israel's radical government and dysfunctional Palestinian leadership.
"We have a clear policy: to strike terror powerfully and to deepen our roots in our land," Israeli Prime Minister Benjamin Netanyahu told a meeting of his Cabinet. "We will settle accounts with whoever harms Israeli citizens."
Israeli police increased security in sensitive areas. The ruling Hamas group in Gaza said its patience was "running out," while Islamic Jihad, another militant group, vowed to retaliate.
A day after a raid in January on the Jenin refugee camp in the West Bank that killed 10 Palestinians, a Palestinian shot and killed seven people outside a synagogue in East Jerusalem.
On Thursday, police said security guards at the entrance to a Jewish settlement in the West Bank shot and lightly wounded a woman who police said attempted to stab the guards.
Residents and activists say the Israeli military has demolished homes, water tanks and olive orchards in two Palestinian villages in the occupied West Bank.
Among the 10 killed Wednesday in Nablus were Palestinian men aged 72 and 61, and a 16-year-old boy, according to health officials. Scores of others were wounded. Various Palestinian militant groups claimed six of the dead as members. There was no immediate word on whether the others belonged to armed groups. Officials also said a 66-year-old man died from tear gas inhalation.
In response to the raid, a strike was called across the West Bank, and schools, universities and shops shut down in protest. Schools and universities were closed in Gaza. Most shops in East Jerusalem were also shut.
The Israeli military said it entered Nablus, the West Bank's commercial center and a city known as a militant stronghold, to arrest three militants suspected in previous shooting attacks. The main suspect was wanted in the killing of an Israeli soldier last fall.
Wednesday's four-hour operation left a broad swath of damage in a centuries-old marketplace in Nablus. Shops were riddled with bullet holes, parked cars were crushed and blood stained the cement. Furniture from a destroyed home was scattered among mounds of debris.
Get breaking news, investigations, analysis and more signature journalism from the Los Angeles Times in your inbox.
You may occasionally receive promotional content from the Los Angeles Times.
The influx of wounded overwhelmed the city's Najah Hospital, said Ahmad Aswad, the head nurse of the cardiology department.
In one emotional scene, an overwhelmed medic pronounced a man dead, only to notice the lifeless patient was his father. Elsewhere, an amateur video showed two men, apparently unarmed, being shot as they ran in the street. Israeli military spokesman Lt. Col. Richard Hecht said the armed forces were looking into it.
As the bodies were paraded through the crowd on stretchers, thousands of people packed the streets, chanting in support of the militants. Masked men fired into the air.
The fighting comes at a sensitive time, less than two months after Netanyahu's new hard-line government took office. It presents an early challenge for Netanyahu, who on top of spiraling violence is also facing waves of pro-democracy protests by Israelis against a plan to overhaul the country's justice system.
Tens of thousands of Israelis have poured into the streets each weekend to protest changes Netanyahu and his coalition are planning that opponents believe will curtail civil liberties.
The government is dominated by ultranationalists who have pushed for tougher action against Palestinian militants and vowed to entrench Israeli rule in the West Bank. Israeli media have quoted top security officials as expressing concern that this could lead to even more violence as the Muslim holy month of Ramadan approaches.
About 60 Palestinians have been killed in the West Bank and East Jerusalem this year, according to a tally by the Associated Press.
Last year, nearly 150 Palestinians were killed in those areas, making it the deadliest year there since 2004, according to figures by the Israeli rights group B'Tselem. Some 30 people on the Israeli side were killed in Palestinian attacks.
Must-read stories from the L.A. Times
Get the day's top news with our Today's Headlines newsletter, sent every weekday morning.
You may occasionally receive promotional content from the Los Angeles Times.