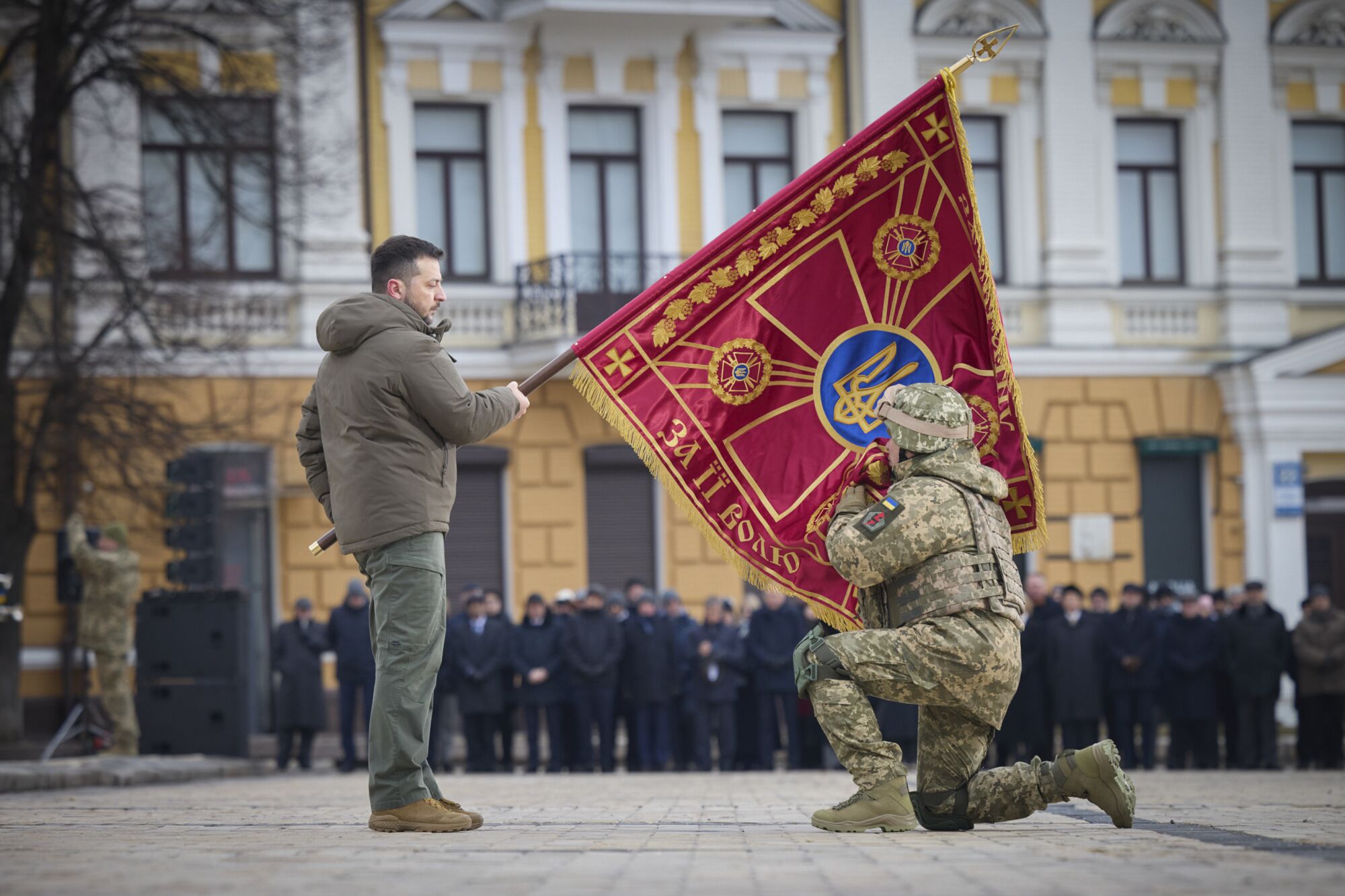 KYIV, Ukraine —
Church bells tolled, weeping mourners embraced and blue-and-yellow national flags fluttered Friday as Ukraine marked the first anniversary of a Russian invasion that triggered a cataclysmic war but also galvanized a powerful sense of common purpose among the country's people.
"We clearly understood that for each tomorrow, you need to fight," President Volodymyr Zelensky told his compatriots in a video address commemorating the Feb. 24, 2022, invasion that triggered Europe's largest land battle since World War II. "And we fought."
Across the country, Ukrainians looked back on the year with a mixture of sorrow and pride.
"No one was expecting Ukraine would still be standing today," said Oleksandr Azarov, a 39-year-old emergency services worker from the northern city of Chernihiv. "We are grieving, all of us, but we hope and trust that victory will be ours."
The war's repercussions have spread far beyond Ukraine. Although the NATO alliance grew in cohesiveness, inflation worsened and energy woes beset the United States and Europe, though they have eased in recent months. Deep fissures were laid bare between wealthy industrialized democracies and the global south, which has largely taken an arms-length approach to the conflict.
And Russian President Vladimir Putin's nuclear saber-rattling — most recently exemplified by his announcement that he would suspend participation in Moscow's last nuclear arms-control pact with Washington — inspires periodic dread around the world.
War wounds and traumatic captivity, cherry liqueur and air-raid alerts: Weathering the year-old Russian invasion
At a rare news conference, Zelensky implored Ukraine's allies to remain united "like a fist," saying Ukraine could win the war if the West provides sufficient military support.
Some items on Kyiv's weaponry wish list are materializing: Poland's president, Andrzej Duda, said Friday that the first Polish-provided Leopard battle tanks had arrived in Ukraine, but he did not provide a specific number.
In Washington, the Biden administration announced an additional $2-billion military aid package for Ukraine, which will include more rocket launchers and drones. The administration also slapped another round of economic sanctions on several Russian mining and metals firms and banks, aimed at crimping Moscow's financial streams.
"The United States stands strongly with Ukraine as it defends itself, and we will continue to do so until Ukraine's sovereignty is respected and the people of Ukraine can shape their chosen, democratic future in freedom and peace," Secretary of State Antony J. Blinken said.
Separately, at the United Nations, Blinken sought to deflate attempts by China and others to put forward so-called peace plans that in fact grant Russia the territorial gains it seeks. "Any peace that legitimizes Russia's seizure of land by force," Blinken said, "will weaken the [U.N.] Charter and send a message to would-be aggressors everywhere that they can invade countries and get away with it."
Later Friday, at a smaller meeting of the U.N. Security Council, Russia and Ukraine exchanged sharp words and held competing moments of silence to honor those who have died in the war.
The Russian ambassador, Vassily Nebenzia, was angry that the Ukrainian representative, the country's foreign minister, Dmytro Kuleba, was allowed to speak first. Then the two seemed to spar over whose victims were more important.
Kuleba called for a moment of silence in honor of Ukrainians killed in the conflict, and most of the assembly diplomats rose to their feet. Not to be outdone, Nebenzia called for a similar honor for "all" the dead.
After some hesitation and confusion, the diplomats rose again.
"All lives are priceless, and that is why we're rising to honor the memory of them all," Nebenzia said, making a point to include those killed in Russia's illegal annexation of the Crimea peninsula in 2014.
Kuleba seemed uninterested in niceties.
"The longer you will keep attacking Ukraine," he told the Russian delegation, "the more humiliating your defeat will be."
In Ukraine, along a battlefront stretching for hundreds of miles in the south and east, months of grinding winter combat have failed to yield much of an advantage for either side, following a string of Ukrainian victories in the late summer and early autumn. Ukraine's military said that as the anniversary approached, Russia stepped up battlefield activity in at least two dozen towns and villages along the front lines, but without appreciable gains — a stalemate that some analysts warn could persist into the second year of combat.
In cities and towns far from the fighting, many Ukrainians said they were doing their best to create some sense, however illusory, of normal life for themselves and their families.
In the capital, Kyiv, people clustered in coffeehouses, hung laundry out to dry, boarded rattling subway trains and hurried along city sidewalks, bundled against a penetrating winter chill. Air raid sirens remained quiet, despite worries that Russia would unleash a barrage of missiles and drones on the one-year anniversary of its "special military operation."
"We must not be crushed by the situation," said Alina Bavisheva, a 31-year-old clothing designer who was out shopping with an equally glossy-haired friend in an upscale Kyiv department store. "We have to recover, we have to live."
The hallmarks of a wartime capital, though, were unmistakable: sandbagged statuary, rusted "hedgehog" tank traps, checkpoints on roads leading to the city. Occasional passersby carry on their faces or bodies evidence of the conflict engulfing their country: a telltale limp because of a prosthetic leg, a raw scar on a jawline.
Zelensky, the 45-year-old president who has emerged as an unexpectedly Churchillian wartime leader, made a point of appearing at an open-air ceremony in central Kyiv to honor fallen troops. Participants observed a moment of silence for slain civilians and soldiers alike, who number in the tens of thousands.
Los Angeles Times photographers document the battle in Ukraine after Russian forces invaded nearly a year ago.
In Bucha, a garden suburb northwest of Kyiv whose name became known the world over as the site of horrific atrocities against civilians during a monthlong Russian occupation last spring, townspeople gathered at the whitewashed, gilt-domed St. Andrew's Church, now a museum documenting the town's suffering.
"There were so many bodies," said the church's bell ringer, 87-year-old Petro Potapenko, gesturing toward what had been a sandy trench where dozens of corpses were unearthed after the Russians retreated from their attempt to seize Kyiv.
Many Ukrainians had braced for the possibility of a hail of missiles and drones Friday, possibly in the same predawn hours that marked the joining of battle when Kyiv and other cities came under bombardment and Russian troops moved in from the north, south and east.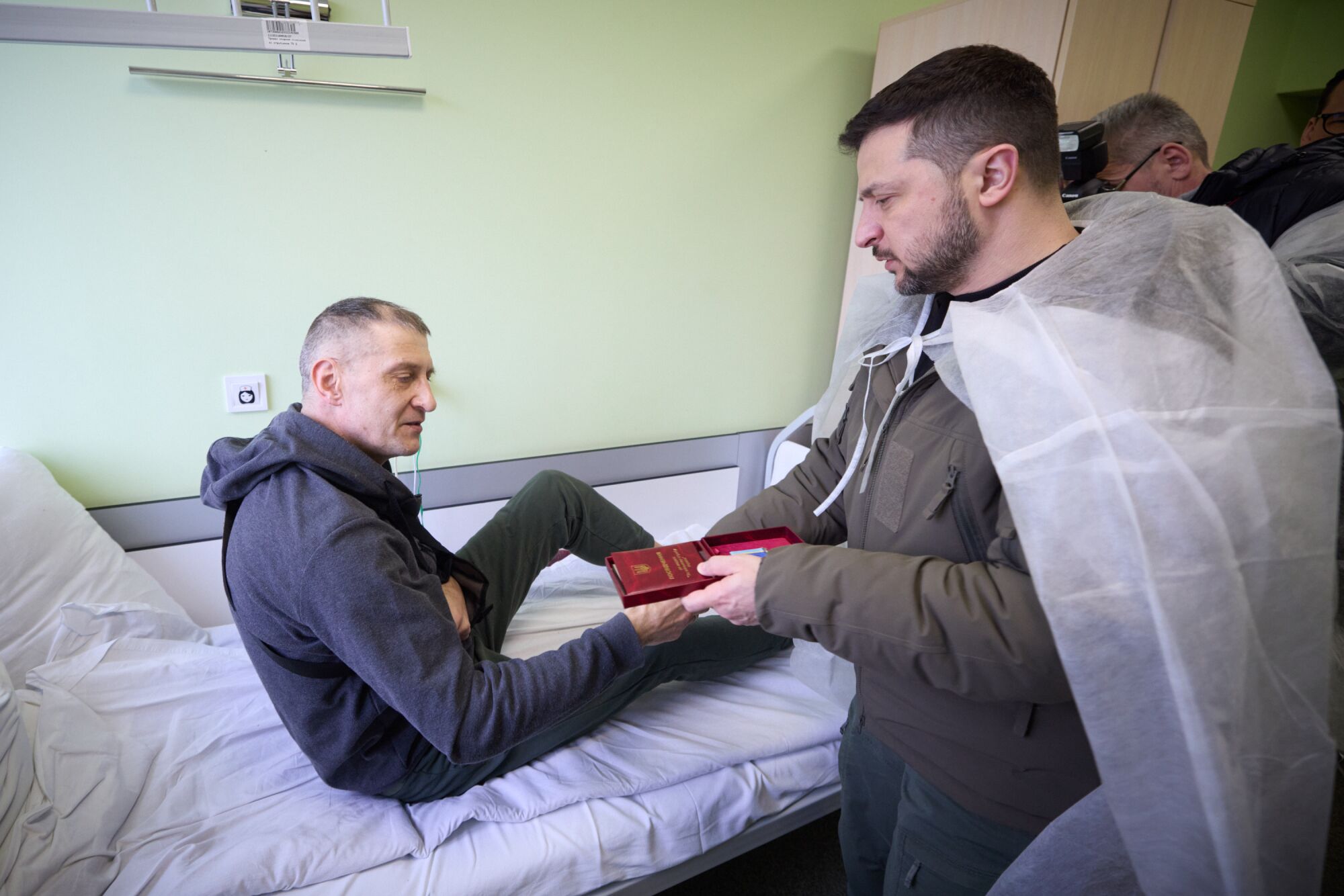 But by late evening, there had not been even one air alert in Kyiv.
Some precautions were put in place surrounding the anniversary date. Schools were advised to hold classes remotely, and large public gatherings were discouraged. In particularly dangerous areas, such as the southern city of Kherson, recaptured by Ukraine in November but still subject to airborne attacks, people were advised to stay inside.
Four days after a surprise visit to Kyiv by President Biden, the U.S. ambassador to Ukraine, Bridget Brink, hailed the country's struggle — buoyed by billions of dollars' worth of Western military aid — as an inspiration for the democratic world.
"A year ago today, Russia tried to change borders by force, take away your liberty and break your will," she said in a statement. "We refuse to accept a world governed by fear and force: we stand with Ukraine."
Other Western allies made gestures of support, with Paris lighting up the Eiffel Tower and Berlin its Brandenburg Gate in the colors of the Ukrainian flag, and candlelight vigils were held in several European capitals.
In Russia, Putin has cast the war as a fight for the nation's existence against supposed neo-Nazis in Ukraine and the assembled forces of the West. Dissent has virtually been stamped out, and hundreds of thousands, perhaps millions, of Russians have left the country to avoid conscription, the crackdown on free expression or the economic effects of international sanctions.
Some Ukrainians voiced fresh disdain for the Russian leader, who this week delivered two high-profile speeches, both of them bitter and bellicose. Ukraine's postal service issued a commemorative anniversary stamp depicting a mural by the British artist Banksy that appeared last year in the devastated town of Borodyanka. It shows a child executing a judo flip on a figure resembling Putin, who prides himself on his judo skills, together with initials used for an expletive aimed at the Russian president.
"Oh, yes, I like the look of this," Mykhailo Harbunov, 68, said of the new stamp.
Waiting in a long line at the main post office on Kyiv's Independence Square, he recalled the fighting outside his hometown, Kherson, the only provincial capital to fall to the Russians before being retaken by Ukraine eight months later. Despite his age, he joined in, fighting alongside the local territorial defense force, narrowly escaping harm in a mortar blast.
"We didn't always win right away," Harbunov said. "But we'll win in the end."
King reported from Kyiv and Wilkinson from Washington.
Must-read stories from the L.A. Times
Get the day's top news with our Today's Headlines newsletter, sent every weekday morning.
You may occasionally receive promotional content from the Los Angeles Times.