Nigeria opposition rejects ruling party's early vote lead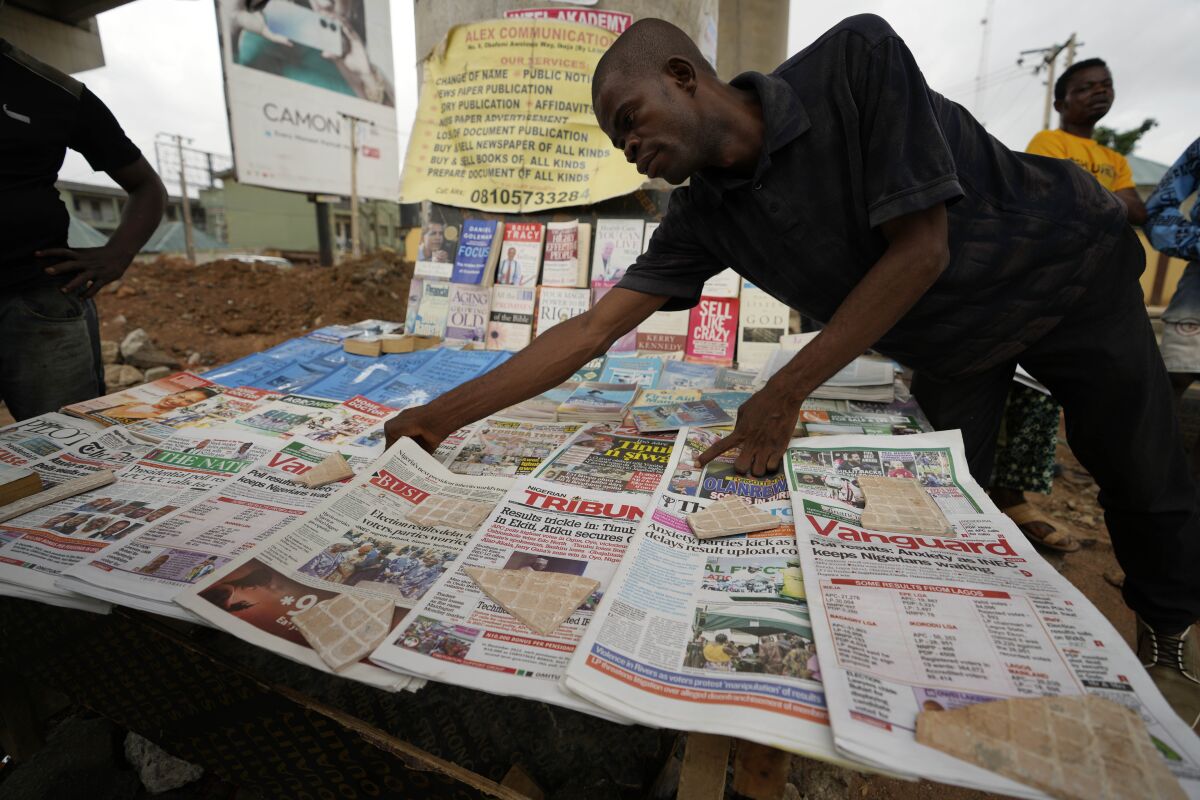 ABUJA, Nigeria —
Tensions rose Monday during ballot counting in Nigeria's hotly contested presidential election when representatives from two main opposition parties walked out in anger from the center where state-by-state results were being announced.
With 11 of Nigeria's 36 states having reported as of Monday evening, ruling party candidate Bola Tinubu was leading with 46% of the 6.7 million counted votes so far. He was followed by the main opposition party candidate, Atiku Abubakar, who had 29%, and third party candidate Peter Obi, who had 20%.
In order to win, the candidate who leads the popular vote must also win at least a quarter of the votes in two-thirds of the states and the capital, Abuja.
Tempers flared Monday in Abuja, where representatives of all the parties awaited the results. The two leading opposition parties claimed there were disparities between the results announced by the election commission and what their representatives learned at the polling stations.
"We are Nigerians and must defend our rights," said Dino Melaye, a representative of the main opposition party, the People's Democratic Party, led by Abubakar. Nigeria's electoral law allows party representatives or agents to raise concerns about results while they are being announced by the election commission.
One of former President Carter's biggest hopes is wiping out an infectious parasitic disease that's plagued humans for millennia. How close is he?
The country's election chief, Mahmood Yakubu, dismissed claims of irregularities and said the results were authenticated by electoral officials.
Representatives for Nigeria's ruling party accused the opposition parties of inciting violence and called on security forces to restrain them.
"If they don't, a situation may well arise that none of us want, whereby people actually act on this incitement and begin to kill other people," said Femi Fani-Kayode, a former culture minister who is on the ruling party's presidential campaign council. "And if that happens, I assure you it will be very difficult to restrain those on our own side" from retaliating.
The ruling party pointed to Obi's victory in the heavily coveted Lagos state, which is home to Nigeria's largest city, Lagos, as proof that the vote was free and fair. It was a particularly hard loss for ruling party candidate Tinubu, who was once the governor of the state.
It was not immediately known how many ballots were cast in the other 25 states or which candidates stood to gain the most votes from those results.
After the last presidential election in 2019, it took four days for a victor to be declared. A runoff election will be held if no candidate secures at least a quarter of the votes from two-thirds of Nigeria's 36 states and the capital city, in addition to receiving the highest number of votes.
On his trip through Africa last week, Secretary of State Antony J. Blinken told reporters that the U.S. has 'been clear about our concerns related to Paul Rusesabagina's trial and conviction, particularly the lack of fair-trial guarantees.'
On Monday, the African Union observer mission said voting had been delayed in more than 80% of polling units mainly because of logistical challenges caused by Nigeria's currency swap program. The redesign of the Nigerian bank note, the naira, caused cash shortages nationwide, and voters and poll workers had difficulties getting to polling stations Saturday. Voters in some states had to wait until late in the evening to cast ballots, while in other states the election continued Sunday.
Observers from the African Union and the West African regional bloc known as ECOWAS said the election was generally "encouraging" except for isolated cases of violence that disrupted voting in some states.
Isolated cases of violence on election day led to the deaths of nine civilians, according to the Lagos-based SBM Intelligence company, pointing to a far more peaceful election than in previous years, when there were more deaths.
"Going by this trajectory, we are likely to have fewer deaths" during the election period compared with 2019, said Confidence MacHarry, a security analyst with SBM Intelligence.
Associated Press journalists Taiwo Ajayi in Abuja and Sam Mednick in Ouagadougou, Burkina Faso, contributed to this report.
Must-read stories from the L.A. Times
Get the day's top news with our Today's Headlines newsletter, sent every weekday morning.
You may occasionally receive promotional content from the Los Angeles Times.