Russia's war in Ukraine responsible for 'massive' human rights violations, U.N. chief says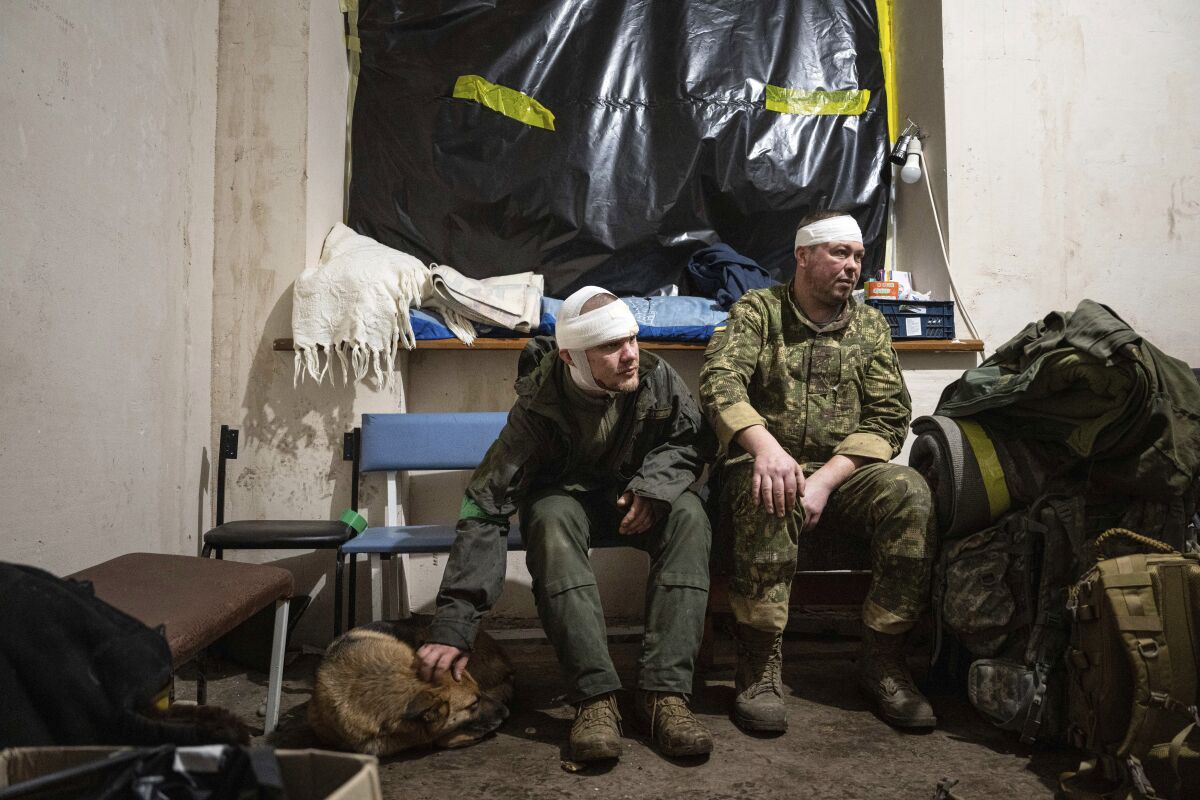 GENEVA —
Russia's full-scale invasion of Ukraine has triggered "the most massive violations of human rights" in the world today, the head of the United Nations said Monday, as the war pushed into its second year with no end in sight and tens of thousands of people dead.
The Russian invasion "has unleashed widespread death, destruction and displacement," U.N. Secretary-General António Guterres said in a speech to the U.N.-backed Human Rights Council in Geneva.
After failing to capture Kyiv, the Ukrainian capital, in the opening weeks of the invasion and suffering a series of humiliating setbacks in the east and the south during the fall, Russia has stabilized the front and is concentrating its efforts on a slow push to capture the rest of the Ukraine's eastern industrial heartland, the Donbas. Ukraine, meanwhile, hopes to use battle tanks and other new weapons pledged by the West to launch new counteroffensives and reclaim more of the occupied territory.
Guterres said that "attacks on civilians and civilian infrastructure have caused many casualties and terrible suffering."
His remarks came as the Ukrainian military said that Russia launched attacks with exploding drones on several regions of the country that lasted from late Sunday until Monday morning, killing two people.
Meanwhile, Belarusian opposition activists claimed that a military air base that hosts Russian warplanes outside Belarus' capital, Minsk, came under attack Sunday by Belarusian guerrillas.
Across the country, Ukrainians looked back on a year of war with both sorrow and pride as their president vowed to push for victory over Russia.
BYPOL, an online messaging app channel run by the activists, and several other online resources operated by the Belarusian opposition said an A-50 early warning and control aircraft was seriously damaged in the attack at the Machulishchy base.
The activists provided no evidence to support the claims, which couldn't be independently verified. Belarusian and Russian officials made no comment, but Belarusian President Alexander Lukashenko urged top military and security officials Monday to tighten discipline.
Russia used the territory of its ally Belarus to invade Ukraine a year ago. Belarus continues to host Russian troops, warplanes and other weapons.
In his speech in Geneva, Guterres cited cases of sexual violence, enforced disappearances, arbitrary detention and violations of the rights of prisoners of war, as documented by the U.N. human rights office.
Overwhelming evidence shows Russian troops have disregarded international laws governing treatment of civilians and conduct on the battlefield.
Guterres decried how the Universal Declaration of Human Rights, now 75 years old, has been "too often misused and abused."
"It is exploited for political gain, and it is ignored, often, by the very same people," Guterres said. "Some governments chip away at it. Others use a wrecking ball....
"This is a moment to stand on the right side of history," he told the rights council, the U.N.'s top human rights body. Russia withdrew from its seat last year amid a surge in international pressure over the war in Ukraine.
Dozens of high-level envoys at the Geneva meeting, many from Western countries, lashed out at Russia over its conduct in the war. At the simultaneous Conference on Disarmament, another U.N.-backed body, delegates criticized Putin's decision to suspend Russia's participation in the New START agreement with the United States, the last nuclear arms-control agreement between Moscow and Washington.
War wounds and traumatic captivity, cherry liqueur and air-raid alerts: Weathering the year-old Russian invasion
Russia was not represented at the rights council, and its top envoy to the session wasn't expected to speak until Thursday.
Russian officials have shown little sign that they may be reconsidering their attack on their neighbor.
Kremlin spokesman Dmitry Peskov said Monday: "We aren't seeing any conditions for a peaceful settlement now."
Dmitry Medvedev, the deputy head of Russia's Security Council, which is chaired by President Vladimir Putin, went a step further, once again raising the specter of nuclear war and a nightmare outcome to Europe's biggest and deadliest conflict since World War II.
Get breaking news, investigations, analysis and more signature journalism from the Los Angeles Times in your inbox.
You may occasionally receive promotional content from the Los Angeles Times.
He chided the U.S. and its allies for providing Ukraine with military and other support to help push back the Kremlin's forces. Their longer-term aim, he claimed, is to break up Russia.
"They have crazy illusions that, after finishing off the Soviet Union without a single shot, they could bury today's Russia without any significant problems for themselves, simply by disposing thousands of lives in the conflict," he said. "It's a very dangerous mistake. It won't work like it did with the Soviet Union."
Putin has also framed the war in those terms, saying that Russia faces an existential threat.
In the Sunday-Monday attacks, Ukraine's General Staff said Kyiv's forces shot down 11 out of 14 Iranian-made Shahed drones.
In phone calls home, Russian soldiers in Ukraine tell loved ones of life on the front, including the killing of civilians and the looting of homes.
Ukraine's presidential office said Monday that at least two civilians were killed and nine others were wounded by Russian attacks over the previous 24 hours.
It said that intense fighting has continued around Bakhmut, Avdiivka and Vuhledar in the Donetsk region, which have come under relentless Russian shelling.
Ukrainian military analyst Oleh Zhdanov said the Russian offensive aimed at securing control of eastern Ukraine has become bogged down while losing "huge numbers of weapons and ammunition."
Zhdanov said the Ukrainian military, in turn, is building up forces for a future counteroffensive in the south while pummeling Russian positions and depots there.
Russia pausing implementation of its last nuclear deployment treaty with the U.S. doesn't spell war — but it's bad news for global arms control.
"Ukraine has significantly intensified the shelling of Russian positions in the south, destroying roads and depots, which is an important condition for the success of a future counteroffensive," he said.
In other developments, the Russian military claimed that its forces struck an electronic intelligence center near Brovary, just east of Kyiv. The Russian Defense Ministry also said its forces struck a special operations center of the Ukrainian armed forces near the western city of Khmelnytskyi.
The ministry didn't say when the strikes were launched, and its claim couldn't be independently verified.
Must-read stories from the L.A. Times
Get the day's top news with our Today's Headlines newsletter, sent every weekday morning.
You may occasionally receive promotional content from the Los Angeles Times.