Putin signs bill to suspend Russia's last nuclear arms pact with U.S.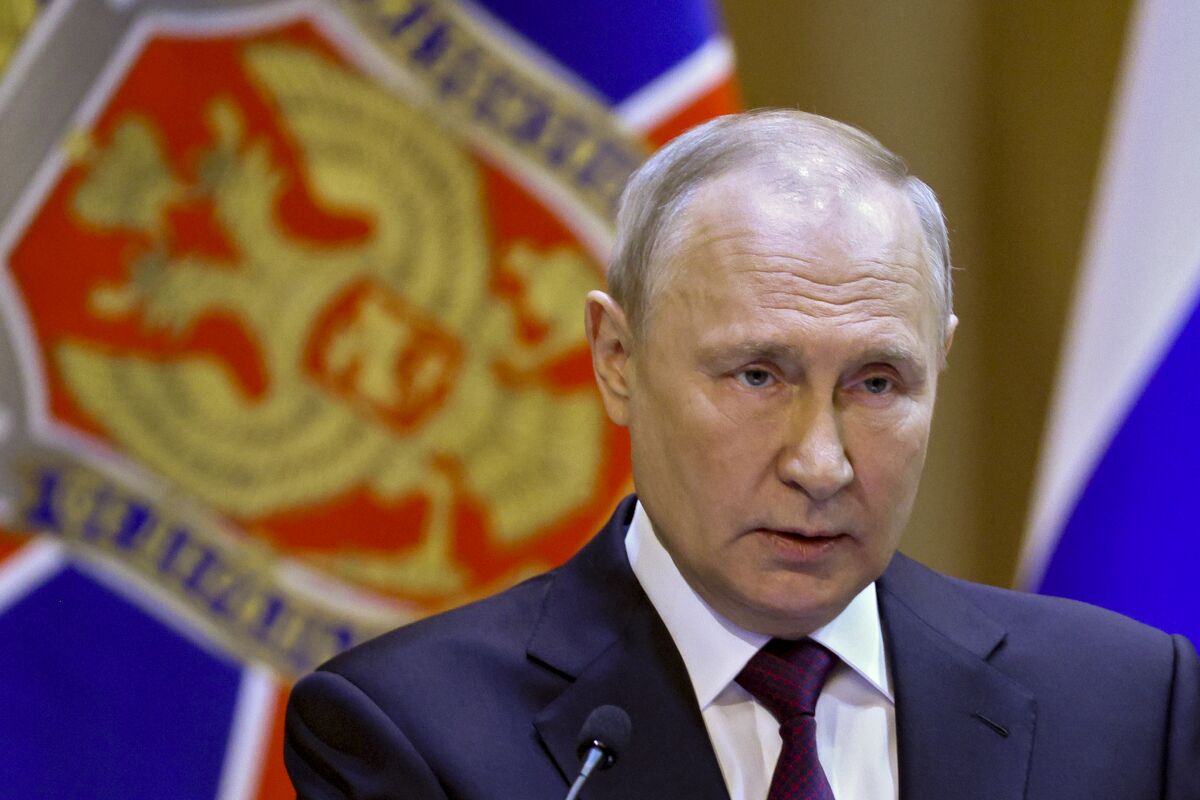 MOSCOW —
Russian President Vladimir Putin on Tuesday signed a bill formally suspending the last remaining nuclear arms treaty with the United States, amid soaring tensions with Washington over Moscow's invasion of Ukraine.
Putin had declared a week ago in his state-of-the-nation address that Moscow was suspending its participation in the 2010 New START treaty. He declared that Russia can't accept U.S. inspections of its nuclear sites under the pact at a time when Washington and its NATO allies have openly declared Russia's defeat in Ukraine as their goal.
Both houses of parliament quickly ratified Putin's bill on the pact's suspension last week. On Tuesday, Putin signed it into law, effective immediately. The document says that it's up to the president to decide whether Moscow could return to the pact.
Putin has emphasized that Moscow is not withdrawing from the pact altogether, and the Russian Foreign Ministry said the country would respect the caps on nuclear weapons set under the treaty and keep notifying the U.S. about test launches of ballistic missiles.
On Monday, a top U.S. arms control official strongly criticized Russia for suspending its participation in the treaty but noted that Washington will try to work with Moscow to continue its implementation.
President Biden delivered a forceful speech Tuesday in Poland ahead of the first anniversary of the Russian invasion of Ukraine.
"Russia is once again showing the world that it is not a responsible nuclear power," Bonnie Jenkins, the U.S. undersecretary of State for arms control, said at a session of the Conference on Disarmament, a United Nations-affiliated international forum.
Jenkins told reporters that the U.S. has not fully assessed the consequences of Russia's suspension move but said: "We're not seeing any evidence that Russia is in noncompliance."
"We remain ready to work assertively with Russia to fully implement the New START treaty," she added.
New START, signed by then-Presidents Obama and Dmitry Medvedev in 2010, limits each country to no more than 1,550 deployed nuclear warheads and 700 deployed missiles and bombers. The agreement envisages sweeping on-site inspections to verify compliance.
The inspections have been dormant since 2020 because of the COVID-19 pandemic.
Discussions on resuming them were supposed to have taken place in November, but Russia abruptly called them off.
Must-read stories from the L.A. Times
Get the day's top news with our Today's Headlines newsletter, sent every weekday morning.
You may occasionally receive promotional content from the Los Angeles Times.