Arizona governor won't proceed with execution set by court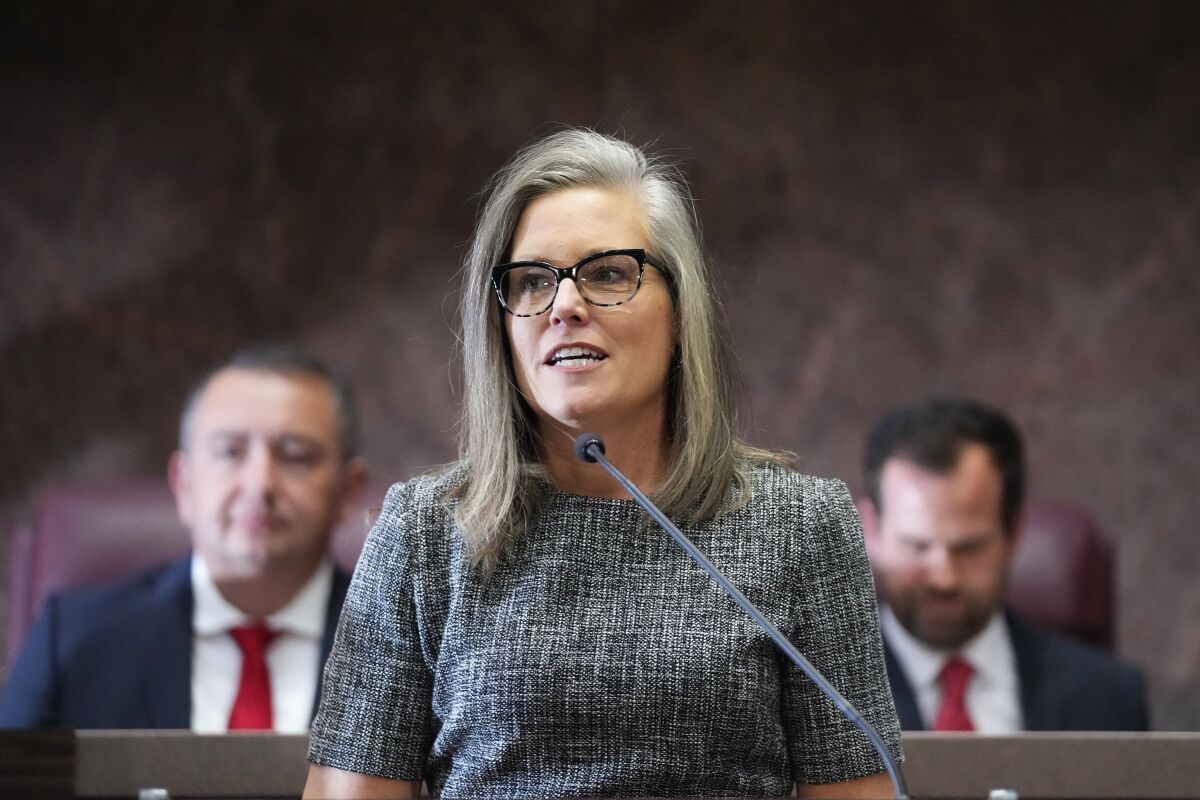 PHOENIX —
Arizona Gov. Katie Hobbs has vowed not to allow an execution that the state Supreme Court scheduled over the objections of the state's new attorney general.
The Democratic governor's promise Friday not to execute Aaron Gunches on April 6 for a 2002 killing came a day after Arizona's high court said it must grant an execution warrant if certain appellate proceedings have concluded, as they had in Gunches' case.
Hobbs recently appointed retired U.S. Magistrate Judge David Duncan to examine Arizona's procurement of lethal injection drugs and other death penalty protocols due to the state's history of mismanaging executions.
"Under my administration, an execution will not occur until the people of Arizona can have confidence that the state is not violating the law in carrying out the gravest of penalties," Hobbs said in a statement Friday.
Bakhmut has for months been a target of Moscow's grinding eastern offensive, with Russian troops inching closer to Kyiv's key eastern stronghold.
State Atty. Gen. Kris Mayes' office has said it won't seek court orders to carry out executions while Hobbs' review is underway.
Mayes, a Democrat who took office in January, tried to withdraw a request by her Republican predecessor, Mark Brnovich, for a warrant to execute Gunches. The court declined her request on Thursday, saying the review "does not constitute good cause for refraining from issuing the warrant."
Mayes' office declined to comment on Hobbs' promise not to carry out the execution next month.
Hobbs maintains that while the court authorized Gunches' execution, its order doesn't require the state to carry it out.
Dale Baich, a former federal public defender who teaches death penalty law at Arizona State University, said Hobbs can use her authority as the state's chief executive when the state believes it cannot carry out an execution in a constitutionally acceptable manner.
"What the governor did is not unique," said Baich, who applauded her move. "Governors in Alabama, Ohio and Tennessee recently used their authority to pause executions because they had serious questions about the protocols in their states."
The Maricopa County Attorney's Office, which prosecuted Gunches, said in a statement that it believes Hobbs "has a constitutional and statutory responsibility to carry out all sentences," including Gunches' execution.
Arizona, which has 110 inmates on death row, carried out three executions last year after a nearly eight-year hiatus after criticism that a 2014 execution was botched and due to difficulties obtaining execution drugs.
Since resuming executions, the state has been criticized as taking too long to insert an IV for a prisoner's lethal injection in early May and for denying the Arizona Republic newspaper's request to witness the last three executions.
Gunches is scheduled to be executed on April 6 for the 2002 killing of Ted Price, his girlfriend's ex-husband.
Gunches, who isn't a lawyer, represented himself in November when he asked the state Supreme Court to issue his execution warrant so justice could be served and his victim's survivors could get closure. Brnovich's office in December asked the court for a warrant to execute him.
But Gunches withdrew his request in January, and Mayes asked that the execution warrant from Brnovich's tenure be withdrawn.
Hobbs says Arizona's prison system has deep problems, citing a scathing court ruling that said the state had violated the rights of inmates in state-run prisons by failing to provide adequate medical and mental health care.
In her first month in office, Hobbs created a commission to study a range of problems in Arizona's prisons, including staffing levels, prison conditions and inmates' healthcare.
Life is stressful. Our weekly mental wellness newsletter can help.
You may occasionally receive promotional content from the Los Angeles Times.