Israelis stage 'day of resistance' against Netanyahu's planned judicial overhaul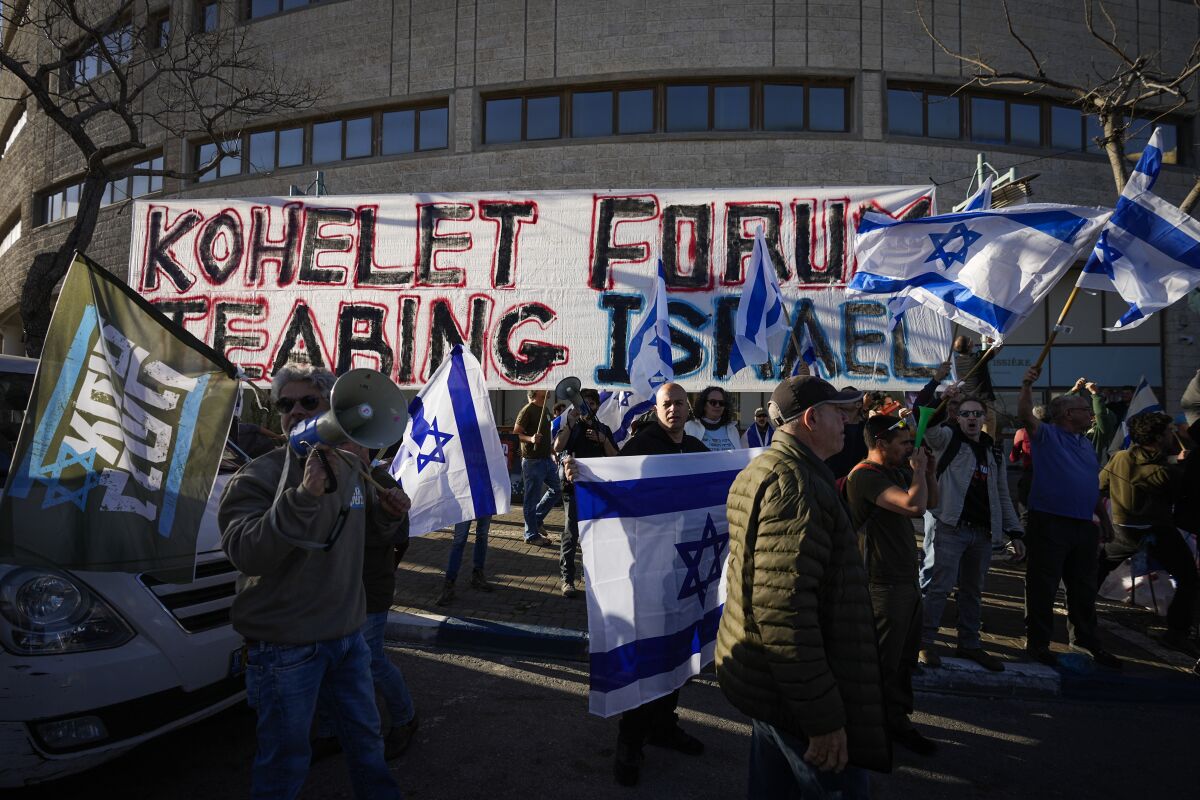 TEL AVIV —
Israeli Prime Minister Benjamin Netanyahu had to be airlifted Thursday to the country's main international airport for an official overseas trip, after throngs of cars and protesters prevented him from driving there.
The demonstrations were part of nationwide protests underway for more than two months against Netanyahu and his government's contentious plan to overhaul the judiciary.
Demonstrators had made blocking Netanyahu's route to the airport a centerpiece of their intensifying efforts to oppose the legal changes, and the optics of the Israeli leader having to make alternative travel plans were a win for the protest movement.
The helicopter ride, far from the snarling traffic triggered by the protest, was also sure to deepen Netanyahu's reputation as out of touch with Israelis at a time when the country finds itself torn apart over the judiciary plan and the economy is slowing.
Thursday's disruptions also took a toll on a visit by U.S. Defense Secretary Lloyd J. Austin III, whose schedule was rearranged to keep his engagements close to the airport.
The protesters, launching a "day of resistance to dictatorship," descended on the country's main international airport waving Israeli flags, blocking the road leading to the departures area with their cars.
Israeli lawmakers have advanced a bill that could allow Prime Minister Benjamin Netanyahu, who is facing corruption charges, to keep his late cousin's $270,000 donation to cover legal fees.
Elsewhere, protesters blocked main intersections in the seaside metropolis of Tel Aviv and other cities. A small flotilla of paddleboards and kayaks tried to block a main maritime shipping lane in the northern city of Haifa. Some protesters barricaded the offices of a conservative think tank helping to spearhead the judicial changes.
"Israel is on the verge of becoming an autocratic country. The current government is trying to destroy our democracy, and actually destroy the country," said Savion Or, a protester in Tel Aviv.
The uproar over Netanyahu's legal overhaul has plunged Israel into one of its worst domestic crises. Beyond the protests, which have drawn tens of thousands of Israelis to the streets and recently became violent, opposition has surged from across society, with business leaders and legal officials speaking out against what they say will be the ruinous effects of the plan. Israel's military has not been immune, with unprecedented expressions of opposition within its ranks.
Netanyahu, who took office in late December after a protracted political stalemate, and his allies say the measures aim to rein in a court that has overstepped its authority. Critics say the overhaul will upset the delicate system of checks and balances and slide Israel toward authoritarianism.
Israeli troops entered the West Bank city of Nablus in a rare daytime arrest operation, triggering fighting that killed at least 10 Palestinians.
Critics also say that Netanyahu, who is on trial for corruption, is driven by personal grievances and that he could find an escape route from the charges through the overhaul. Netanyahu denies wrongdoing, and says the legal changes have nothing to do with his trial.
Demonstrations were underway across the country as Netanyahu and his allies have pledged to press ahead with a series of bills that would strip the Supreme Court of its ability to review legislation and would give politicians control over judicial appointments. An attempt by Israel's ceremonial president to defuse the crisis through an alternative legal reform has so far been unsuccessful.
The protesters' main objective Thursday was to complicate Netanyahu's journey to the airport ahead of a state visit to Rome. Police, handing out traffic tickets as protesters held "Dictator: don't come back!" signs, said they would clear the demonstrators by force if they did not move. There were no immediate reports of serious violence.
Netanyahu, who was meeting Austin before his departure, arrived at the airport in a police helicopter, avoiding the protesters, Israeli media reported. Netanyahu's office declined to comment.
The U.S. is so far empty-handed in dealing with Israel's radical government and dysfunctional Palestinian leadership.
Regular passenger flights were not interrupted, an airport spokeswoman said, although some travelers said they had to leave their cars beyond the protesters' convoy and reach the terminal by foot.
Netanyahu told the Italian daily La Repubblica in an interview before his trip that the protests were a manifestation of the vibrancy of Israel's democracy.
But speaking to reporters before takeoff, he suggested that the protesters were looking to oust Israel's democratically elected government.
"The goal here is to topple a government that was elected democratically," Netanyahu said. "We won't let anyone disrupt Israeli democracy."
Must-read stories from the L.A. Times
Get the day's top news with our Today's Headlines newsletter, sent every weekday morning.
You may occasionally receive promotional content from the Los Angeles Times.
The police, overseen by ultranationalist National Security Minister Itamar Ben-Gvir, have pledged to prevent the disturbances and said they had made arrests.
Protesters descended onto Tel Aviv's main highway, blocking midday traffic as mounted police and a water cannon truck hovered nearby. Police allowed the protesters to remain on the highway for more than an hour but began to clear it by force in some places ahead of the afternoon rush hour.
Red billboards festooning the city's main highway read, "Resistance to dictatorship is mandatory."
Critics say Ben-Gvir, a key ally in Netanyahu's coalition government who has dubbed the protesters "anarchists," is trying to politicize the police.
"We support freedom of expression but not anarchy," Ben-Gvir told reporters while touring the airport.
Israeli settlement supporters and opponents say Israel's far-right government has granted approval for more than 7,000 new homes in Jewish settlements in the West Bank.
Thursday's demonstration in Tel Aviv, the country's business center and its liberal heartland, was not nearly as large as the one last week, when police cracked down on what had otherwise been peaceful protests, lobbing stun grenades and scuffling with demonstrators. Those protests ended with Netanyahu's wife, Sara, being extracted from a ritzy Tel Aviv hair salon where demonstrators had gathered after catching wind of her presence.
Netanyahu and his wife have gained notoriety for enjoying lavish lifestyles and living off the largesse of taxpayers and wealthy supporters. Some media pundits questioned why Netanyahu was flying to Italy for three days at a time of deep national crisis, suggesting that the pair were actually traveling to celebrate their wedding anniversary. Netanyahu's schedule includes a meeting with Italy's prime minister Friday, but he does not return until Saturday night.
Thursday's visit to Israel by Austin, who is on a Mideast tour, was also being affected by the protests. An Israeli official said that Austin's meetings had been moved to a factory near the airport because of the expected disruptions. The protest movement has been centered in central Tel Aviv, near the Israeli Defense Ministry.
On Thursday morning, military reservist protesters barricaded the Jerusalem offices of the Kohelet Forum, a conservative think tank that has helped craft the overhaul, with barbed wire and sandbags and hung a banner outside reading, "Kohelet is tearing Israel apart."
Several dozen people, including two former Navy chiefs, gathered in the waters off Haifa on kayaks, sailboats and stand-up paddleboards in a bid to block the city's shipping lane.
Must-read stories from the L.A. Times
Get the day's top news with our Today's Headlines newsletter, sent every weekday morning.
You may occasionally receive promotional content from the Los Angeles Times.