Breaking ranks: Israel's revered military gets caught up in fight over judicial overhaul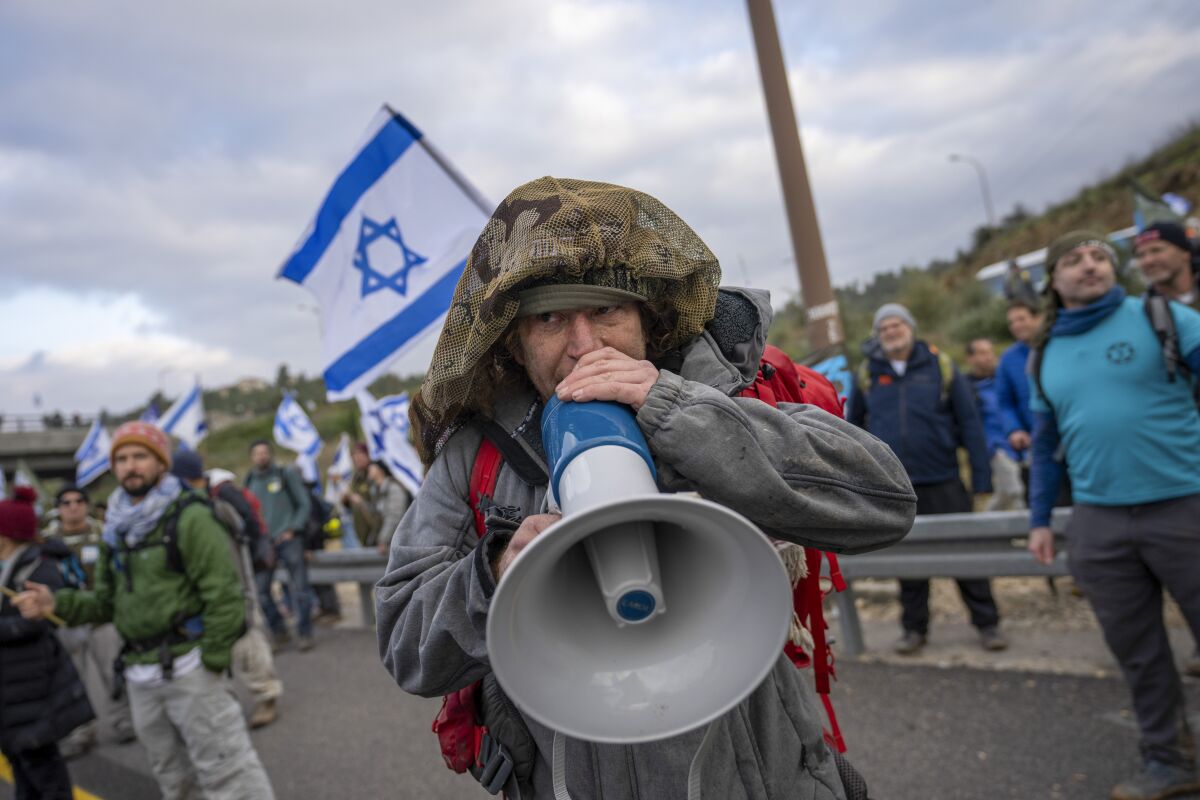 TEL AVIV —
Shraga Tichover is hanging up his fatigues. After more than three decades as a reservist in the Israeli military, the paratrooper says he will no longer put his life on the line for a country slipping toward autocracy.
Tichover is part of a wave of unprecedented opposition from within the ranks of the Israeli military to a contentious government plan to overhaul the judiciary. Like Tichover, some reservists are refusing to show up for duty, and former commanders are defending their actions as a natural response to the impending change.
"The values of this country are going to change. I am not able to serve the military of a state that is not a democracy," said Tichover, a 53-year-old volunteer reservist who has served in southern Lebanon, the Gaza Strip and the West Bank.
The typically taboo talk of defying military orders underlines how deeply the overhaul has divided Israel and is now tearing at what Israeli Jews see as their most respected institution: the military. Concerns are growing that the protest could trickle down to young conscripts as well.
In a declaration that has sent shock waves through the country, three dozen reservist fighter pilots said they wouldn't show up for training this week in protest. The airmen are seen as the cream of the military's personnel and irreplaceable elements of many of Israel's battle plans.
The air force chief, Maj. Gen. Tomer Bar, met with some 50 squadron leaders last week to listen to their concerns. In a letter sent to pilots afterwards, Bar acknowledged the "difficulties and challenges" the country is facing but said the air force must remain committed to its mission of protecting national security.
Israeli lawmakers have advanced a bill that could allow Prime Minister Benjamin Netanyahu, who is facing corruption charges, to keep his late cousin's $270,000 donation to cover legal fees.
The military's chief of staff, Lt. Gen. Herzl Halevi, reportedly warned Prime Minister Benjamin Netanyahu this week that the reservists' protest risks harming the military's capabilities. Halevi was scheduled to meet with Bar and some 20 pilots later Tuesday, a day before the expected protest.
For Israel's Jewish majority, most of whom must serve in the military, the army is a source of unity and a rite of passage. Military service is an important launching pad into civilian life and the workforce.
After completing three years of mandatory service, many men continue in the reserves until their 40s, when service becomes voluntary. Most of those threatening to halt their service are volunteers, protecting them from potential punishment.
Recognizing the threat to its stability, the military has pleaded to be kept out of the heated public discourse. But it's become central to the debate over what kind of Israel will emerge after the overhaul.
Israeli authorities says the motorist killed by a suspected Palestinian gunman in the occupied West Bank held citizenship in both the U.S. and Israel.
Netanyahu, a former soldier in an elite unit, and his government are pushing forward on a plan to weaken the Supreme Court and limit the independence of the judiciary. His allies say the changes are meant to streamline governance, while critics say the plan will upend Israel's system of checks and balances and slide the country toward authoritarianism. They also say Netanyahu, who is on trial for corruption, is motivated by a personal grudge and has a conflict of interest.
The overhaul, which is moving ahead in parliament, has sparked an outcry from business leaders and legal officials. Tens of thousands of protesters have been taking to the streets each week.
Not everyone identifies with the soldiers. Critics say the military, as the enforcer of Israel's rule over millions of Palestinians in an open-ended occupation, has subjugated another people and eroded the country's democratic ideals. The reserve units now protesting, including pilots and intelligence units, have been behind deadly strikes or surveillance against Palestinians.
Israel's own Palestinian minority has largely stayed on the sidelines of the anti-government protests, in part because of Israel's treatment of their Palestinian brethren in the occupied West Bank and Gaza.
Palestinian medics say one man was killed and four wounded when Israeli settlers set fire to cars and buildings, shedding doubt on recent talks.
But Jewish Israelis see the military as a pillar of security in the face of myriad threats. Israel is mired in a bloody round of violence with Palestinians, and archenemy Iran is blazing ahead with its nuclear program. Israel says Iran is developing a nuclear bomb — an allegation that Tehran denies.
Those developments have not stopped the creeping challenge within the military. Israel's pool of reservists is the backbone of the force when security crises erupt.
Ehud Barak, a former military chief of staff, defense minister and prime minister, has said it would be acceptable to defy orders from what he calls a dictatorial regime. Dan Halutz, another former military chief, said soldiers won't agree to become "mercenaries for a dictator."
In addition to the protesting pilots, hundreds of reservists have signed letters promising not to serve if the overhaul passes.
Get breaking news, investigations, analysis and more signature journalism from the Los Angeles Times in your inbox.
You may occasionally receive promotional content from the Los Angeles Times.
"Hit the emergency brake now," reservists from the 8200 intelligence unit warned the government in a letter last week. Many 8200 graduates join the country's booming tech sector, also a fierce opponent of the overhaul.
A mass protest movement demonstrating against the overhaul has its own reservist contingent. A new group, "Do it Yourself," is calling on secular families to refuse to allow their children to serve in the occupied West Bank. A group of soldiers has asked permission to join the mass protests.
Activists warn that the overhaul is threatening to hurt future morale.
"The generations after us will not follow us," said Eyal Naveh, 47, a reservist from an elite unit and protest leader. "What will a person who halted his reserve duty tell his son? To go to the army or not?"
The collapse of the two-state solution and the threat to democracy from a new governing coalition have made Israel unrecognizable now.
Naveh said reservists are also concerned that the changes will leave soldiers exposed to war crimes charges at international courts. One of Israel's defenses against war crimes accusations is that it has an independent legal system capable of investigating any potential wrongdoing.
Debate has emerged in the past over whether soldiers ideologically opposed to an order should refuse to carry it out, particularly over the evacuation of Jews from settlements. But the mere suggestion of insubordination is rare.
Tichover, the volunteer reservist, said he struggled during his service with what he called "irrational" orders that harmed Palestinians, like being told to damage Palestinian cars. He said he found ways to skirt such orders but never overtly defied them.
Late on Monday, Netanyahu met with members of the paramilitary border police force at a base in the occupied West Bank, telling them that there was no room for politics in the military.
The U.S. is so far empty-handed in dealing with Israel's radical government and dysfunctional Palestinian leadership.
"There is no place for refusal now, and there won't be a place in the future," he said.
Reflecting the military's public standing, opposition leaders have also spoken out against the calls to defy orders.
"Do not lend a hand to insubordination," said Benny Gantz, an opposition leader and former military chief.
The looming threat to the military isn't the reservists' protest, said Idit Shafran Gittleman, an expert on the military at the Institute for National Security Studies, a Tel Aviv think tank. She says the overhaul could lead to a constitutional crisis over who is in charge.
"There will be chaos," she said. "The military won't know who it must take orders from."
Must-read stories from the L.A. Times
Get the day's top news with our Today's Headlines newsletter, sent every weekday morning.
You may occasionally receive promotional content from the Los Angeles Times.