North Korea tests submarine-launched missile, Seoul confirms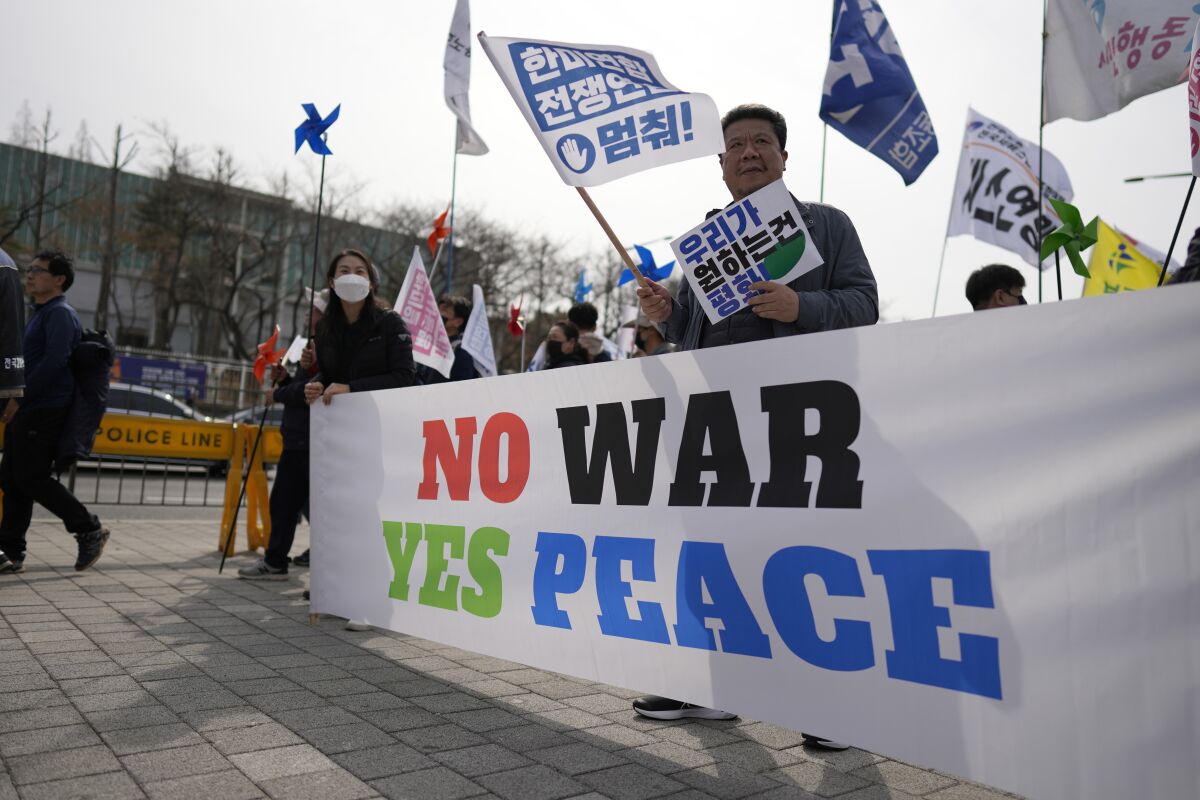 SEOUL, South Korea —
North Korea said Monday it has conducted submarine-launched cruise missile tests, days after its leader Kim Jong Un ordered his troops to be ready to repel its rivals' "frantic war preparation moves."
The test on Sunday came a day before the U.S. and South Korean militaries begin large-scale joint military drills that North Korea views as a rehearsal for invasion.
North Korea's official news outlet, the Korean Central News Agency, said Monday that the missile launches showed the North's resolve to respond with "overwhelming powerful forces" to the intensifying military maneuvers by the "the U.S. imperialists and the South Korean puppet forces."
KCNA also implied that the North aims to arm the cruise missiles tested with nuclear warheads.
It said the missiles flew for more than two hours, drawing figure-eight-shaped patterns in waters off the country's eastern coast, and hit targets 930 miles away. The missiles were fired from the 8.24 Yongung ship, KCNA said, referencing a submarine that North Korea has used to conduct all its known submarine-launched ballistic missile tests since 2016.
The former San Diego County educator is being held at a detention facility without bail.
Sunday's actions were the North's first underwater-launched missile tests since the country test-fired a weapon from a silo under an inland reservoir last October. Last May, the country test-launched a short-range ballistic missile from the same vessel.
North Korea's command of submarine-launched missile systems would make it harder for adversaries to detect launches in advance and provide the North with retaliatory attack capability. Experts say it would take years, extensive resources and major technological improvements for the heavily sanctioned nation to build several submarines that could travel quietly in seas and reliably execute strikes.

After a record number of missile tests last year, North Korea has carried out several additional rounds since Jan. 1. Before Sunday's launches, the country also test-fired an intercontinental ballistic missile potentially capable of reaching the mainland U.S.; short-range, nuclear-capable missiles designed to hit South Korea; and other weapons.
Earlier Monday, South Korea's military said it had detected the launch from a submarine in waters near the North's eastern port city of Sinpo on Sunday.
South Korea's Joint Chiefs of Staff said that South Korean and U.S. intelligence authorities were analyzing details of the operation.
North Korea sees regular South Korea-U.S. military exercises as a major security threat, though the allies say their drills are defensive. Some observers say North Korea uses its rivals' drills as a pretext to test weapons and modernize its nuclear arsenal to secure an upper hand in dealings with the United States.
Last Thursday, Kim supervised a live-fire artillery drill simulating attacks on a South Korean airfield. He ordered his military to maintain the capability to "overwhelmingly respond to and contain" action by enemies, which he said included "all sorts of more frantic war preparation moves," according to the North's official Korean Central News Agency.
KCNA reported Sunday that Kim also convened a key meeting on military affairs to adopt unspecified practical steps to make "more effective, powerful and offensive use of the war deterrent" in light of U.S. and South Korean maneuvers.
South Korean-U.S. drills are to run until March 23. They include a computer simulation called the Freedom Shield 23 and several combined field training exercises, collectively known as the Warrior Shield FTX.
The Freedom Shield 23 is designed to strengthen the allies' defense and response capabilities amid North Korea's increasing nuclear threats and other changing security environments, according to the South Korean and U.S. militaries.
The allies' last large field training, called Foal Eagle, was held in 2018, the militaries said.
In past years, the U.S. and South Korea had canceled or scaled back some of their regular drills as part of diplomatic efforts to denuclearize North Korea and out of concerns about the COVID-19 pandemic. But the two countries began expanding their exercises after North Korea conducted a record number of missile tests in 2022 and adopted an increasingly aggressive nuclear doctrine.
In recent weeks, the U.S. flew powerful, long-range bombers for joint aerial drills with South Korean fighter jets. South Korea's Defense Ministry said the deployment demonstrated U.S. commitment to use a full range of military capabilities, including nuclear, to defend its Asian ally in the event of outright conflict with North Korea.
Must-read stories from the L.A. Times
Get the day's top news with our Today's Headlines newsletter, sent every weekday morning.
You may occasionally receive promotional content from the Los Angeles Times.