Turkey's president says he will back Finland's bid to join NATO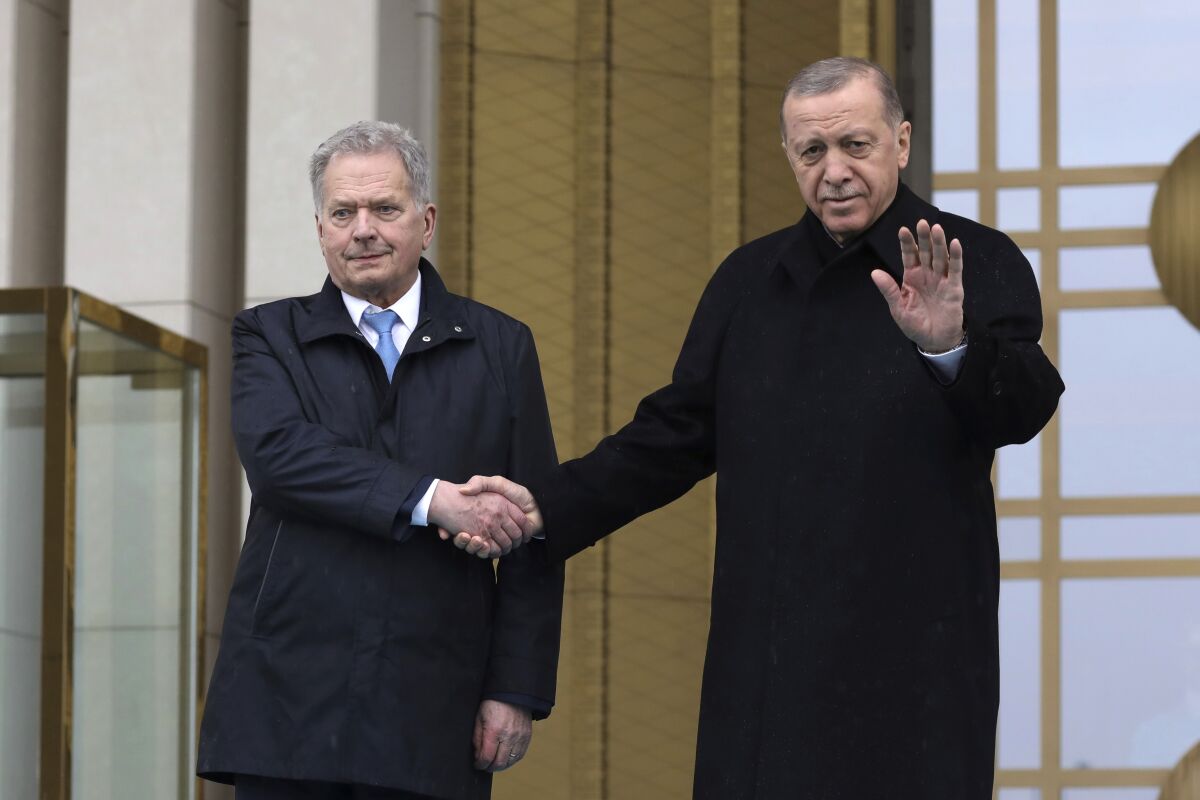 ISTANBUL —
Turkish President Recep Tayyip Erdogan said Friday that his government would move forward with ratifying Finland's NATO application, paving the way for the country to join the military bloc ahead of Sweden, which had applied at the same time.
The breakthrough came as Finnish President Sauli Niinisto was in Ankara, the Turkish capital, to meet with Erdogan. Both Finland and Sweden applied to become NATO members 10 months ago in the wake of Russia's invasion of Ukraine, abandoning decades of nonalignment.
NATO requires the unanimous approval of its 30 existing members to expand, and Turkey and Hungary are the only countries that have not yet ratified the Nordic nations' bids. The Turkish government accused both Sweden and Finland of being too soft on groups that it deems to be terror organizations, but expressed more reservations about Sweden.
"When it comes to fulfilling its pledges in the trilateral memorandum of understanding, we have seen that Finland has taken authentic and concrete steps," Erdogan told a news conference following his meeting with Niinisto.
"This sensitivity [is] for our country's security, and, based on the progress that has been made in the protocol for Finland's accession to NATO, we have decided to initiate the ratification process in our parliament," Erdogan added.
With his agreement, Finland's application can now go to the parliament, where Erdogan's party and its allies hold a majority. Ratification is expected before Turkey holds its presidential and parliamentary elections, which are scheduled for May 14.
Hungary is further delaying a vote on ratifying Sweden and Finland's NATO accession bids, pushing back the vote by two weeks.
Erdogan suggested Wednesday that his country might take up Finland's accession following Niinisto's trip.
Turkey, Finland and Sweden signed an agreement last June to resolve differences over the Nordic states' membership.
The document included clauses addressing Ankara's claims that Stockholm and Helsinki did not take seriously enough its concerns with those it considers terrorists, particularly supporters of Kurdish militants who have waged a 39-year insurgency in Turkey and people Ankara associates with a 2016 coup attempt.
A series of separate demonstrations in Stockholm, including a protest by an anti-Islam activist who burned the Quran outside the Turkish Embassy, also angered Turkish officials.
A Turkish court sentences dozens of people to life in prison over their involvement in the 2016 coup attempt against President Recep Tayyip Erdogan.
Hungarian Prime Minister Viktor Orban and lawmakers have repeatedly promised to ratify the two countries' NATO membership applications. But Hungary's parliament has repeatedly postponed a ratification vote and hasn't given a firm date on when the vote would finally take place.
Niinisto arrived in Turkey on Thursday and toured areas affected by a magnitude 7.8 earthquake that killed more than 52,000 people in Turkey and Syria last month.
"I have known Erdogan for a long time. I am sure he has important messages," Niinisto said while visiting Kahramanmaras, one of the provinces worst-hit by the Feb. 6 earthquake.
Before leaving Helsinki, Niinisto said Turkish officials had requested his presence in Ankara to announce Turkey's decision on the Finnish bid. He also stressed his support for Sweden's swift admission and in a Twitter post said he had had a "good conversation" with Swedish Prime Minister Ulf Kristersson prior to his Turkey trip.
Kristersson said Sweden hoped for "a rapid ratification process" after Turkey's elections.
Must-read stories from the L.A. Times
Get the day's top news with our Today's Headlines newsletter, sent every weekday morning.
You may occasionally receive promotional content from the Los Angeles Times.