Effort to recall New Orleans' first female mayor fails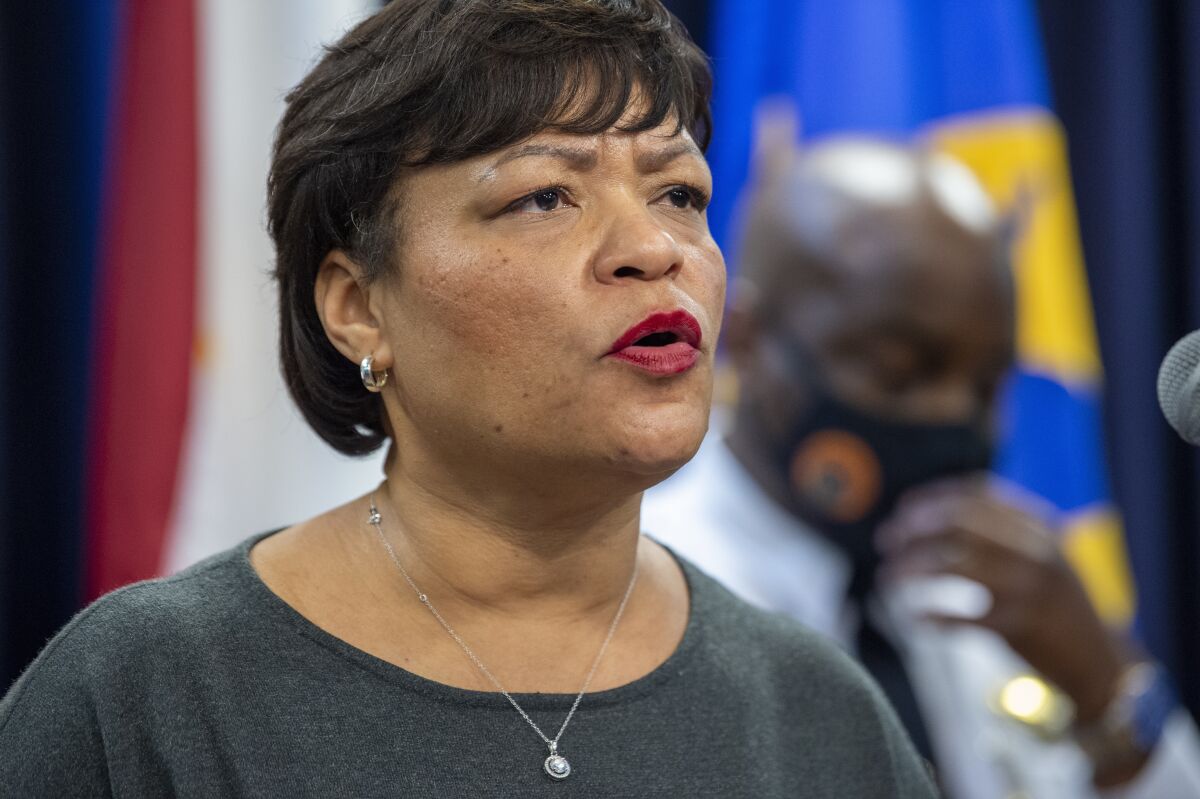 BATON ROUGE, La. —
The effort to recall New Orleans Mayor LaToya Cantrell — the city's first female leader — has failed, an official count of petition signatures showed Tuesday.
Although the petition sheets released by the Louisiana governor's office contained more than 67,000 signatures, most where declared invalid by the registrar. Gov. John Bel Edwards announced that only 27,243 of the signatures were valid — falling about 18,000 short of what was needed to force a referendum.
Signatures can be rejected for a number of reasons, including being dated after the deadline, the title page being mislabeled, erroneous information or profanity, the signer being outside the parish or the signature being a duplicate.
"My administration has always remained focused on addressing the real pressing issues that face our city," Cantrell said in a statement to WAFB-TV. "Now, with the divisiveness of the failed recall campaign officially behind us, we must heal and recommit ourselves to working collaboratively to continue the progress we've made towards reducing crime, increasing public safety, building a more sustainable and resilient city and creating economic and job opportunities that benefit all of our people."
The number of signatures needed to force the recall has been debated in court. Recall organizers sued officials, saying the rolls were inflated with hundreds of dead people and thousands of people who have moved away.
Earlier this month, New Orleans Civil District Court Judge Jennifer Medley approved a lawsuit settlement agreement that significantly lowered the number of signatures needed to force a recall election. However, after the Times-Picayune/New Orleans Advocate revealed that the judge herself had signed the recall petition, Medley said another judge would decide whether she should be removed from the case.
An FBI investigation into clerical sex abuse in New Orleans looks specifically at whether priests took children across state lines to molest them.
"The recall campaign has been divisive, dishonest, and opaque to say the least. It's time for New Orleanians to better our city in the way we do best — by coming together," Maggie Carroll, Cantrell's longtime campaign manager, said in a written statement Tuesday.
Recall efforts against Cantrell, the first woman to serve as New Orleans mayor, began in August, less than a year after she began her second term.
She was easily reelected in 2021 but has since faced numerous problems, including violent crime, fitful progress on major street projects and unreliable garbage collection. Questions also have been raised about her travel expenses and her personal use of a city-owned apartment. The City Council recently opened an investigation into the use of public money to send a mailer to city residents earlier this year touting Cantrell's accomplishments.
Cantrell has repeatedly criticized the recall effort as a Republican-led attack on the administration of a mayor who is Black, a Democrat and a woman.
Must-read stories from the L.A. Times
Get the day's top news with our Today's Headlines newsletter, sent every weekday morning.
You may occasionally receive promotional content from the Los Angeles Times.