Slovakia delivers first 4 of 13 Soviet-era MiG-29 jet fighters to Ukraine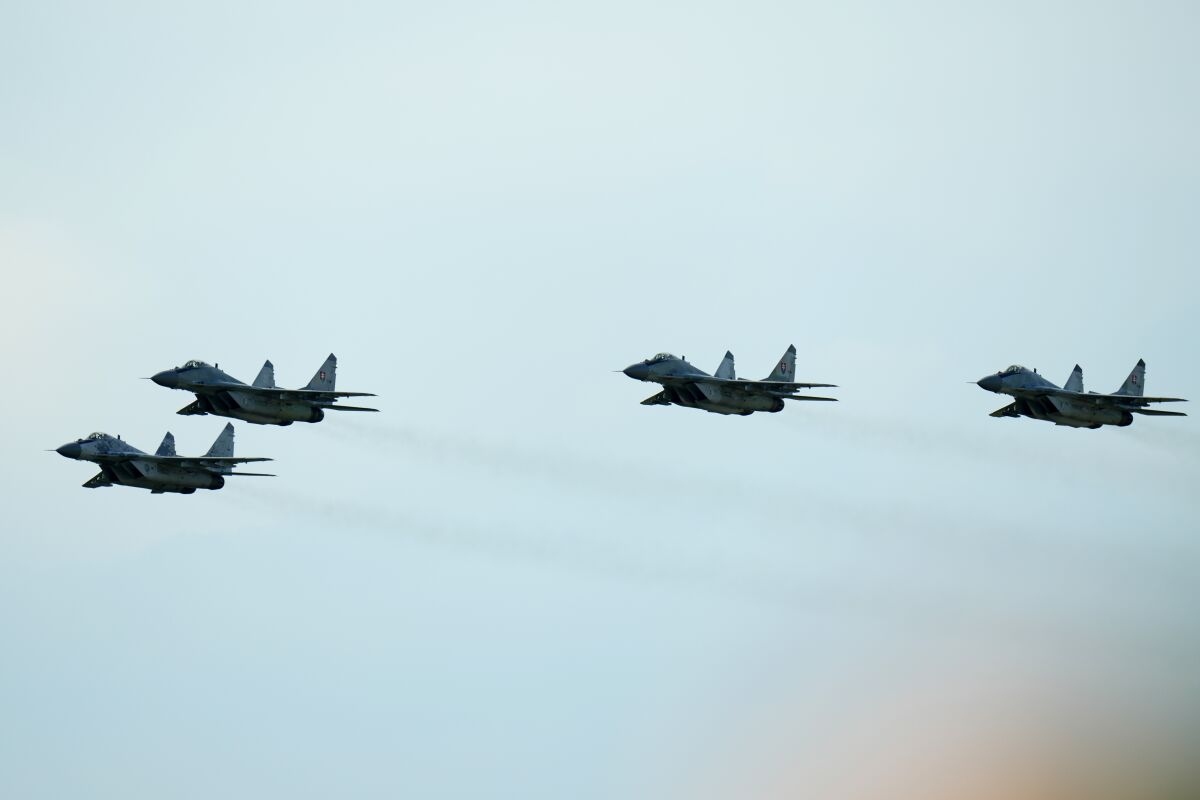 BRATISLAVA, Slovakia —
The first four of 13 Soviet-era MiG-29 fighter jets that Slovakia decided to give Ukraine have been safely handed over to the Ukrainian air force, the Slovak Defense Ministry said Thursday.
The ministry said the warplanes were flown from Slovakia to Ukraine by Ukrainian pilots with help from the Slovak air force, Ukrainian personnel and others.
"I thank [all] involved for a fantastic, professional job," Defense Minister Jaroslav Nad said.
The ministry said the remaining MiG-29s will be handed over to Ukraine in the coming weeks. It said it would not provide any additional details until the planes were safely in Ukraine.
Russia has issued a sharp warning that the West risks further escalation after the U.K. said it would supply Ukraine with uranium-based ammunition.
On Friday, the Slovak government approved a plan to give Ukraine its fleet of 13 MiG-29 fighter jets, becoming the second NATO member to heed the Ukrainian government's pleas for warplanes to help defend against Russia's invasion. Poland was the first NATO nation to offer some of its fighter jets.
Slovakia grounded its MiGs in the summer because of a lack of spare parts and expertise to help maintain them. Fellow NATO members Poland and the Czech Republic stepped in to monitor Slovak air space.
Slovakia previously signed a deal to buy 14 U.S. F-16 Block 70/72 fighter jets, but delivery was pushed back two years, with the first aircraft to arrive in early 2024.
The Slovak Defense Ministry said Wednesday that the U.S. has offered it 12 new military helicopters in compensation for the fighter jets being given to Ukraine. Under the offer, worth $1 billion, Slovakia would pay $340 million for the Bell AH-1Z attack choppers, while U.S. foreign military financing would cover the remaining $660 million.
Must-read stories from the L.A. Times
Get the day's top news with our Today's Headlines newsletter, sent every weekday morning.
You may occasionally receive promotional content from the Los Angeles Times.