Muslim leader for Scotland a sign of U.K. political diversity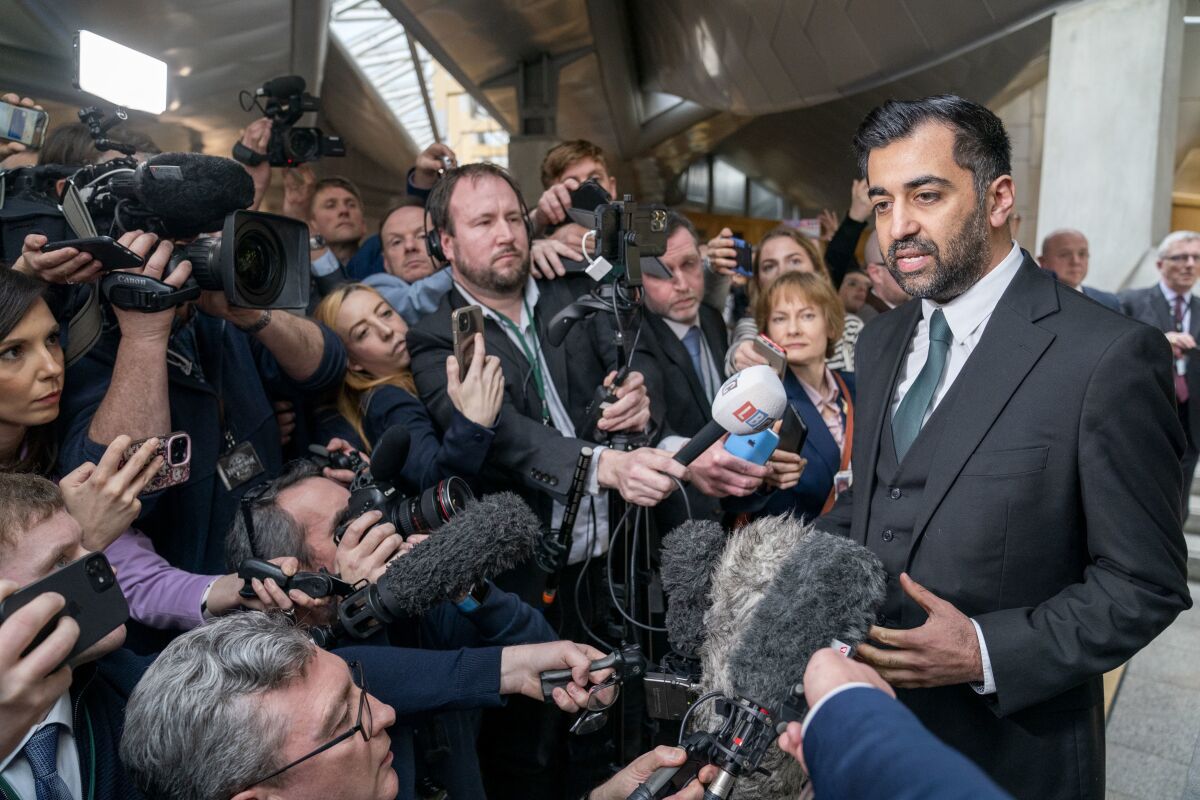 LONDON —
Humza Yousaf's recent confirmation as first minister of Scotland made him the first person of color to head the Scottish government, and the first Muslim national leader in any Western democracy.
The milestone came five months after the U.K. got its first Hindu leader in Prime Minister Rishi Sunak. London is headed by Mayor Sadiq Khan, the son of Pakistani immigrants.
All three politicians reflect the accelerating diversification of politics in Britain, a country whose imperialist past has — uncertainly and sometimes painfully — forged a multiethnic present.
"There's an expectation now, or a familiarity with diversity in British politics, that we don't see in other European countries," said Sunder Katwala of British Future, a think tank that studies identity and race.
Scotland gets its first leader of color as Humza Yousaf, the son of South Asian immigrants and a Muslim, is elected as head of the ruling party.
Lawmakers in the Edinburgh-based Scottish Parliament voted Tuesday to confirm 37-year-old Yousaf as first minister, a day after he was elected leader of the governing Scottish National Party. Scotland, which has a population of 5.5 million, is part of the United Kingdom, but has a semiautonomous government with broad power in areas such as health and education.
In an acceptance speech Monday, Yousaf said he was "forever thankful that my grandparents made the trip from the Punjab to Scotland over 60 years ago."
"As immigrants to this country, who knew barely a word of English, they could not have imagined their grandson would one day be on the cusp of being the next first minister of Scotland," he said. "From the Punjab to our Parliament, this is a journey over generations that reminds us that we should celebrate migrants who contribute so much to our country."
The U.K. has not always heeded that reminder: Migrants have often experienced racism and hostility both covert and overt. That hostility remains government policy for people who arrived by unauthorized means: Sunak's government plans to detain and deport anyone who crosses the English Channel in a small boat, and wants to send some asylum seekers on a one-way trip to Rwanda.
But British society and politics have grown markedly more diverse. About 18% of the population is non-white, and many people have roots in countries the British Empire once ruled, including India, Pakistan and Caribbean nations such as Jamaica.
Nicola Sturgeon, the face of the Scottish independence movement for eight years, announces her intention to step down as Scotland's first minister.
Yousaf was born in Glasgow in 1985. His father's family came from Pakistan, his mother's from East Africa, part of an exodus of South Asian families who faced post-independence discrimination. One grandfather worked in a Singer sewing machine factory, while a grandmother was a Glasgow bus conductor.
At primary school, Yousaf later recalled, "there was only me and one other brown face." He attended a private high school, then studied politics at the University of Glasgow — after breaking it to his parents, who had hoped he'd become a lawyer.
Yousaf joined the pro-independence SNP in 2005, inspired partly by its then-leader Alex Salmond's opposition to the U.S.-led invasion of Iraq, which the U.K. under Prime Minister Tony Blair had joined. Yousaf said he felt independence from the U.K. was the only way to ensure Scotland would not become embroiled in another illegal war.
Elected to the Scottish Parliament in 2011, he has served in several government roles, most recently as health minister. Opposition politicians are scathing about his political record, citing Scotland's long waiting times for healthcare and serious drug addiction problems.
Still, Scottish Labor Party leader Anas Sarwar — also a Muslim Glaswegian — said that "regardless of your politics, this is a significant moment for Scotland."
Yousaf has spoken of the strength he draws from religion, but his Islamic faith drew little comment during the SNP contest. Instead it was the faith of his opponent, Kate Forbes, an evangelical Christian, that attracted attention. She was criticized after disclosing her opposition to same-sex marriage, which is legal in Scotland — and which Yousaf supports.
Twenty-five people have been injured after a large ship once owned by the late Microsoft co-founder Paul Allen tipped over in a dry dock in Scotland.
Britain is not the only European country whose politics are growing more diverse. Irish Prime Minister Leo Varadkar has an Indian father, and Portuguese leader Antonio Costa also has South Asian roots.
But Britain has seen rapid political change. Forty years ago there were no ethnic-minority lawmakers in the British Parliament. Now there are 65 — making up 10% of the total. The foreign secretary, home secretary and trade secretary in Sunak's government are all people of color.
Katwala said a notable feature of the diversification is that "it's happening in all parties" — Yousaf is a Scottish nationalist, Sunak a Conservative, Khan a Labor Party member.
"If you can have a prime minister who is Indian Hindu or a Scottish leader who is Asian Muslim, that must mean those groups are part of the 'us' and aren't now facing the question, 'Will they govern for their own group or will they govern for everybody?'" he said.
"There's a confidence — among British ethnic minorities, but [also] reciprocated broadly — that politicians who are Black, Asian or white can represent everybody, not just their own group."
Must-read stories from the L.A. Times
Get the day's top news with our Today's Headlines newsletter, sent every weekday morning.
You may occasionally receive promotional content from the Los Angeles Times.