Finland is on the cusp of joining NATO. What still needs to happen?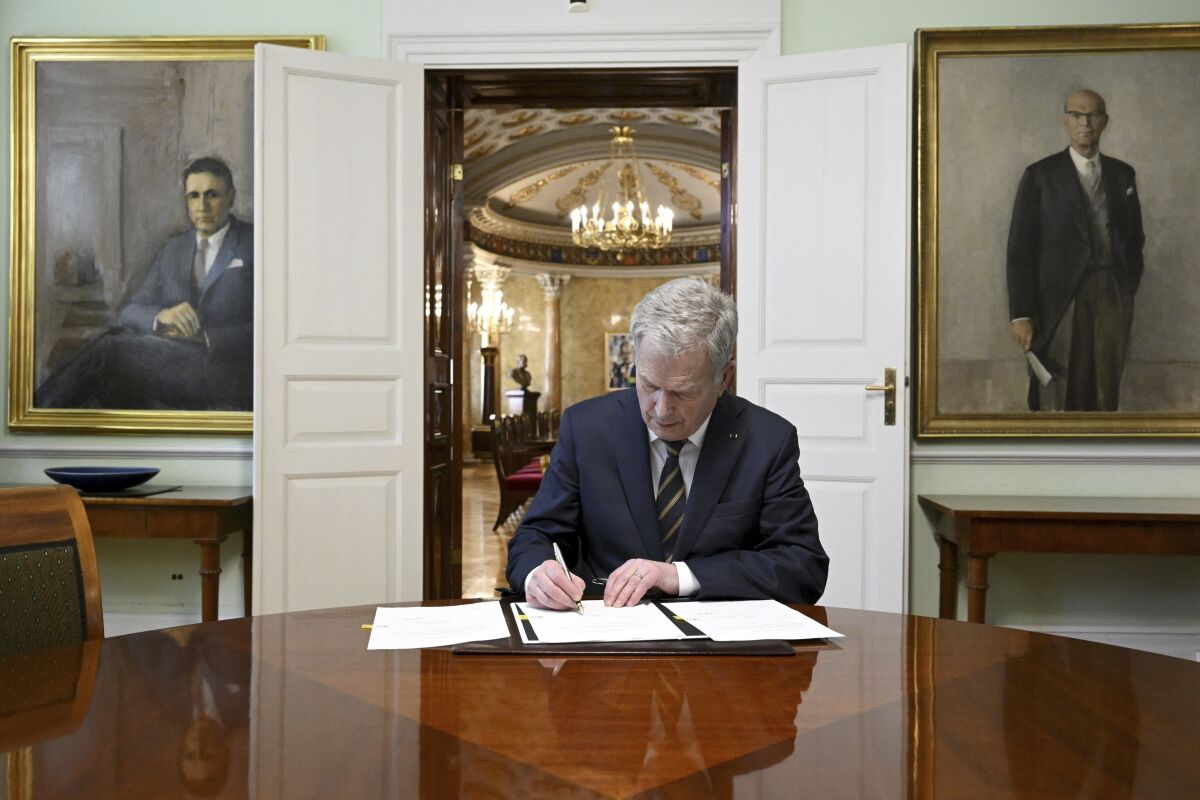 HELSINKI —
Finland received the green light to join NATO when Turkey late Thursday became the final country in the 30-member Western military alliance to sign off on the Nordic nation's membership.
All NATO members must vote unanimously to admit a new country into the organization. The decision by the Turkish parliament followed Hungary's ratification of Finland's bid earlier in the week.
The addition of Finland, which shares an 832-mile border with Russia, will more than double the size of NATO's border with Russia.
However, a few more steps and procedures are required before Finland becomes the 31st full NATO member.
Acceptance letters
Turkey and Hungary will dispatch acceptance letters to the U.S., which is the "depositary," or safekeeper, of NATO under the alliance's 1949 founding treaty. The letters will be filed in the archives of the U.S. State Department, which will notify NATO Secretary-General Jens Stoltenberg that the conditions for inviting Finland to become a member were met.
NATO has declared Russia the 'most significant and direct threat' to its members' peace and security.
Invitation
NATO will send a letter signed by Stoltenberg inviting Finland to join the military alliance.
Signatures
Finland will send its own acceptance document, signed by Foreign Minister Pekka Haavisto, to the U.S. State Department. Finnish President Sauli Niinistö authorized Haavisto to sign the document. Either the Finnish Embassy in Washington or a Finnish government official will deliver the document.
Full membership
Once Finland's membership acceptance document reaches the State Department in Washington, the country will officially become a NATO member.
NATO Secretary General Jens Stoltenberg says the alliance wants to increase the size of its rapid-reaction forces from 40,000 to more than 300,000.
Finland-Sweden
Finland and neighboring Sweden jointly applied for NATO membership last May. The countries, which have close cultural, economic and political ties, planned to enter the alliance simultaneously.
Sweden's bid, however, has stalled because of opposition from Turkey, whose president has said his country wouldn't ratify membership before disputes between Ankara and Stockholm were resolved. The Turkish government has accused Sweden of being too soft on groups that it deems to be terror organizations.
Hungary's parliament also has yet to ratify Sweden's accession to NATO, and it remains unclear when it will do so.
Must-read stories from the L.A. Times
Get the day's top news with our Today's Headlines newsletter, sent every weekday morning.
You may occasionally receive promotional content from the Los Angeles Times.