Norwegian preschoolers experience outdoor life early with hikes around kindergartens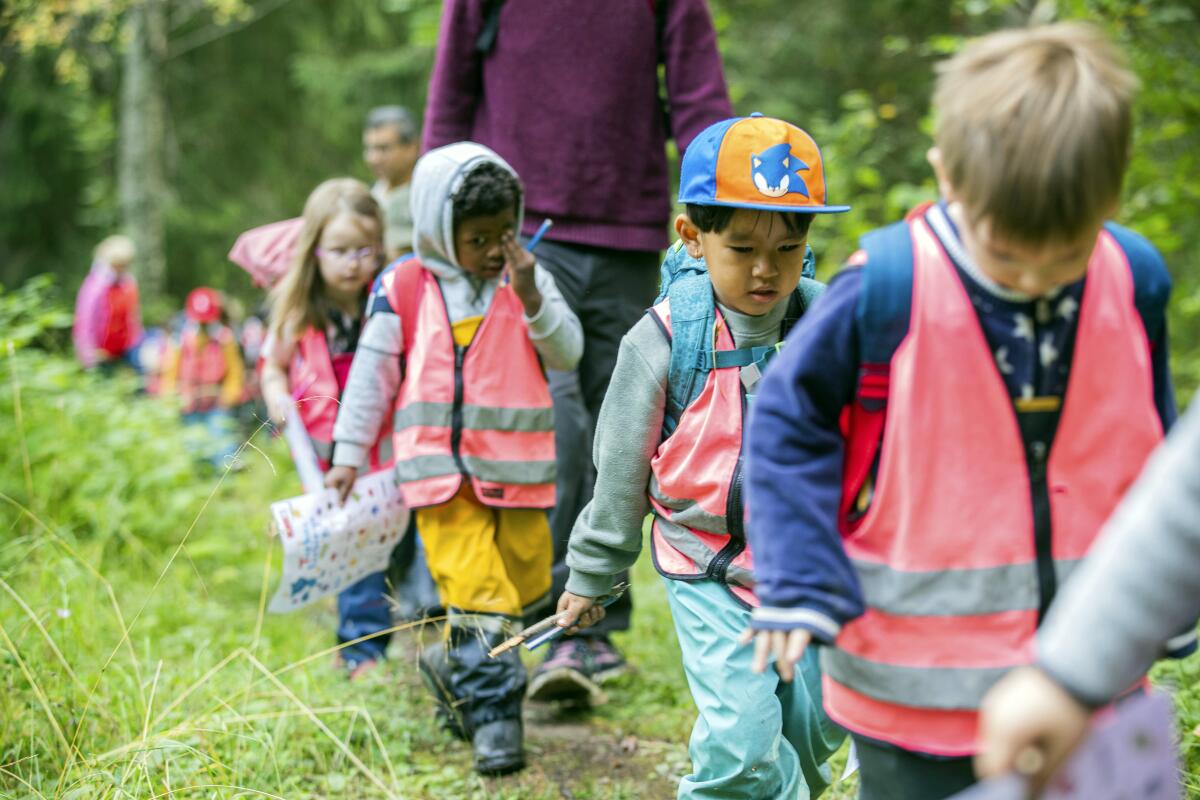 STAVANGER, Norway —
In the land of mountains and fjords, outdoor life starts early. That's why as many as 11,000 preschool kids started their day this week hiking routes around kindergartens in Norway.
Dressed in the outdoor one-piece jumpsuits typical of youngsters in this country, kids from about 400 day-care centers plotted mini-routes through Norwegian wildlife.
"We hope we can inspire the kids to be outdoor children," said Kristin Oftedal of the Norwegian Trekking Assn., a volunteer organization that aims to promote outdoor activities. "We believe outdoor children are happy children."
If you want to go to your happy place, you need more than cash.
The mini-Nordic adventurers will grow up in a society that is quasi-religious about outdoor life. According to the latest official data, 97% of Norwegians participated in some form of outdoor activity in 2021. That compares with just 54% of Americans, according to the Outdoor Foundation, a U.S. outdoor industry association.
That is hardly surprising. Leisure time for this Scandinavian nation of 5.3 million often revolves around trips to cabins in the mountains. Thousands of Norwegians have access to a cabin — some in the mountains, others by the coast — that they use as a retreat from everyday life.
As well as 440,000 family-owned cabins, there are around 550 sites operated by volunteers from the Norwegian Trekking Assn.
Authorities are on standby to evacuate more people in Norway, where huge amounts of water are thundering down usually serene rivers after days of torrential rain
The same volunteers also maintain 16,800 miles of hiking and skiing trails.
And the tiny red Ts painted on rocks and posts that mark routes are familiar to Norwegians throughout the country. Prime Minister Jonas Gahr Store described them as "nature's modest beacon" and "the hiker's companion," and in 2021, 82% of adults reported that they went hiking at some point during the year.
But Oftedal warns against complacency. Her organization conceived the idea of the "Turbo Traak" for toddlers partly as a way of stopping the sedentary instinct she sees creeping into Norwegian society.
"Being outdoors is so important for young people, both physically and mentally," she told the Associated Press.
"They will learn skills and attitudes that they can bring with them for their whole lives." She hopes that the diploma handed to each of the young hikers will be their first muddy steps toward becoming the next generation of outdoor enthusiasts.
Sign up for Essential California for the L.A. Times biggest news, features and recommendations in your inbox six days a week.
You may occasionally receive promotional content from the Los Angeles Times.