'Our ancestors are present': Brazil's Supreme Court enshrines Indigenous land rights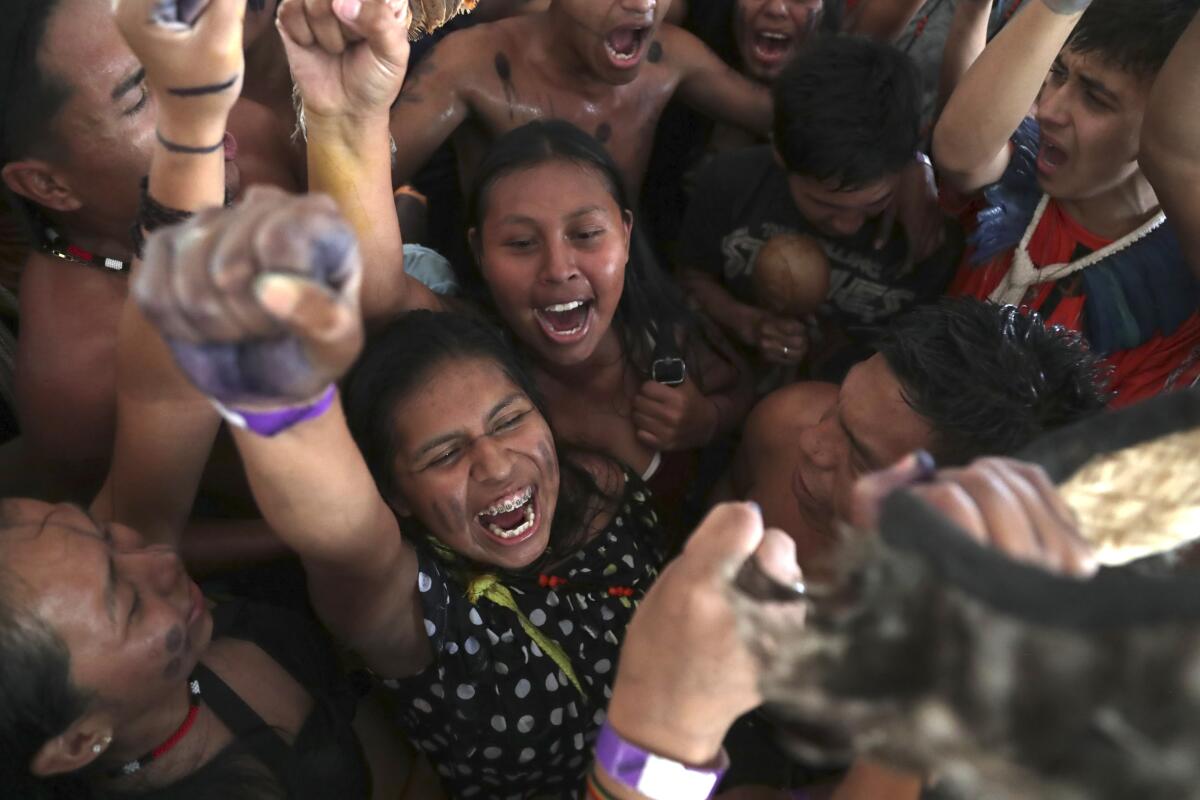 RIO DE JANEIRO —
Indigenous people celebrated Thursday after Brazil's Supreme Court ruled to enshrine their land rights, removing the imminent threat that those protections could be rolled back.
The justices had been evaluating a lawsuit brought by Santa Catarina state, backed by farmers, seeking to block an Indigenous group from expanding the size of its territorial claim. Nearly all of the high court's justices voted to support the Indigenous group, which has far-reaching implications for territories nationwide.
Dozens of Indigenous people in traditional yellow feather headdresses and body paint danced, sang and jumped around in the capital of Brasilia after the decisive vote was cast. Some wiped away tears of joy.
"I'm shaking. It took a while, but we did it. It's a very beautiful and strong feeling. Our ancestors are present — no doubt about it," said Jéssica Nghe Mum Priprá, who is from the Xokleng-Laklano Indigenous group.
In the case before the court, Santa Catarina put forth a legal theory pushed by opponents of further land allocations for Indigenous groups. It said that the date Brazil's Constitution was promulgated — Oct. 5, 1988 — should count as the deadline for when Indigenous peoples either had already physically occupied land or were legally fighting to reoccupy territory. Santa Catarina said that would provide legal certainty for landholders.
Nine of the court's 11 justices rejected that argument.
The Indigenous adolescents danced in a circle under the thatched-roof hut from nearly dawn to dusk while parents looked on from the perimeter.
"Areas occupied by Indigenous people and areas that are linked to the ancestry and tradition of Indigenous peoples have constitutional protection, even if they are not demarcated," said Justice Luiz Fux, who cast the vote that established the majority.
The two justices who voted to support Santa Catarina's position were appointed by right-wing former President Jair Bolsonaro, who was a vocal opponent of expanding Indigenous territories and supported their assimilation.
Indigenous rights groups contended that the concept of the deadline was unfair, saying it did not account for expulsions and forced displacements of Indigenous populations, particularly during Brazil's 1964-85 military dictatorship.
The lawsuit put at risk the status of Brazil's hundreds of Indigenous territories, rights group Articulation of Indigenous Peoples of Brazil said.
Severe malnutrition and disease, particularly malaria, are decimating the Yanomami population in Brazil's Amazon rainforest.
Large groups of Indigenous men and women from different states and ethnicities had gathered in and around Brasilia in recent months during the high court's deliberations.
Francisco Cali Tzay, the United Nations special investigator on the rights of Indigenous peoples, had urged Brazil's Supreme Court to protect Indigenous lands.
"Under the constitution, Indigenous peoples are entitled to the permanent possession of the lands they traditionally occupy," Tzay said in a 2021 statement.
He said a ruling in favor of business interests "could legitimize violence against Indigenous peoples and inflame conflicts in the Amazon rainforest and other areas."
Get breaking news, investigations, analysis and more signature journalism from the Los Angeles Times in your inbox.
You may occasionally receive promotional content from the Los Angeles Times.
Though the case involved only one Indigenous group, the Supreme Court gave it "general repercussion" status, meaning that the ruling will serve as a precedent for all instances of justice involving Indigenous groups.
It thus applies to hundreds of administrative procedures and legislative initiatives that are in progress and is likely to torpedo a proposal in Congress to enact the same 1988 deadline.
However, that legislation also carries other threats to Indigenous rights, potentially opening the door to an easing of restrictions on mining, dam construction, agricultural and transportation projects in Indigenous lands.
"We've won the battle but not the war," said Dinamam Tuxá, the executive coordinator of Articulation of Indigenous Peoples of Brazil. "We will continue to fight for Indigenous territories to be demarcated, so that the rights of Indigenous peoples are safeguarded and protected."
When Brazil's environmental authority busted an illegal gold mine, they found something that is becoming common at such sites: a Starlink unit.
Since taking office in January, President Luiz Inácio Lula da Silva has given significantly more attention to the demands of Indigenous peoples than his predecessor, Bolsonaro.
He created the country's first Ministry of Indigenous Peoples, headed by Indigenous woman Sonia Guajajara, and demarcated eight new Indigenous territories.
Indigenous territories cover nearly 14% of Brazil's vast expanse, according to data from the Instituto Socioambiental. The process to officially establish an Indigenous territory can take decades.
Sign up for Essential California for news, features and recommendations from the L.A. Times and beyond in your inbox six days a week.
You may occasionally receive promotional content from the Los Angeles Times.