Speaker of Canada's Parliament apologizes for honoring man who fought for the Nazis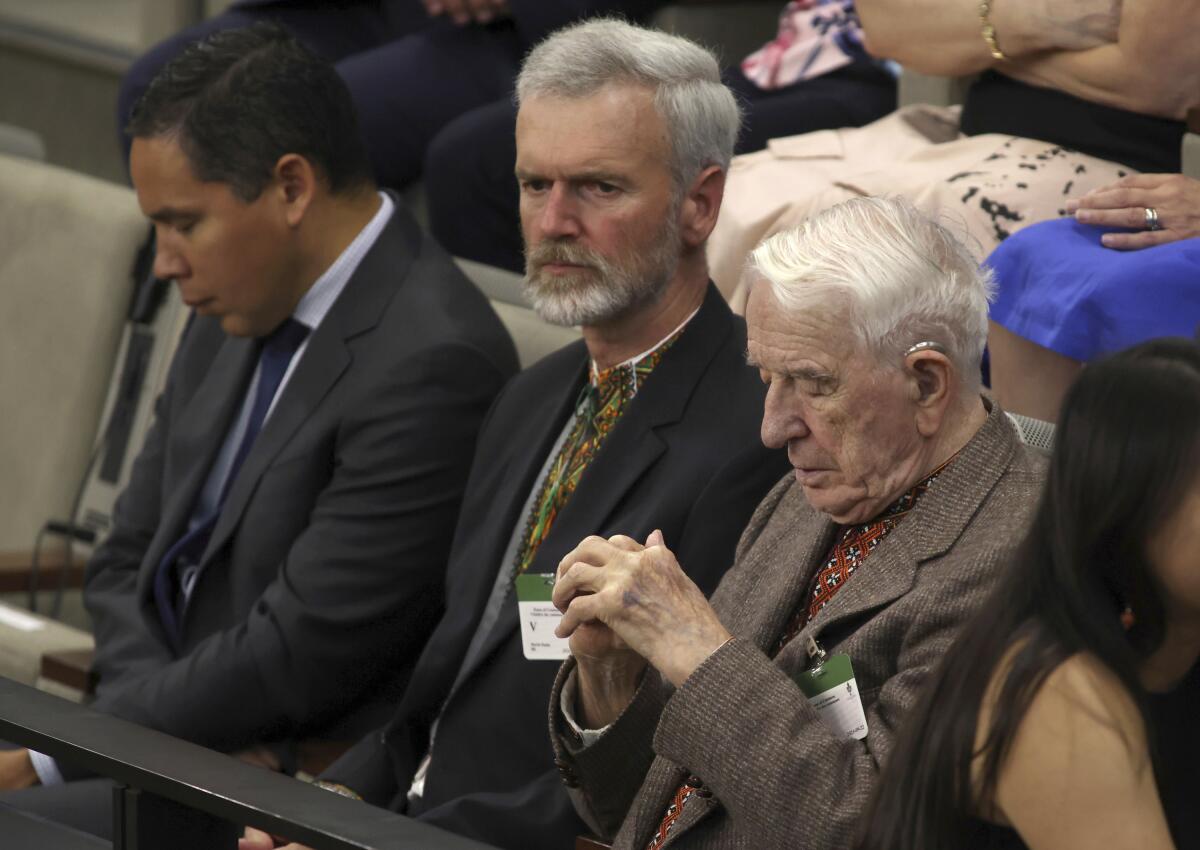 TORONTO —
The speaker of Canada's House of Commons apologized Sunday for recognizing a man who fought for a Nazi military unit during World War II.
Just after Ukrainian President Volodymyr Zelensky delivered an address in the House of Commons on Friday, Canadian lawmakers gave 98-year-old Yaroslav Hunka a standing ovation when Speaker Anthony Rota drew attention to him. Rota introduced Hunka as a war hero who fought for the First Ukrainian Division.
The division, also known as the Waffen-SS Galicia Division or the SS 14th Waffen Division, was a voluntary Ukrainian unit that was under the command of the Nazis.
"In my remarks following the address of the President of Ukraine, I recognized an individual in the gallery. I have subsequently become aware of more information which causes me to regret my decision to do so," Rota said in a statement.
He added that his fellow Parliament members and the visiting Ukrainian delegation were not aware of his plan to recognize Hunka. Rota noted that Hunka was from his district.
"I particularly want to extend my deepest apologies to Jewish communities in Canada and around the world. I accept full responsibility for my action," Rota said.
Russia's top diplomat presses Moscow's line that Ukraine harbors Nazi elements, saying President Volodymyr Zelensky's Jewish origins are meaningless.
Hunka could not be immediately reached for comment.
Canadian lawmakers cheered, and Zelensky raised his fist in acknowledgment as Hunka saluted from the gallery during two separate standing ovations. Rota called him a "Ukrainian hero and a Canadian hero, and we thank him for all his service."
Zelensky was in Ottawa to bolster support from Western allies for Ukraine's war against the Russian invasion.
Vladimir Putin has painted his enemies in Ukraine as "neo-Nazis," even though Zelensky is Jewish and lost relatives in the Holocaust.
Canada's bombshell allegation that India was involved in the killing of a Sikh activist is based on surveillance of Indian diplomats, an official says.
Prime Minister Justin Trudeau's office said in a statement that Rota had apologized and accepted full responsibility for issuing the invitation to Hunka and for the recognition in Parliament.
"This was the right thing to do," the statement said of Rota's apology. "No advance notice was provided to the Prime Minister's Office, nor the Ukrainian delegation, about the invitation or the recognition."
The Friends of Simon Wiesenthal Center for Holocaust Studies issued a statement Sunday saying the division "was responsible for the mass murder of innocent civilians with a level of brutality and malice that is unimaginable."
"An apology is owed to every Holocaust survivor and veteran of the Second World War who fought the Nazis, and an explanation must be provided as to how this individual entered the hallowed halls of Canadian Parliament and received recognition from the Speaker of the House and a standing ovation," the statement said.
In a Ukrainian city devastated by bombing, the seasons of Jewish life find expression. Amid the sorrow of war, Rosh Hashana brings hope, even joy.
B'nai Brith Canada's CEO, Michael Mostyn, said it was outrageous that Parliament honored a former member of a Nazi unit, saying Ukrainian "ultra-nationalist ideologues" who volunteered for the Galicia Division "dreamed of an ethnically homogenous Ukrainian state and endorsed the idea of ethnic cleansing."
"We understand an apology is forthcoming. We expect a meaningful apology. Parliament owes an apology to all Canadians for this outrage, and a detailed explanation as to how this could possibly have taken place at the center of Canadian democracy," Mostyn said before Rota issued his statement.
Members of Parliament from all parties rose to applaud Hunka. A spokesperson for the Conservative party said the party was not aware of his history at the time.
"We find the reports of this individual's history very troubling," said Sebastian Skamski, adding that Trudeau's Liberal party would have to explain why he was invited.
Sign up for Essential California for news, features and recommendations from the L.A. Times and beyond in your inbox six days a week.
You may occasionally receive promotional content from the Los Angeles Times.