Dozens dead in gas station explosion as Nagorno-Karabakh residents flee to Armenia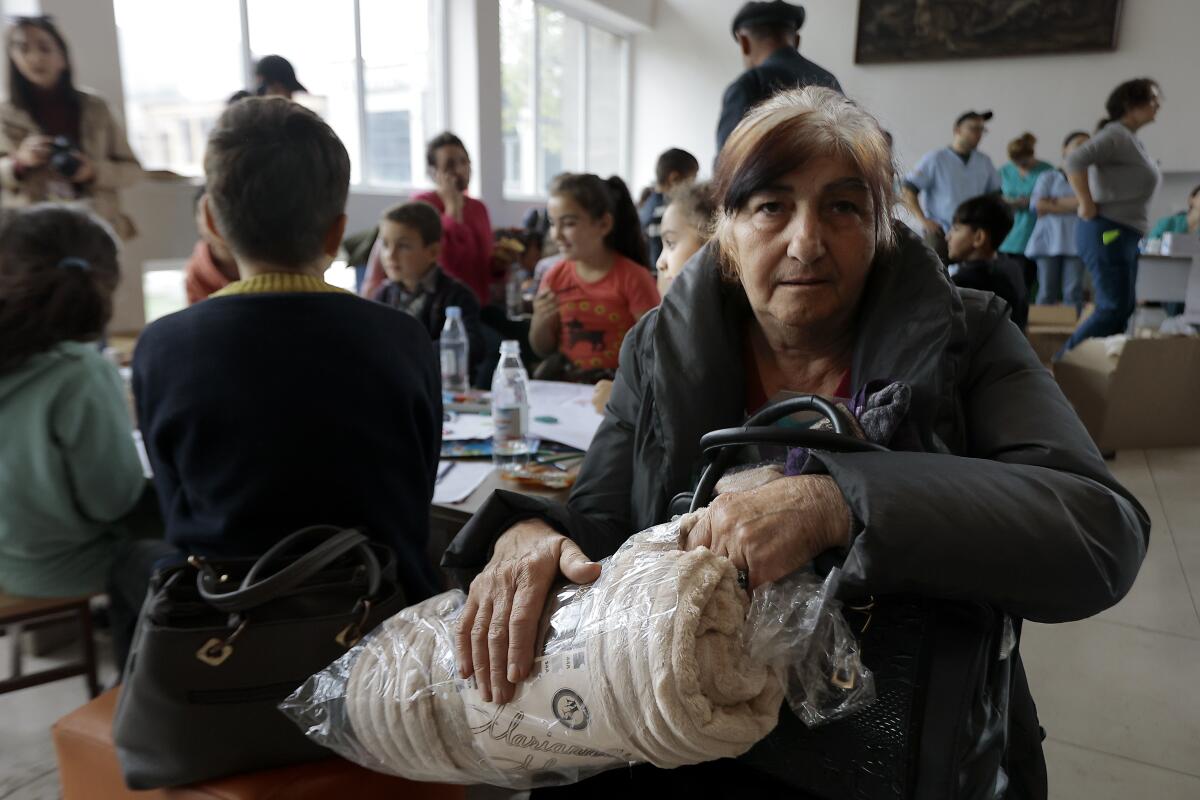 YEREVAN, Armenia —
An explosion at a crowded gas station in Azerbaijan's Nagorno-Karabakh region left scores of people dead and injured as thousands of ethnic Armenians rushed to flee into neighboring Armenia, the separatist territory's authorities said Tuesday.
Some 28,000 people have fled across the border since Azerbaijan defeated separatists who have governed the breakaway region for about 30 years in a swift military operation last week, according to Armenia's government.
Residents of Nagorno-Karabakh scrambled to flee as soon as Azerbaijan lifted a 10-month blockade on the region's only road to Armenia. That blockade had caused severe shortages of food, medicine and fuel. While Azerbaijan has pledged to respect the rights of Armenians, many residents feared reprisals.
The explosion took place as people lined up to fill their cars at a gas station outside Stepanakert, the region's capital, late Monday. The separatist government's human rights ombudsman, Gegham Stepanyan, said Tuesday evening that 68 people have died, an additional 290 were injured and 105 are still considered missing.
According to Stepanyan, 21 bodies have been identified. A total of 168 of those injured were admitted into hospitals in Armenia in ambulances and helicopters.
The cause of the blast remains unclear, but Nagorno-Karabakh presidential aide David Babayan said initial information suggested that it resulted from negligence, adding that sabotage was unlikely.
Ethnic Armenians are fleeing Nagorno-Karabakh over the border to Armenia, as Azerbaijan asserts full control over the enclave Armenians call Artsakh.
Armenian authorities also said that they brought 125 bodies over to Armenia from Nagorno-Karabakh for identification. The country's Health Ministry clarified that all of those were killed in the fighting last week.
Azerbaijani presidential aide Hikmet Hajiyev said on X, formerly Twitter, that hospitals in Azerbaijan were ready to treat victims, but did not say if any had been taken there. Azerbaijan has sent in burn-treatment medicine and other humanitarian aid, he said.
U.S. National Security Council spokesperson Adrienne Watson said in a statement that the U.S. urged humanitarian access to Nagorno-Karabakh. "The United States will continue to support those affected by the ongoing crisis as 28,000 people have crossed into Armenia from Nagorno-Karabakh," she said.
Gasoline has been in short supply in Stepanakert for months, and the explosion further added to the shortages, compounding anxiety among many residents about whether they will be able drive the 22 miles to the border.
The hostilities raging in Nagorno-Karabakh lie at the heart of a decades-long fight that began during the chaotic breakup of the Soviet Union.
Cars bearing large loads on their roofs crowded the streets of Stepanakert, and residents stood or lay along sidewalks next to heaps of luggage.
Nagorno-Karabakh authorities asked residents to hold off on leaving in order to keep the road clear for emergency services and said buses would be provided for those who want to leave.
Nagorno-Karabakh was an autonomous region within Azerbaijan under the Soviet Union. Separatist sentiment grew in the Soviet Union's dying years then flared into war. Nagorno-Karabakh came under the control of ethnic Armenian forces, backed by the Armenian military, after a six-year separatist war that ended in 1994.
In another war in 2020, Azerbaijan took parts of Nagorno-Karabakh and completely reclaimed surrounding territory that it lost earlier. Under the armistice that ended the 2020 fighting, Russia deployed a peacekeeping force of about 2,000 to the region. Russia's influence in the region has waned amid its war in Ukraine, emboldening Azerbaijan and its main ally, Turkey.
Sign up for Essential California for news, features and recommendations from the L.A. Times and beyond in your inbox six days a week.
You may occasionally receive promotional content from the Los Angeles Times.