Europe Union's top diplomat dismisses concern over long-term support for Ukraine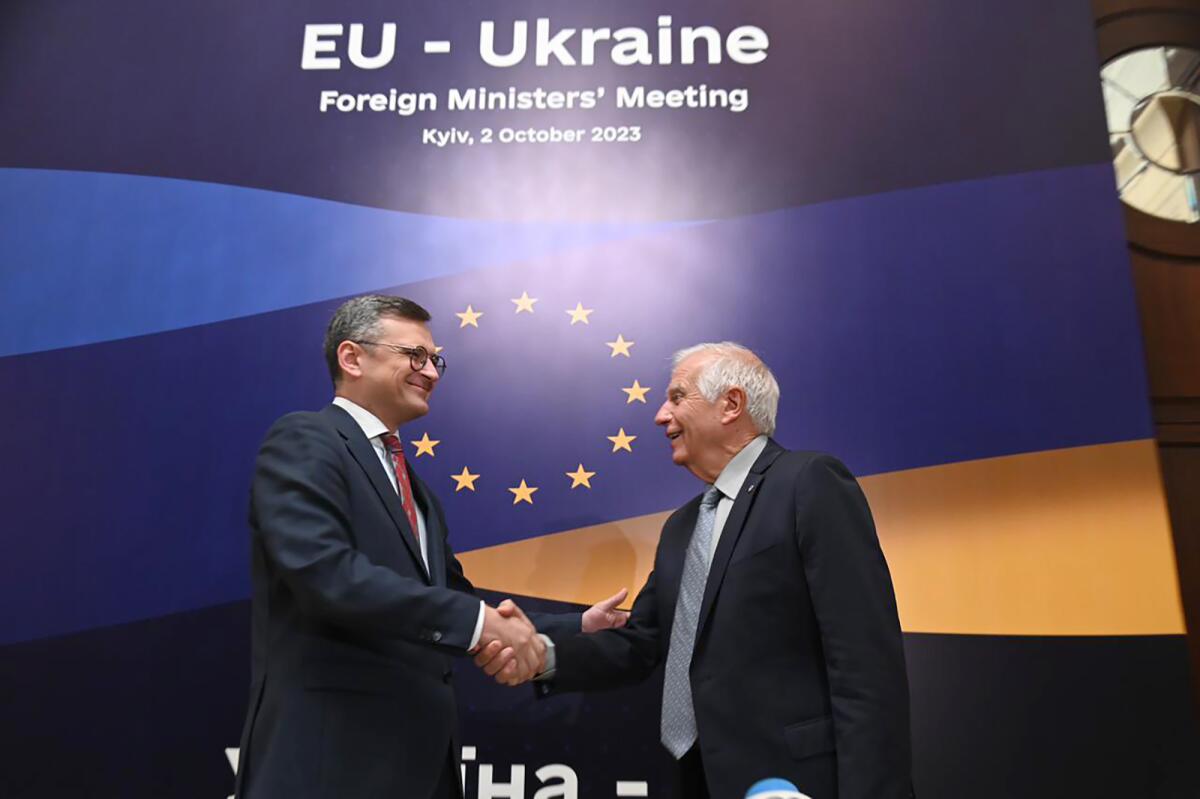 KYIV, Ukraine —
The European Union's foreign policy chief on Monday led a delegation of top diplomats on an unannounced visit to Kyiv and dismissed concerns about political tension in the bloc over its long-term support for Ukraine's fight against the Russian invasion.
Though largely symbolic, the informal meeting between EU and Ukrainian diplomats demonstrated the EU's "clear commitment" to Ukraine in its 19-month-long war, Josep Borrell said.
"The EU remains united in its support to Ukraine … I don't see any member state folding on their engagement," Borrell told a news conference in the Ukrainian capital.
The gathering was the first time EU foreign ministers have met outside the bloc — and in a war zone, according to Borrell.
The talks took place after the weekend election victory in EU member Slovakia of former Prime Minister Robert Fico, whose pro-Russian agenda has increased the question marks about the EU's continued support for Kyiv.
The small eastern European country could bring more tension to the EU's discussions on Ukraine, as has happened with Hungary's at-times cool attitude toward Kyiv. Budapest has maintained close relations with Moscow and argued against supplying arms to Ukraine or providing it with economic assistance. Slovakia operates a key rail line used to transport Western military hardware to Ukraine.
Even some of Kyiv's close allies have grumbled that it doesn't seem sufficiently grateful for the aid it's received. How thankful is thankful enough?
The U.S., the EU and Britain have provided massive military and financial support to Ukraine, enabling it to stand up to the Kremlin's attack. The assistance is crucial for Ukraine's weakened economy and has so far been open-ended.
But uncertainty has set in over how long Kyiv's allies will keep sending it aid worth billions of dollars.
President Biden on Sunday reassured allies of continued U.S. financial support for the war effort, after Congress averted a government shutdown by adopting a short-term funding package that dropped assistance for Ukraine.
This Ukrainian artist was known for whimsical sculptures. Now, amid Russia's war on Ukraine, he creates art from war debris, military weapons and fury.
Many U.S. lawmakers acknowledge that winning approval for Ukraine assistance in Congress is growing more difficult as the war grinds on.
Borrell, at his news conference, insisted the EU is devoted to "sustained engagement" with Ukraine. "Our resolve … is firm and will continue," he said.
He ticked off a list of ongoing commitments the 27-nation EU has made and hopes to make, including proposed military aid of $5.3 billion next year, a target to train some 40,000 Ukrainian troops and possible joint arms industry ventures between EU and Ukrainian defense companies.
Russian President Vladimir Putin has ordered a top commander of the Wagner mercenary group to take charge of 'volunteer units' fighting in Ukraine.
Other signs of the EU's commitment include help with cyberdefense, a de-mining program to enable Ukraine's postwar recovery and the reform of Ukrainian law enforcement to crack down on corruption, Borrell said.
But the EU's "strongest security commitment" for Ukraine is to grant it membership in the bloc, he said.
Ukraine is intent on becoming a member of the European Union, and EU officials have encouraged that course even though it could take years amid a war of attrition with no end in sight.
"With every village, with every meter that Ukraine liberates, with every meter in which it rescues its people, it is also paving its way to the European Union," German Foreign Minister Annalena Baerbock told reporters in Kyiv.
Russian President Vladimir Putin has released an address marking the one-year anniversary of Moscow's unilateral annexation of four Ukrainian regions.
"Both Ukraine and the European side are determined to move forward at maximum speed, taking into account all the reforms that Ukraine has carried out, is currently carrying out and will continue to implement," Ukrainian Foreign Minister Dmytro Kuleba said.
Kuleba also offered reassurances about the country's allies after the U.S. Congress left Ukraine aid out of its funding package.
He told reporters that Ukraine held discussions with representatives of both parties in Congress to ensure that more help will arrive.
"The decision was taken as it was, but we are now working with both sides of the Congress to make sure that it does not repeat again under any circumstances," Kuleba said.
"The question is whether what happens in the U.S. Congress last weekend is an incident or a system. I think it was an incident," he added.
Kuleba said he also urged the foreign minsters "to provide maximum support to their defense companies in building cooperation with Ukrainian defense companies."
Such cooperation recently became a frequent topic in the talks between Ukraine and its partners.
Kremlin spokesman Dmitry Peskov said Monday that he didn't doubt Washington would "continue to be directly involved in the conflict."
At the same time, Russian President Vladimir Putin is wagering that international support for Kyiv will sooner or later begin to flag, and Peskov said the fatigue would eventually cause "fragmentation" of Ukraine's foreign assistance.
British Defense Secretary Grant Shapps insisted Monday that "we're a long way from the U.S. withdrawing its support" from Ukraine, and reaffirmed the U.K.'s own commitment to Ukraine.
Hungarian Prime Minister Viktor Orban has cast doubt on the prospect of the European Union starting talks any time soon for Ukraine to join the bloc.
"Britain will, regardless of what happens elsewhere, take a leadership role," Shapps said during a meeting at the Conservative Party's annual conference, in northern England.
Borrell said the peace proposal offered by Ukrainian President Volodymyr Zelensky is the only one still under discussion by international leaders, after competing efforts by China and some African leaders faded away.
Zelensky's 10-point plan, which demands Russia's total withdrawal from Ukrainian soil, includes establishing a special tribunal to prosecute Russian war crimes and building a European-Atlantic security architecture with guarantees for Ukraine.
Russian atrocities number in the tens of thousands, Ukraine says. The ICC wants to arrest Putin. But what are the prospects for justice?
The Institute for the Study of War, a Washington-based think tank, said the only way to achieve peace is to "inflict an unequivocal military defeat on Russia" and then rebuild Ukraine.
"This path is achievable if the West commits to supporting Ukraine in the prolonged effort likely needed to walk down it," the agency said in an assessment published Sunday.
Independent U.N.-backed human rights experts say they have evidence of war crimes committed by Russian forces in the fight against Ukraine.
Sign up for Essential California for news, features and recommendations from the L.A. Times and beyond in your inbox six days a week.
You may occasionally receive promotional content from the Los Angeles Times.