N.Y. judge issues limited gag order after Trump recirculates disparaging post about court clerk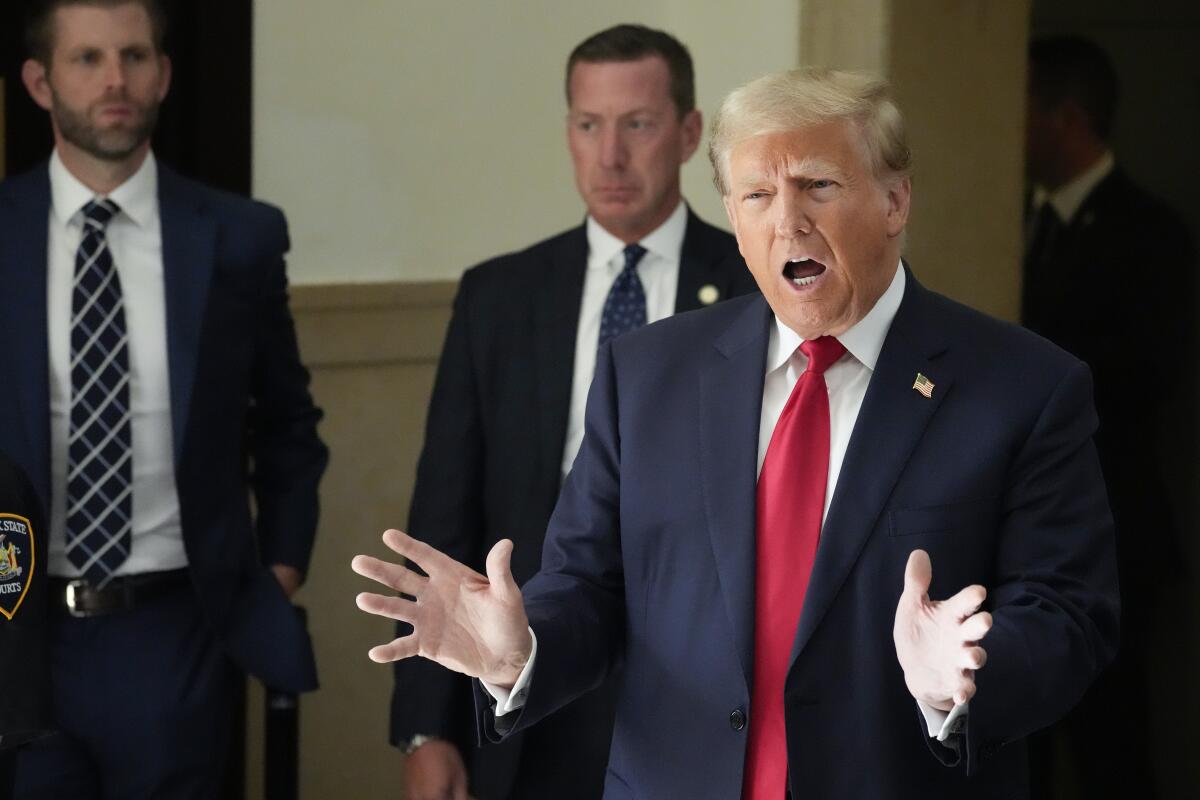 NEW YORK —
A New York judge imposed a limited gag order on defendant Donald Trump on Tuesday after the former president disparaged a key court staff member during his civil business fraud trial.
Judge Arthur Engoron issued the order, which applies to all parties in the case and pertains only to verbal attacks on court staff. It came after Trump recirculated a disparaging social media post about Engoron's principal law clerk, Allison Greenfield.
Without naming Trump, Engoron said that a defendant in the case "posted to a social media account a disparaging, untrue and personally identifying post" about a member of his staff. He added: "Personal attacks on members of my court staff are unacceptable, not appropriate" and would not be tolerated.
Trump had already deleted the post. Engoron said he had ordered it gone.
The post included a photo of Greenfield with Senate Majority Leader Charles E. Schumer (D-N.Y.) at a campaign event. Trump, the front-runner in polls for the Republican presidential nomination in 2024, has repeatedly cast the lawsuit and trial as a political attack by New York state's Democratic attorney general, Letitia James.
Trump also commented on the clerk on Monday, saying that she "should not be allowed to be in his ear on every single question" and that she "hates Trump."
The gag order came after Trump and lawyers for both sides repeatedly went into court behind closed doors during a lunch break.
As Trump attended the trial for a second day, James' attorney questioned an accountant in an effort to build the state's case that Trump and others at his company had full control over the preparation of misleading and false financial statements at the heart of the lawsuit against them.
And the judge set the record straight about a comment that Trump had touted as a key victory.
Engoron had suggested on Monday that testimony about Trump's 2011 financial statement might be beyond the legal time limit for the lawsuit, which alleges that Trump and his business chronically lied about his wealth to banks, insurers and others.
The relevant statute of limitations rules out claims related to activities before a date in 2014, and Trump's legal team has argued that the time limit cuts off most of the case.
Engoron said Tuesday that "statutes of limitations bar claims, not evidence," and that at the trial's early stage, he was inclined to give both sides considerable leeway to connect older evidence to claims in the lawsuit.
"I want to emphasize: This trial is not an opportunity to relitigate what I have already decided," Engoron said. He ruled last week that all of the claims were allowable under the statute of limitations.
A lawyer for James' office, Kevin Wallace, went on to suggest that he was using the 2011 document to show Trump's financial statements were prepared in the same manner — giving him and his company the final say over the valuations that appeared — for at least a decade.
Donald Bender, an accountant who prepared the financial statements for years, testified that Trump's company supplied the numbers that went into the documents. Each spreadsheet was marked "PBC," for "prepared by client," in big, red letters, Bender said.
Bender testified that some years, the Trump Organization failed to provide all documents necessary for producing the statements, despite attesting in letters to the accounting firm that it had provided all financial records.
"They were not giving all of the documents that we needed," Bender testified, explaining that "there were certain appraisals out there for a number of years that we had never seen."
Trump, who denies any wrongdoing, said during one court break that he thought the trial was "going very well."
He reiterated key points of his defense, including that the financial statements bore disclaimers saying that they weren't audited and that others "might reach different conclusions" about his financial position if they had more information.
"This case is a scam. It can't be fraud when you've told institutions to do their own work," he said Tuesday.
After Monday's sometimes fiery opening statements, Tuesday's testimony was so plodding that Bender twice let out a long breath while on the stand.
Trump plans to testify later in the trial, but he doesn't have to attend it now. While grumbling that he'd rather be on the campaign trail, the Republican former president has used the waiting cameras in a courthouse hallway as a microphone for political messaging. He claims that Atty. Gen. James, a Democrat, is wielding the justice system as a political cudgel to hobble his ongoing campaign.
James scored an early victory when Engoron, a Democrat, ruled last week that Trump had committed fraud by exaggerating the size of his penthouse at Trump Tower, claiming his Mar-a-Lago club in Florida was worth as much as $739million, and putting similar oversized valuations on office towers, golf courses and other assets.
The nonjury trial concerns six remaining claims in the lawsuit and how much Trump might owe in penalties. James is seeking $250million and a ban on Trump doing business in New York. The judge has already ruled that some of Trump's companies should be dissolved as punishment.
Trump's lawyers said the financial statements were legitimate representations of the worth of unique luxury properties, made even more valuable because of their association with Trump.
The trial is expected to last into December.
Get our Essential Politics newsletter
The latest news, analysis and insights from our politics team.
You may occasionally receive promotional content from the Los Angeles Times.