Health workers in Liberia's Ebola outbreak often ostracized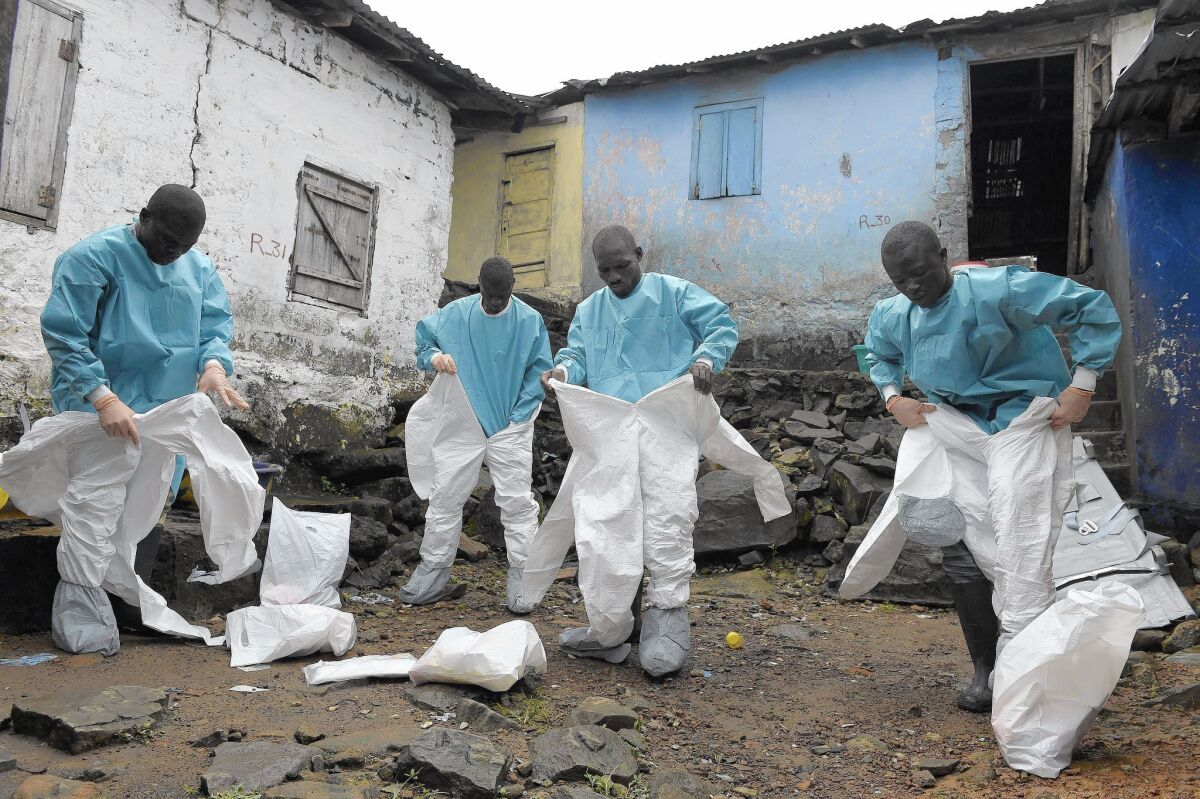 Reporting from Suakoko, Liberia —
Patrick Githinji held the intravenous needle and bent over his patient. The man was shaking and sweating, blood trickling from his head and hand.
Githinji wore a suffocating protective suit, outfitted with double-layered gloves, mask and goggles. But it would be useless against the deadly Ebola virus if compromised by even a tiny slip of the needle.
"If you make a small mistake, you may prick yourself and end up positive. When you are fixing an IV drip for an Ebola patient, you can even panic," said Githinji, 29, a Kenyan nurse at the International Medical Corps Ebola treatment unit here in Bong County. "I feel some fear, but this is a job that somebody has to do."
The health workers on the front lines of Liberia's Ebola crisis are working grueling shifts and risking fatal infection in their commitment to comfort the dying and save the sick.
Yet instead of being celebrated, these workers — most of them from Liberia and other African countries — face a significant public backlash. Many are shunned, evicted from their houses or confronted with obstacles in trying to return to their home nations after working in Ebola hot spots. Health workers seen on television in their now-familiar yellow or blue protective full-body suits have a name: "the Ebola people."
The Ebola people, one persistent rumor goes, are in a plot to kill patients in treatment units. Others fear that staff will infect their communities, because so many of the dead are health workers or their close relatives.
In Guinea this month, members of a health delegation were attacked by villagers, hunted down as they fled, then killed and their bodies dumped in a latrine.
"There's a lot of fear of it," said the IMC's Ebola emergency response team director, Sean Casey, referring to the virus. "I think partly it's the imagery. The suits are intimidating. Patients need to understand that they're going to get cared for and they can get well."
Healthcare officials say the persistent suspicions have complicated the task of encouraging patients to seek help early, and undermined efforts to isolate cases from the community.
"People still believe the rumors," said Garmai Cyrus, a counselor at the IMC unit whose own hometown is circulating a report that "the Ebola people" are giving patients a poisonous yellow and green medicine to kill them.
Eric Johnson works one of the hardest jobs at the Doctors Without Borders treatment unit in Monrovia, Liberia's capital: the front gate.
When the facility is full, he has to tell desperately ill people there's no room. He has seen people wait outside in taxis for hours before dying in front of him.
"On Friday, there were three patients who came in cars who died," he said. "A lot of people say, 'I'm dying, I'm dying!' It's very difficult to send somebody home. Some people say, 'I'll sleep here.' I feel bad, bad, because you see, there's no space."
Recently, with his wife nine months pregnant, Johnson was evicted by his landlord, who suspected that he might be carrying the virus. He protested but was met with a cold response: "Get out of my house."
At 5:30 the next morning, police arrived to force him out. Johnson tried to reason with them.
"The police officer said, 'Hey, hey, you! Get out! Hey, hey, Ebola! Get away from me!' "
Johnson moved into a motel, which he couldn't afford. Last week, his wife gave birth. There was no money for food, let alone diapers. When his wife calls him at his work, he hears the baby cry.
Outside the center, Johnson is sometimes targeted by family members of those stricken, who are furious that he was the one who turned away patients because of the lack of beds.
"Everyone says, 'That's the one who's on the gate.' " He said one man whose relative died in a car at the gate "called his friends to fight me. I had to run away."
Staffers at the IMC Ebola treatment unit in Bong County also have been threatened with eviction by leaders in the nearby town.
"Two days ago the elders and the town chiefs, they had a meeting, saying that we who are working in this camp should not be sleeping in town," said Prince Sumo, 28, a father of three who works on the IMC burial team, with the dangerous job of easing highly infectious bodies into body bags and taking them for burial. Several other IMC workers also were told to leave.
"All the people said that we come here to work and collect the virus and spread the virus on them and we should leave the town," Sumo said. "They're throwing us out."
Casey said the IMC has called meetings with local leaders and elders. Town leaders are given tours of the treatment unit, to see the many-layered precautionary measures taken to protect staff from the virus.
But although they are often shunned, health workers in treatment units are frequently the first ones sought out by desperate families when a loved one becomes ill. They are under intense pressure to treat fellow church members, relatives or friends, often compromising their own safety. Several local staff members working with Doctors Without Borders who have died of Ebola are thought to have contracted the disease in the community.
Lovetee Reeves, 19, a former patient at the IMC unit, was taken from her village by her father in a wheelbarrow with her 2-year-old daughter after residents not only shunned her when she became sick but also made it clear that no doctors would be welcome in town.
"People in my village say the Ebola people will kill you, so they're afraid of dying," said Reeves.
She was discharged last week when it was found she never had Ebola.
Another patient in the unit, James Dahn, heard the same thing.
"Before I got sick, people in my village said the Ebola people can kill you. Fear came in me," he said.
Cyrus, the IMC counselor, said even the center's ambulance sparks fear when it travels the streets to bring patients to the unit. On one recent foray, she said, people on the road fled, yelling, "Ebola! Ebola! Ebola!" when they saw it coming. One ran away three times before she could persuade him to come for treatment.
At one point, she almost gave in to the intense pressure from her family and community to not work in the treatment center.
But Cyrus, who saw people shot and raped in Liberia's long civil wars from 1989 to 2003, is determined to fight a threat she considers "more terrifying than guns. This is even worse."
"If we don't do something, who is going to do something?" she said. "I've seen what Ebola can do. If we don't go to work, Ebola is able to take down this whole country."
---
Must-read stories from the L.A. Times
Get the day's top news with our Today's Headlines newsletter, sent every weekday morning.
You may occasionally receive promotional content from the Los Angeles Times.