Cannibalism, prostitution and other racist myths that confront Africans studying in India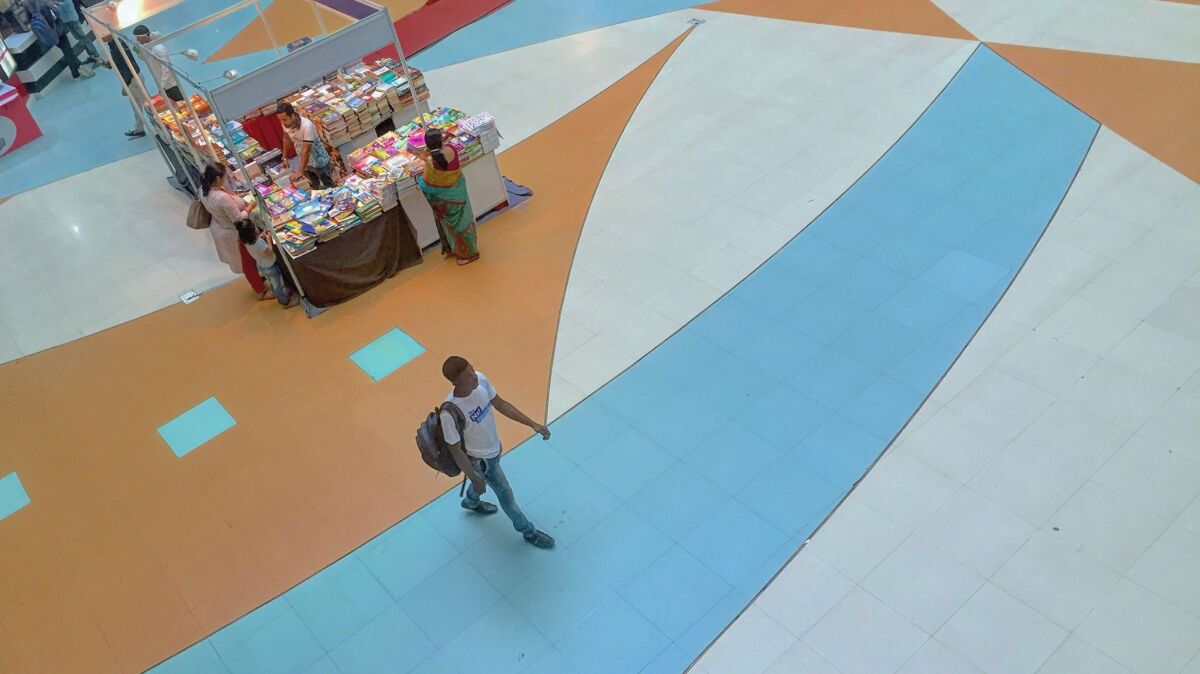 Reporting from Greater Noida, India —
Evelyn Benjamin was at home with her 3-year-old son when the manager of her sprawling apartment complex and three police officers came to the door with a grisly complaint.
The middle-aged physician who lived upstairs had found what she thought were two hunks of human flesh on the pavement outside and was convinced that Benjamin was responsible.
"She thinks that Africans are cannibals," said Benjamin, a 30-year-old business school student from Nigeria.
The meat appeared to be chicken. But the accusation and its racist overtones were nothing new for Africans living in India.
An estimated 25,000 — primarily from middle-class families in Nigeria and Sudan — are students at Indian colleges and universities. They are drawn by affordable tuition and the promise of educational institutions better than those back home, but they often leave feeling insulted and alienated.
False accusations of cannibalism have long surrounded the African community in India. They have grown since an Indian teenager briefly went missing last month in this fast-growing city outside New Delhi — and his mother accused five Nigerian men of eating him.
Police found no evidence implicating the Nigerians, but after the boy died — reportedly of a drug overdose — packs of Indian men spilled into the streets and for four days attacked black foreigners with fists, sticks and chairs. At least nine victims were hospitalized and one African student group urged its members to stay indoors.
The attacks last month followed a series of violent incidents in 2016: several Africans beaten with bricks and iron rods by a mob outside New Delhi, a Congolese student tied to a pole and whipped for playing loud music, a Tanzanian woman assaulted and stripped in the high-tech hub of Bangalore.
I was so much in love with India. I thought I would learn the culture, learn to dance. But then I came here and it was a different story.
— Evelyn Benjamin, a business school student from Nigeria
African diplomats complained in a statement that the attacks "weren't sufficiently condemned by Indian authorities" — who continue to insist they were not motivated by racism.
The incidents were a setback to India's efforts to flex its soft power in Africa. It has courted African medical tourists and in February announced 50,000 scholarships for African students over the next five years.
As a student in southern Nigeria's Bayelsa state, Benjamin watched Bollywood movies and dreamed of living in India before she enrolled last June at the Jaipuria Institute of Management, a private business school outside New Delhi.
"I was so much in love with India," she said on a recent evening, moments after the encounter with police. "I thought I would learn the culture, learn to dance. But then I came here and it was a different story."
Security guards harass Africans visiting her apartment complex and refuse to let their cars into the parking lot, while Indian-driven vehicles are usually waved through, she said. When Benjamin brings her son to the swimming pool, others rush out of the water.
But those indignities did not prepare her for being accused of consuming human flesh.
By the time the police arrived, Benjamin's neighbor had driven off in her SUV. The officers dutifully took down the complaint and collected the meat for testing as Benjamin looked on in disbelief.
"The woman is a doctor, so we took her complaint seriously," Rohit Sharma, the building manager, said of Benjamin's accuser. "We don't know about these Africans' culture."
Beyond differences of culture and diet — many Indians don't eat meat — Africans stand out in a country where light skin is such an obsession that Indian mothers admonish their children from a young age not to go into the sun and the public spends nearly half a billion dollars a year on "fairness creams" that are routinely advertised on the front pages of national newspapers.
Racist myths about Africans abound. In 2014, a politician in New Delhi led a late-night raid on a house occupied by Nigerian and Ugandan women whom he falsely accused of running a drugs and prostitution ring, ordering one to produce a urine sample in public.
Blessing Odozor, a 23-year-old journalism student from southeastern Nigeria, was outside a KFC in Greater Noida recently when a young Indian man made a lewd gesture and propositioned her.
"It's gotten to the point that I can't spend that much time out of the house," Odozor said. "I only talk to Indians at school."
Zubair Isa Sulaiman, a 30-year-old from northern Nigeria, said that when children see him walking in the street they sometimes cross to the other side. Others laugh or point. Landlords have refused to rent to him, and shopkeepers overcharge him.
The first Hindi words he learned were epithets aimed at him: kala ("black"), chor ("thief"), bandar ("monkey").
"We get a good education here, but the society we find ourselves in is difficult," Sulaiman said.
His father, a retired accountant, pushed him to study in India after sending his older siblings to China and Malaysia. Nigerian universities are shambolic institutions, prone to water and electricity shortages and incessant strikes that can stretch a three-year degree program to six years.
Sulaiman went online to view pictures of Greater Noida and was impressed. Transformed by the explosive growth of New Delhi, 20 miles away, the former farming community has sprouted apartment towers, shopping malls and "knowledge parks" with dozens of private universities.
Yet the residents are still villagers in many ways — the type of people who introduce themselves by their ancient Hindu caste.
"The changes have been fast and furious, and people are barely getting used to having urban people around," said Vandana Vasudevan, author of a book on Greater Noida called "Urban Villager: Life in an Indian Satellite Town."
"In that situation, to expect them to embrace Africans so quickly is a bit of a long shot."
The foreigners, too, often struggle to accept their new surroundings, including newly built universities that are often less impressive than advertised.
Uba Imran, a 24-year-old MBA student from northern Nigeria, thought his business school "looked like Oxford" in photos. But when he arrived he found a campus of drafty cinder-block buildings and barren lawns that smelled like sewage.
A year and a half into his MBA, Imran was determined not to let the epithets and loneliness discourage him.
"People here don't look at you," he said. "They don't shake your hand. But I reminded myself that in Nigeria, if you go abroad for school, people will respect you."
Then one evening last month, as he stepped out of an auto rickshaw outside a busy shopping mall in Greater Noida, a large crowd surrounded him and yelled: "Are you Nigerian?" Imran had unwittingly ended up in the middle of a protest over the Indian teenager's death two days earlier.
He was beaten in the head and arms, and woke up hours later in the hospital. He ended up with several stitches and a $250 hospital bill that he is paying himself.
Now he is thinking of leaving India to start a new program in the Middle East or Malaysia.
"Indians just don't like black people," he said.
Follow @SBengali on Twitter for more news from South Asia
ALSO
Militants in army uniforms kill more than 100 Afghan soldiers at northern base, officials say
Former Iranian President Mahmoud Ahmadinejad disqualified from running for another term
Indian officials can no longer use flashing lights to skip traffic — but that's only one sign of a 'VIP culture' run amok
---
Must-read stories from the L.A. Times
Get the day's top news with our Today's Headlines newsletter, sent every weekday morning.
You may occasionally receive promotional content from the Los Angeles Times.