Kenya's political crisis deepens as many voters boycott presidential election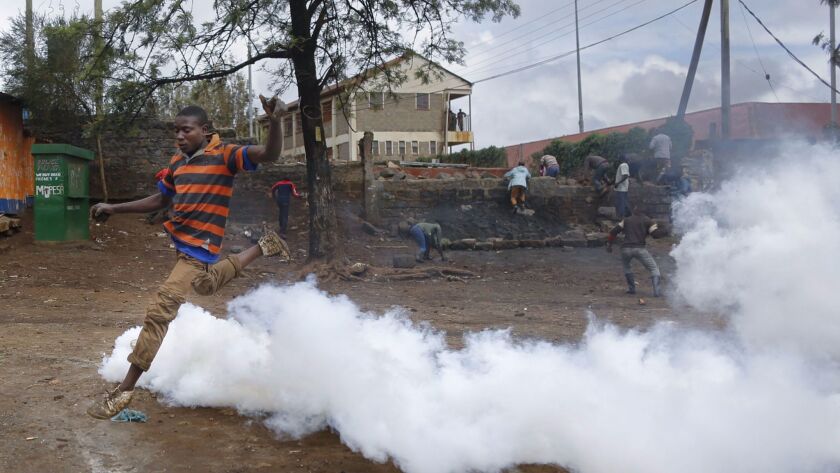 Reporting from Johannesburg, South Africa —
Kenya's political crisis deepened Thursday as many Kenyans stayed away from a repeat presidential election because of an opposition boycott, protests and security fears.
The low turnout raised further doubts about the credibility of a disputed process that has seen violence and death threats against judges and electoral officials.
Turnout was low in opposition strongholds, including western and coastal areas, and polling stations failed to open in some areas. Riot police fired tear gas and water cannons at opposition demonstrators protesting the legitimacy of the poll and in some areas removed barricades or roadblocks set up by opposition supporters designed to prevent people from voting.
The presidential election Thursday was a repeat vote after the Supreme Court decided last month to annul a presidential election held Aug. 8, due to irregularities.
At least two people in the opposition strongholds of Kisumu, western Kenya, and Mathare, in Nairobi, were shot dead as protesters clashed with police while another man was lynched in election-related violence in Kisumu, according to local media. Crowds of opposition protesters barricaded polling stations and in some cases prevented people from accessing polling booths.
In some areas electoral commission staff were stoned or intimidated and there were reports of attacks on voters. By midafternoon, the election commission postponed voting in some areas until Saturday because of violence.
Voter turnout was around 48%, according to the electoral commission, and 5,319 of the country's 40,833 polling booths failed to open.
Kenyan police denied reports that police used excessive force, firing live bullets on protesters, as occurred after the nullified election. A police statement said there was one case in Homa Bay county, in western Kenya, where a large mob overran a small police facility "and the few police officers on duty were constrained to use live fire to protect themselves and the armory."
In Kisumu Central only three of around 400 electoral staff turned up, Reuters reported, citing the county's returning officer, John Ngutai.
There was a striking contrast in many polling stations between the long lines seen in the August election and the small numbers who voted Thursday. But voting proceeded normally in strongholds of the governing Jubilee alliance.
Thursday's vote went ahead after the Supreme Court on Wednesday failed to get a quorum to hear a petition calling for the rerun election to be delayed, after only two of seven judges were available. The EU election observation mission said the court's failure to adjudicate triggered concerns of whether there had been intimidation of judges – and "raises serious questions about due process and opportunity for remedy, which undermines the credibility of the election."
Last week the chief of the Independent Electoral and Boundaries Commission, Wafula Chebukati, said it would be difficult to ensure a free and fair vote, complaining that commissioners had voted along political lines to block necessary reforms.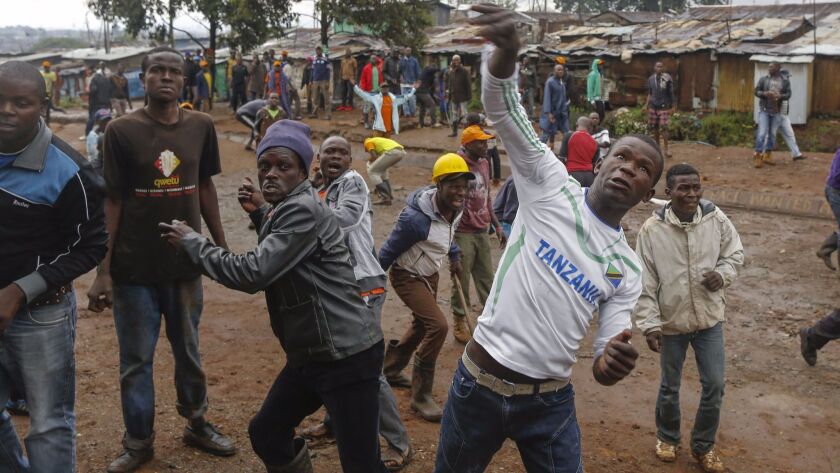 Kenya's election is a crucial test of democracy in a region which has seen many governments weakening democratic institutions and pursuing a more authoritarian model. In many parts of sub-Saharan Africa opposition figures, journalists and activists are jailed, killed or "disappeared," and elections are rigged.
Numerous presidents in the region, including Rwanda's Paul Kagame, Uganda's Yoweri Museveni, Burundi's Pierre Nkurunziza and Democratic Republic of Congo's Joseph Kabila have moved to overturn constitutional limits on presidential terms or have failed to hold elections that were due. In some African nations, presidents like Cameroon's Paul Biya and Zimbabwe's Robert Mugabe have clung to power for decades.
The International Crisis Group, an independent think tank on conflict resolution, and the EU election observer mission called for a delay to enable political dialogue, compromise and a new election supported by all sides.
The decision of the Supreme Court to annul Kenya's Aug. 8 election, only the fourth time this happened anywhere in the world, affirmed the court's independence and appeared to offer hope for a better second-round vote.
Instead both sides remained intransigent, setting the stage for conflict. Opposition leader Raila Odinga boycotted the election, saying it could not be free and fair, while President Uhuru Kenyatta insisted the vote proceed, called the Supreme Court judges "crooks" and vowed to "fix" them.
Analysts are troubled that the election lacks legitimacy for opposition supporters, with Odinga having won nearly 45% of votes in the August poll. The process has been tainted by intimidation, interference and threats reported by judges and electoral officials.
One electoral commissioner, Roselyn Akombe, fled Kenya for the U.S. last week, saying she feared for her life after death threats. She said the commission could not deliver a free and fair election.
The EU election group and other observer teams scaled back their missions because of security fears and criticisms of foreigners.
After casting his vote Thursday, President Kenyatta appealed to voters to turn out in large numbers and said that voting was peaceful in 90% of the country.
"We're tired as a country of electioneering and I think it's time to move forward," he told journalists.
The U.S. and other diplomatic missions have warned that the election has deepened the divisions in the country and called for a process of dialogue and reconciliation in the months to come.
"Following this election, there must be immediate, sustained, open, and transparent dialogue involving all Kenyans to resolve the deep divisions that the electoral process has exacerbated. Kenya is at risk of losing much of what it has gained since 2008 unless it comes together at this crucial moment to preserve its democracy and fundamental freedoms," a joint statement by U.S. Ambassador Robert F. Godec and other foreign diplomats said Thursday.
Twitter: @RobynDixon_LAT
---
UPDATES:
12:45 p.m.: This article was updated with voter turnout and polling booth information.
8:45 a.m.: This article was updated with additional details, including escalating protests, clashes with police and violence that has caused at least two deaths.
This article was originally published at 6:35 a.m.
---
Must-read stories from the L.A. Times
Get the day's top news with our Today's Headlines newsletter, sent every weekday morning.
You may occasionally receive promotional content from the Los Angeles Times.