Nigeria President Jonathan hailed as hero for conceding election defeat
Supporters of newly elected Nigerian President Muhammadu Buhari celebrate in Lagos on Wednesday.
(PIUS UTOMI EKPEI / AFP/Getty Images)
Nigerian president-elect Muhammadu Buhari makes a speech in Abuja, Nigeria, on Wednesday.
(STR / EPA)
Hundreds of Nigerians celebrate at an intersection in Kaduna, Nigeria.
(NICHOLE SOBECKI / AFP/Getty Images)
Supporters of opposition candidate Muhammadu Buhari's All Progressives Congress party celebrate what they said was a senatorial win in the district of APC candidate Rabiu Musa Kwankwaso in Kano, Nigeria.
(Ben Curtis / Associated Press)
Partial results of the Nigerian presidential election are released by the Independent National Electoral Commission in Lagos, Nigeria, indicating that the All Progressives Congress presidential candidate is ahead.
(Pius Utomi Ekpei / AFP/Getty Images)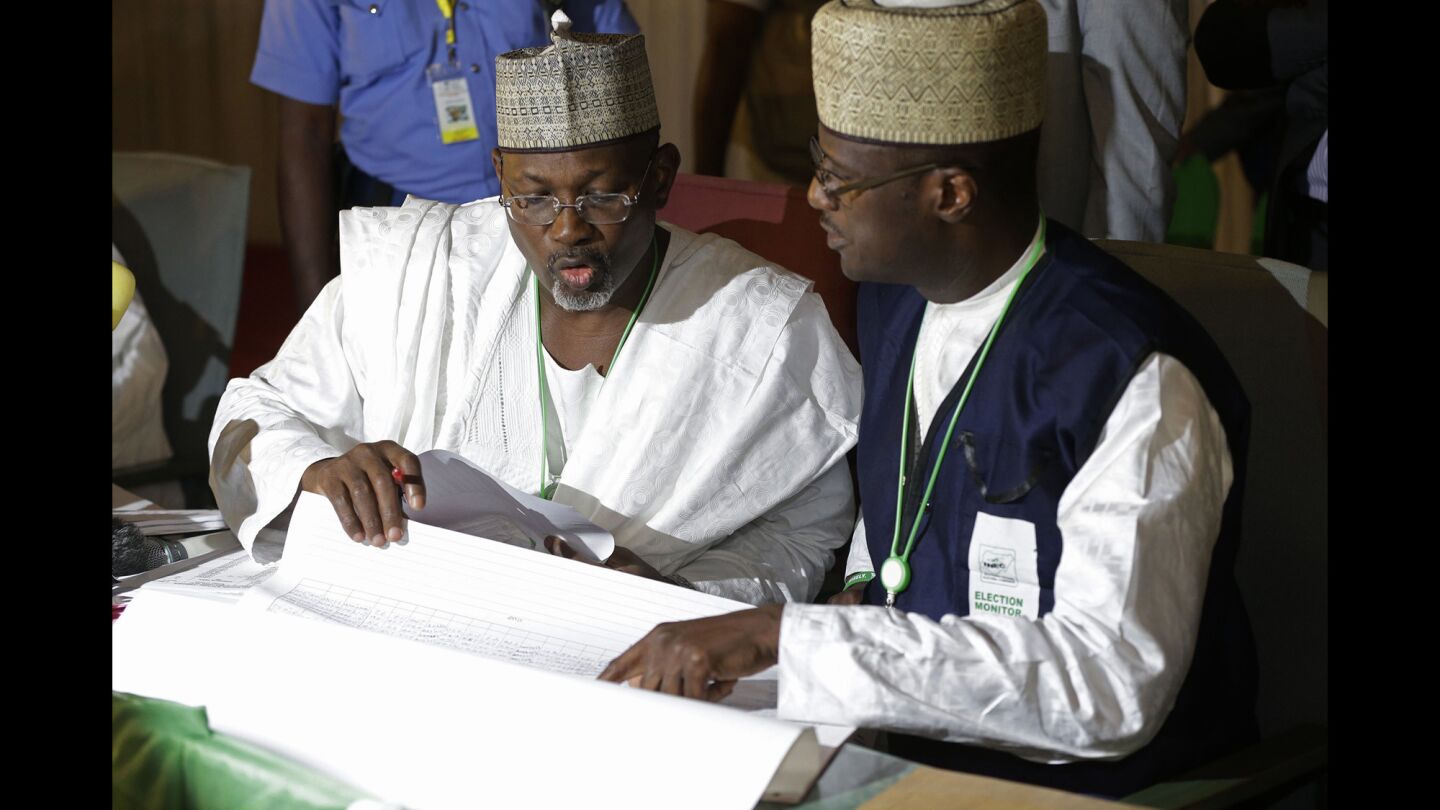 Independent National Electoral Commission Chairman Attahiru Jega, left, and other officials view election results in Abuja, Nigeria.
(Sunday Alamba / Associated Press)
Women line up to cast their votes in the harsh midday sun at a polling station in Daura, the home town of opposition candidate Muhammadu Buhari, in northern Nigeria.
(Ben Curtis / Associated Press)
Reporting from Kano, Nigeria —
In a historic breakthrough for Nigerian democracy, President Goodluck Jonathan conceded defeat Tuesday in a hard-fought presidential election, signaling that he will peacefully turn over power to his victorious rival, Muhammadu Buhari.
Jonathan, 57, the first sitting leader to be defeated at the ballot box, was hailed as a hero by the opposition after he called Buhari, 72, to congratulate him on his victory late Tuesday afternoon, even before the final result was announced.
"Nobody's ambition is worth the blood of any Nigerian," Jonathan said in a statement, the Associated Press reported. "I promised the country free and fair elections. I have kept my word."
Jonathan's concession dramatically reduced the tension in one of the most bitterly contested elections in Nigerian history.
A peaceful transfer of power in Africa's most populous nation sends a strong democratic message across a continent where many presidents cling to power for decades. Democracy advocates worry that several presidents want to engineer changes to their constitutions to extend their terms.
Nigeria's opposition All Progressives Congress, or APC, had stirred up fear that the governing People's Democratic Party, or PDP, planned to scuttle the election.
Jonathan, however, resisted strong pressure from government members who were openly pushing for the removal of Attahiru Jega, the chairman of the Independent National Electoral Commission.
"There had always been this fear that he might not want to concede, but he will remain a hero for this move. The tension will go down dramatically. Anyone who tries to foment trouble on the account that they have lost the election will be doing so purely on his own," APC spokesman Lai Mohammed said.
In another positive sign, a prominent PDP state governor, Ayodele Fayose, urged the governing party's supporters to accept the result.
"The election result is the will of God and Nigerians, and all lovers of peace, progress and development of Nigeria must accept it," he said in a written statement, adding that Nigerians had cemented the country's democracy.
Earlier Tuesday, the opposition APC sent mass text messages to its supporters, urging them to remain indoors and celebrate with their families, warning that the PDP had hired thugs to shoot and bomb those celebrating.
Those warnings were joyously ignored in Kano, the country's second-largest city, which is in Buhari's heartland in the country's north.
Cars raced at top speed with horns blaring, swooping from one side of the road to the other, with people almost spilling from windows, waving the opposition symbol, straw brooms and opposition flags. The air was filled with the smell of burning rubber as motorcycles did crazy skids. Some motorcycle riders drifted along hands free, their arms out by their sides.
People walked around with cellphones glued to their ears, listening as the final results trickled in. Mustafa Mohammed, 25, a student, shared earbuds with a friend as he listened to the news on a smartphone.
"We have been waiting for this very moment since we cast our votes on Saturday," he said. "We are overjoyed. We are just celebrating and congratulating the president-elect."
"Buhari, in his campaign, promised to bring sanity and to fix the security situation in the country. He promised to help our jobless youth to get jobs," he said.
Sitting by the main road watching the celebrations with his young son, schoolteacher Kabiru Musa, 52, said Nigeria was on the verge of momentous change. A truck with dozens of youths shouting and waving tree branches and brooms swerved in a wild U-turn.
"I believe Buhari will do the best for the country and the entire populace. He will try to bring an end to the terrorist menace in the country," Musa said, referring to the militant group Boko Haram, which has waged a devastating insurgency. "He'll make a lot of educational and agricultural improvements."
Nigeria has had a troubled history of violently contested elections, political thuggery, vote rigging, underage voting and contested elections.
As defeat loomed for Jonathan earlier in the day, a senior member of the governing party, which has held power since the end of military rule in 1999, interrupted the count at the Independent National Electoral Commission tally center, shouting angrily that counting had been rigged in favor of the opposition.
Godsday P. Orubebe, former minister for the oil-rich Niger Delta, accused the election commission chairman, Jega, of being "tribalistic" and asserted that the count was biased in favor of Buhari.
"We have lost confidence in what you're doing, we don't believe in you anymore," Orubebe said, as Jega calmly stood his ground.
Jonathan's term was tainted by his failure to fight corruption and to deal decisively with Boko Haram, particularly when it abducted nearly 300 schoolgirls from a village in the country's troubled northeast last year.
Jonathan lost largely because the PDP failed to get out its vote out in his strongholds in the south and southeast, where turnout was well below that of the previous election in 2011, underscoring the depth of popular disillusionment. Buhari, in contrast, saw a massive turnout in the impoverished, predominantly Muslim north.
Nigeria, a country of 170 million, remains balanced between the mainly Muslim north and predominantly Christian south. When he takes power at the end of May, Buhari, a northern Muslim, will face the difficult task of allaying lingering southern fear and smoothing the divide, particularly along the troubled central belt at the crossroad of north and south that has seen sectarian violence.
The result could also presage trouble in the Niger Delta, the heart of Nigeria's oil industry, where former rebel militias supportive of Jonathan may renew attacks on oil pipelines, kidnappings of Western oil workers and massive oil theft.
Buhari's election comes at a difficult time for the country, with a sharp decline in government revenue from oil leaving scant money in government coffers. For decades officials and corrupt insiders have skimmed billions of dollars from the country's national oil company. Although Nigeria is one of Africa's biggest producers, it has to import gasoline.
A retired general, Buhari is seen as a disciplined, uncompromising figure likely to take a hard line on corruption and Boko Haram. One of his major challenges will be driving Boko Haram out of its last refuge in the mountains of northeastern Nigeria, after Jonathan's series of military triumphs over the militants in recent weeks.
As military ruler from 1983 to '85, Buhari ran a harsh anticorruption drive and ruled by decree, introducing restrictions on journalists and dissidents, who could be prosecuted for criticizing the government.
During his campaign, Buhari portrayed himself as a democrat who had changed course since his term as a military ruler. It was his fourth attempt to win the presidential election.
Follow @RobynDixon_LAT on Twitter for news out of Africa
---
Must-read stories from the L.A. Times
Get the day's top news with our Today's Headlines newsletter, sent every weekday morning.
You may occasionally receive promotional content from the Los Angeles Times.