Nigerian president disdains his country's best hospital for medical care in Britain. But what ails him?
Reporting from Johannesburg, South Africa —
An extended medical trip for Nigerian President Muhammadu Buhari, the latest in a long line of leaders in Africa to travel overseas for medical treatment, has prompted a rash of online fake news stories proclaiming "Buhari is dead."
Buhari, 74, who is in London for medical tests, posted photographs of himself meeting Nigerian officials in London to prove he was alive. He looked much thinner, but wasn't bedridden and was able to stand. He tweeted that he was "grateful to Nigerians, Christians and Muslims alike, for their prayers and kind wishes for my health."
But what was wrong with him, if anything? He didn't say.
Nor did any Nigerian officials, as critics clamored that Nigerians had a right to know his condition. The president is awaiting results of tests, according to officials.
His month-long trip continues a controversial tradition in Nigeria and elsewhere on the continent: presidents disdaining their own health services in favor of overseas medical trips often shrouded in secrecy.
In Somalia, famine is looming and families with no food or water are leaving their land
Officials originally announced the trip was a short vacation that would include "routine medical tests." The trip has been extended by almost two weeks, but no details on Buhari's health or the nature of the tests have been released.
It is Buhari's second extended trip to London for medical treatment, after he spent two weeks there last June. The June trip was to treat an ear infection, according to officials. At the time, critics questioned why Buhari couldn't have been treated for such a simple ailment at the special presidential hospital State House Clinic Abuja, reputed to be the best hospital in the country.
The government upgraded the hospital in 2016 at a cost of $16 million, more than the total capital budget for Nigeria's 16 federal teaching hospitals. The hospital provides care for the president, vice president, their families and staff.
Imagine, then, the fate of Nigerians who have no choice, but must seek treatment at the ill-equipped, wretchedly funded hospitals in our country.
— Okey Ndibe, Nigerian novelist and political columnist
Buhari's absence comes as the nation faces a dire economic crisis and soaring inflation, a looming famine in parts of northeastern Nigeria and continuing attacks from the Islamist extremist group Boko Haram. Eleven people died in a suicide attack on a convoy of vehicles preparing to depart Maiduguri, the capital of Borno state, late Thursday.
His decision to consult doctors in London instead of Nigeria has angered many Nigerians, particularly after he promised last year to crack down on "medical tourism" – or foreign medical trips by Nigerian officials. The Nigerian Medical Assn. has estimated wealthy Nigerians spend around $1 billion a year on trips abroad for medical treatment.
After Buhari's London trip for treatment for the ear infection, the association said local specialists would have been capable of treating the problem.
"The best-funded clinic in Nigeria does not suffice to treat the president's ear infection. Nor does the president have enough confidence in the same clinic to do his 'routine checkups' there. Imagine, then, the fate of Nigerians who have no choice, but must seek treatment at the ill-equipped, wretchedly funded hospitals in our country. Are these Nigerians not simply woebegone, bereft of hope?" wrote novelist and political columnist Okey Ndibe on the news website Sahara Reporters.
In Madagascar, mothers weep and send their children to bed without water to drink
Those who travel overseas for health treatment are often wealthy government officials. Several former officials on trial over a series of multi-million dollar fraud cases have sought court permission in recent months to travel abroad for medical treatment.
Last September, Nigeria's former first lady, Patience Jonathan, wrote to the nation's corruption investigation unit, the Economic and Financial Crimes Commission, to say she needed $15 million to pay foreign medical bills. Her money is in accounts owned by associates, frozen by the commission in a corruption investigation.
Nigeria's public health facilities are run-down and overcrowded. The country spends just 3.7% of its gross domestic product on health, compared with more than 17% in the U.S., according to the World Health Organization, while vast amounts are siphoned off by corrupt government officials. Nigeria has only four doctors per 10,000 people.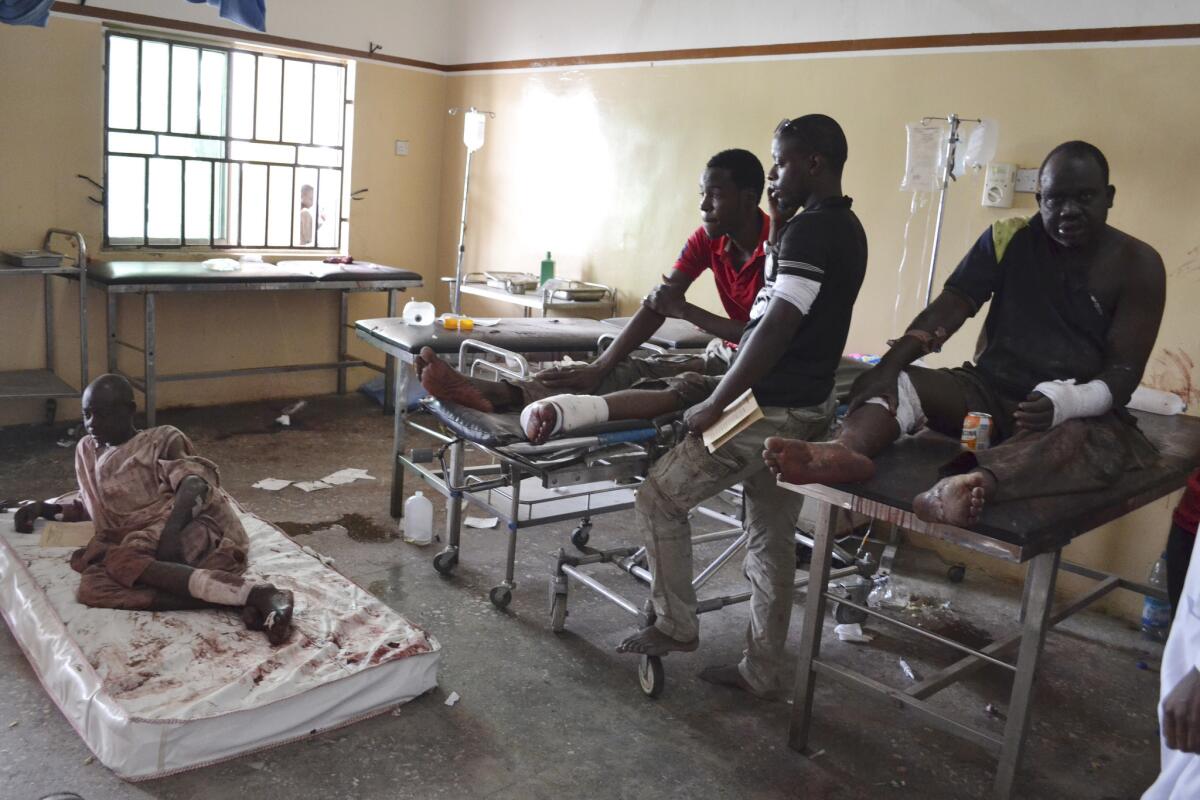 Nigerians are particularly sensitive about presidential overseas visits for medical care, after a former president, Umaru Yar'Adua, disappeared for months for medical treatment in Saudi Arabia in 2009 and 2010, leaving a power vacuum before dying suddenly in office. Officials close to Yar'Adua had persistently denied to the public – and other members of the government – that his health was failing.
Many other African leaders have died suddenly in foreign hospitals, while government officials back home insisted they were healthy. Ethiopia's prime minister, Meles Zenawi, died in a Belgian hospital in 2012 and the president of Guinea Bissau, Malam Bacai Sanha, died in a Paris military hospital the same year. Zambia's President Michael Sata died in a British hospital in 2010, while his predecessor, Levy Mwanawasa, died in a Paris hospital in 2008. Gabonese President Omar Bongo Ondimba died in a Spanish hospital in 2009, after more than four decades in power.
Zimbabwean President Robert Mugabe, 92, frequently flies to Singapore for visits described by officials as "routine eye checks." Hospitals in Zimbabwe have been in a prolonged downward spiral, lacking medicines and basic supplies because of Zimbabwe's economic crisis.
Nigerian Senate leader Bukola Saraki, one of three officials who met Buhari in London, tweeted Thursday that Buhari was "healthy, witty & himself," adding there was no power vacuum and "no cause for alarm."
But the lack of detailed information about Buhari's health tests and possible ailment fueled concerns in Nigeria.
During his absence in London, Buhari spoke by phone to President Trump, who offered to sell military aircraft to Nigeria to assist in the country's struggle with Boko Haram.
Gritty clashes mark what Iraq hopes will be 'the dawn of a great victory' in Mosul
Nigerian officials said Trump had invited Buhari to Washington, D.C., and that the American president told his counterpart to "keep up the great work." The White House made no mention of any invitation.
Some Nigerians argue that if Buhari could speak to Trump by phone, he should be able to address Nigerians.
Buhari's spokesman, Femi Adesina, on Thursday brushed off questions as to why officials hadn't posted videos of Buhari to prove that he was in good health, instead of still photographs.
"The fact that the president is receiving visitors, the fact that he has spoken with the American president and the fact that he has asked us to tell the world that he's fine, I think that's just enough," Adesina said in a Nigerian television interview. He said the president would return soon, but gave no date.
"I wish I could give you a definite date, I really wish, but then we just have to hang on to what the president has told us."
Twitter: @RobynDixon_LAT
Sign up for Essential California for news, features and recommendations from the L.A. Times and beyond in your inbox six days a week.
You may occasionally receive promotional content from the Los Angeles Times.