Oscar Pistorius to stay behind bars -- for now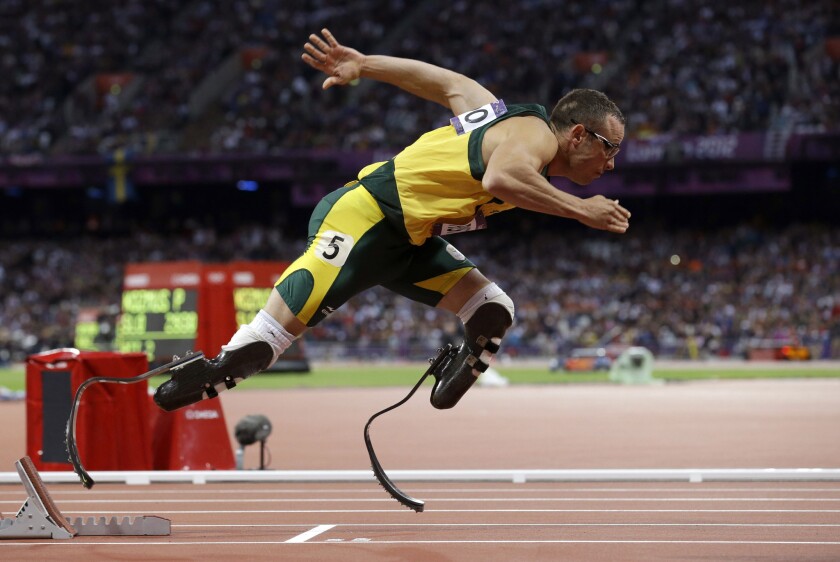 Reporting from Johannesburg, South Africa —
The indignation – and jubilation - over the planned prison release of South African athlete Oscar Pistorius was just ramping up when an unusual Justice Ministry intervention cut it short Wednesday.
The ministry announced that Pistorius, who killed his girlfriend in 2013, will remain behind bars for now.
The double amputee, who gained fame as an Olympic-level runner, had been due for release Friday into home confinement -- derided by some as "mansion arrest," since he was to move to his uncle's palatial Pretoria residence. A parole board had acted based on the length of his term, the nature of his crime and his good behavior in jail.
The announcement came as family members of Pistorius' girlfriend and victim, Reeva Steenkamp, commemorated what would have been her 32nd birthday on a beach on South Africa's south coast.
A court found last year that Pistorius didn't intend to murder Steenkamp, but that he acted with gross negligence, firing four times through the toilet door in his bathroom. He maintained that he believed an intruder, not Steenkamp, was behind the door.
He was convicted of culpable homicide – the equivalent of manslaughter – and sentenced to five years in prison.
The prosecution has appealed his murder acquittal and the sentence, claiming that Judge Thokozile Masipa made errors in her legal analysis of the case. Prosecutors have argued that Pistorius must have known that firing four shots into the small cubicle would kill someone, even if it wasn't Steenkamp. The prosecutorial appeal (allowed under South African law) is due to be heard in November.
Meanwhile, Justice Minister Michael Masutha said in a statement Wednesday that the parole board had acted prematurely in June when it decided to release Pistorius. He referred the matter to the Correctional Supervision and Parole Review Board.
At the time of the decision, Masutha said, Pistorius had served only about six months of his sentence, not 10 months as required by law. Masutha said he had been petitioned by the Progressive Women's Movement of South Africa, opposing the athlete's release.
Pistorius' family accepted the decision but were considering their options, spokeswoman Anneliese Burgess told the Associated Press.
Follow @RobynDixon_LAT for news from Africa
---
Must-read stories from the L.A. Times
Get the day's top news with our Today's Headlines newsletter, sent every weekday morning.
You may occasionally receive promotional content from the Los Angeles Times.