First plane debris, then a volcano eruption on remote Reunion Island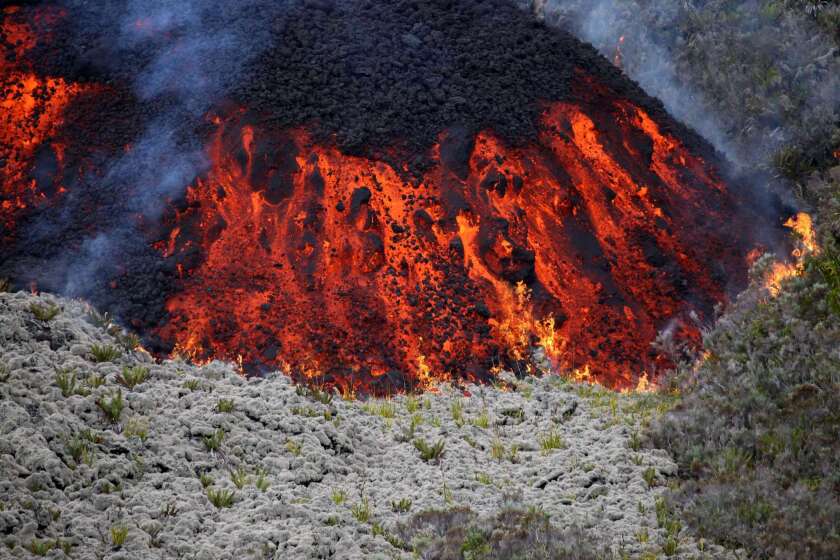 Reporting from Beijing —
Residents of Reunion Island are having a busy week.
On Wednesday, beachcombers on the island — a French territory in the Indian Ocean east of Madagascar — stumbled across a washed-up piece of plane debris that likely belonged to missing Malaysian Airlines Flight 370, yielding a possible key to one of the greatest mysteries in aviation history.
And then on Friday, a volcano erupted.
The 8,635-foot-high Piton de la Fournaise volcano, located in an uninhabited area south of the beach where the debris was found, erupted at 9 a.m., according to local media.
"Several lava fountains are visible, and the lava was making a rumbling sound," reported the local newspaper Clicanoo.
Guillaume Cazarré, 36, a Frenchman who has lived on Reunion for 10 years, told the paper he witnessed the eruption while on a tourist helicopter ride that he had been given as a birthday gift.
"When we passed at the level of the Partage peak around 9:45 a.m., I saw a red glow — the volcano had just woken up," he said. "I mentioned this to the pilot and the other tourists who were in the helicopter. We went near and flew around the area for around five to 10 minutes. The pilot said we couldn't stay any longer for security reasons. It was magical. It was the best present anyone could have given me. Exceptional. I've already seen other eruptions, but this was the best."
The newspaper provided a list of tips for tourists seeking a glimpse of the eruption: Carpool to the site to reduce traffic; do not block other parked cars; wear comfortable walking shoes; pack warm clothing and rain gear; and bring enough food and water.
The volcano erupts once every nine months, according to Reunion Island's tourism website. This year, the island has already experienced eruptions in February and May, each of which lasted a few days.
Besides volcano eruptions, the island is known for its high incidence of shark attacks, 18 of which have been reported since 2011.
Aviation experts and investigators have expressed near certainty that the piece of barnacle-encrusted debris came from Flight 370, which disappeared 16 months ago while carrying 239 people from Kuala Lumpur to Beijing.
Malaysia's Deputy Transport Minister Abdul Aziz Kaprawi said on Friday that a part number on the wreckage confirmed the object was from a Boeing 777. Malaysia Airlines Flight 370 is the only aircraft of that type in the world that is missing.
Kim Willsher in Paris contributed to this report.
Twitter: @JRKaiman
---
Must-read stories from the L.A. Times
Get all the day's most vital news with our Today's Headlines newsletter, sent every weekday morning.
You may occasionally receive promotional content from the Los Angeles Times.