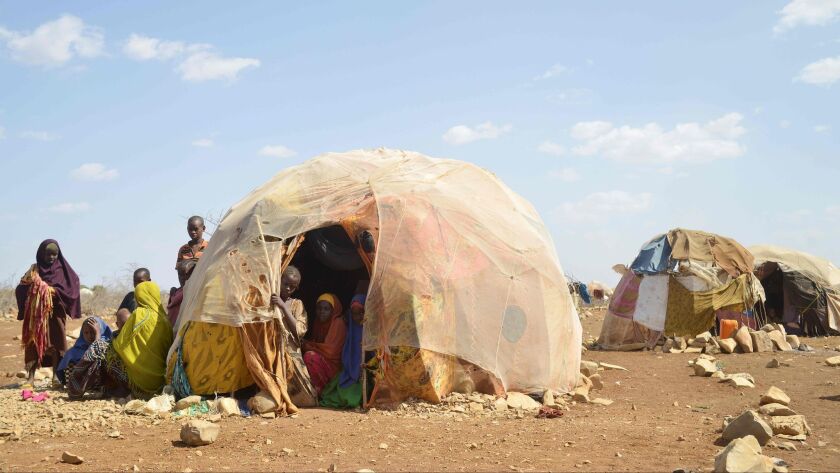 Reporting from JOHANNESBURG, South Africa —
Dozens of soldiers were killed early Thursday in a dawn attack by the Somali extremist group the Shabab on a military base in the Somali region of Puntland.
The Shabab — allied with Islamic State rival Al Qaeda — said it was responsible for the attack and claimed to have killed 61 soldiers. The precise casualty figure was not known but the Associated Press cited a military official as saying up to 70 were killed.
It was the Shabab's largest attack during the Muslim holy month of Ramadan, a period seen by militants as a key time for attacks.
Extremists have carried out a series of Ramadan attacks in London, Paris and Tehran, as well as Kabul, Afghanistan; Baghdad; Mogadishu, Somalia; and Melbourne, Australia. There have been attacks in northeastern Nigeria, Kenya, Cameroon and the Philippines. The deadliest attack was an explosion in a neighborhood in Kabul where many Western embassies are located, which killed 150 people and injured hundreds.
Islamic State has claimed responsibility for the bulk of the attacks.
Somalia has been mired in civil war for decades, but elected a new president in February, in an election that many hope will usher in a more stable and peaceful period. Nonetheless, the Shabab continues to carry out almost-daily attacks targeting soldiers, police and government officials — but also often killing civilians.
Suicide attacks on hotels and cafes and drive-by shootings are common in the capital, Mogadishu, often targeting government workers.
The attack on the Af-Urur military base in the Galgala mountains killed the base commander and his deputy in Puntland, a semiautonomous region that has its own 3,000-strong military force. Under a deal between the Somali and Puntland governments, the force is to be integrated into the Western-backed national army.
In a tactic repeated frequently on other military bases, the Shabab suicide bomber or bombers attacked first, before fighters overrun the facility, killing dozens. The Shabab has often used the same tactic in attacking Mogadishu hotels, with a suicide bomber in a car loaded with explosives spearheading the attack, before armed fighters swarm in, taking control of the building, killing civilians.
The AP reported that civilians in the area, including women and children, were beheaded during the attack.
The group seized weapons and military vehicles in the attack.
A similar attack on a Kenyan base in southern Somalia in April last year killed about 180 soldiers, making it Kenya's largest military loss. Militants later posted photographs and video purporting to show the attack and killings of Kenyan soldiers.
Kenya is part of a United Nations-backed African Union force seeking to stabilize Somalia and drive out the Shabab, and Islamic State, which has recently taken hold in some parts of the country.
But despite losing a series of commanders to American drone strikes, the Shabab has proved nimble and versatile, capable of inflicting devastating attacks, including bombings and shootings in Mogadishu
Twitter: @RobynDixon_LAT
---