South Africa's Zuma faces calls to resign after report points to possible corruption in his government
Reporting from Johannesburg, South Africa —
South Africa's embattled president, Jacob Zuma, faces mounting calls to resign over claims he turned a blind eye to corruption and allowed a powerful family of Indian businessmen to meddle in government affairs.
A parliamentary watchdog reported Wednesday that Zuma may have breached government rules on ethics, and a company in which his son held an interest may have committed fraud.
Members of the Gupta family, which made more than $500 billion from business dealings with the government, boasted to one government figure that they made Zuma's son into a multimillionaire, according to testimony revealed in the report.
Zuma has so far been protected by the governing party's national executive committee – but the damaging report may help Zuma's enemies turn the panel against him.
If that were to happen, Zuma could be removed from office by the party before his presidential term expires in 2019.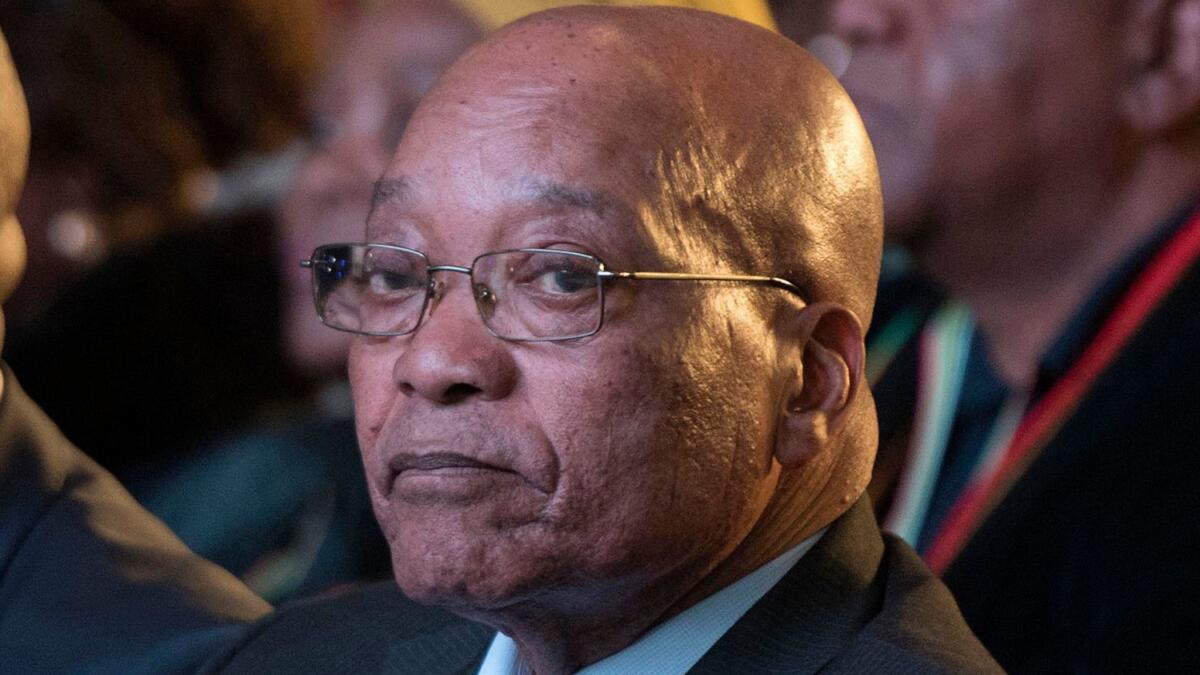 It's difficult to gauge how likely that may be. But the problems are piling up for Zuma: He also faces the possibility of having to deal with 783 corruption and racketeering charges, which were dropped just before he came to office as president in 2009. In April, the High Court overturned that decision, and if Zuma's appeal to the Supreme Court of Appeal fails in the near future, he may face prosecution.
The report issued Wednesday was produced by the former public protector, Thuli Madonsela, just before her term expired last month. (The public protector is an independent investigator established under the South African Constitution.) Her office assembled evidence of possible wrongdoing by Zuma, members of the Gupta family, companies associated with it and with Zuma's son, Duduzane Zuma, and the board of the state-owned electricity provider, Eskom.
It stopped short of determining whether crimes had been committed, but called on Zuma to set up a judicial inquiry into his own inner circle within 30 days.
Thousands of people, many of them associated with opposition parties, demonstrated Wednesday in Pretoria, the seat of government, calling for Zuma to step down. The report came one day after the Nelson Mandela Foundation, set up by the country's revered former president, said Zuma had "failed the test" of national leadership, and called on the governing party to put the country in safe hands.
Jacob Zuma initially took legal action to suppress the public protector's report, but withdrew the action Wednesday. However he accused Madonsela of violating his rights and said he may yet challenge the report in court.
The allegations of wrongdoing center on a powerful Indian-born business family, Ajay, Atul and Rajesh Gupta, who have extensive interests in mining, arms and a newspaper. The report found Zuma may have breached ethics because he knew of allegations the family improperly interfered in government affairs, including their alleged offers of a bribe to a deputy minister, but did nothing.
A spokesman for the Gupta family said its members welcomed the inquiry as a chance to clear their names. It said the report was "riddled with errors and subject to rebuttal."
In the past, Zuma has acknowledged his friendship with the Guptas but denied any wrongdoing.
Zuma is alleged to have called a government official responsible for the government advertising budget, Themba Maseko, in late 2010 and told him: "The Gupta brothers need your help. Please help them."
At a meeting at the Gupta family mansion north of Johannesburg later that day, the report said, Ajay Gupta told Maseko to direct government advertising to a newspaper the family was starting up. If any government ministers resisted, he reportedly said, "We will deal with them. If you have a problem with any department, we will summon ministers here."
Later, when Maseko didn't cooperate, Ajay Gupta threatened to "sort him out" and replace him with someone more cooperative, the report said.
Deputy Finance Minister Mcebisi Jonas reportedly told the public protector's investigation that Duduzane Zuma set up a meeting with the Gupta brothers at their home last year, drove him there and was present when Ajay Gupta offered Jonas the job of finance minister.
The report says Ajay Gupta offered Jonas $46 million if he cooperated with the family's business interests, including $46,000 he could take with him immediately as cash in a bag. It said Jonas rejected the offer, and the job.
The report also says that Ajay Gupta mentioned that the family had made Duduzane Zuma a multimillionaire. Jonas said Gupta told him the family had made nearly $500 million in its business dealings with the government, but the family wanted to increase that amount to more than $600 million. However, they needed a finance minister who would not stand in their way.
robyn.dixon@latimes.com
ALSO
The Nelson Mandela Foundation lambastes South Africa's Zuma
South Africa quitting international court created to prosecute world's worst criminals
Bombs, beatings, rape: Freed Nigerian women tell harrowing tales of life as a forced Boko Haram bride
Sign up for Essential California for news, features and recommendations from the L.A. Times and beyond in your inbox six days a week.
You may occasionally receive promotional content from the Los Angeles Times.