Bombs, beatings, rape: Freed Nigerian women tell harrowing tales of life as a forced Boko Haram bride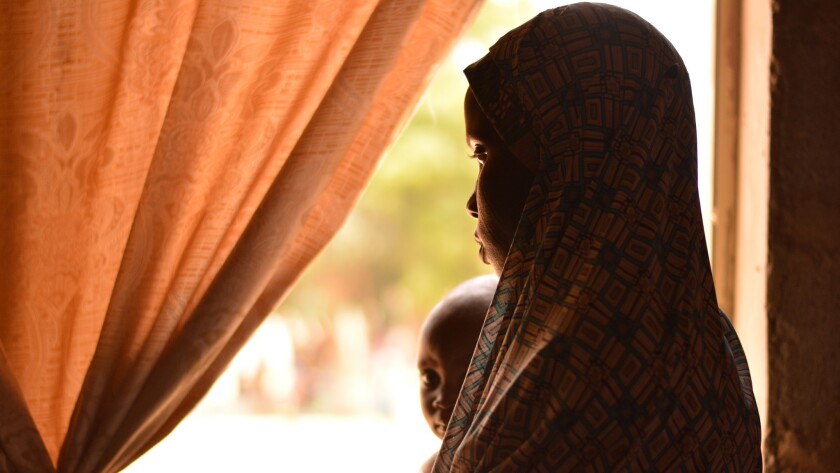 Reporting from Maiduguri, Nigeria —
When the Nigerian military drove Boko Haram from the towns it had claimed for its self-declared caliphate, life got much worse for Fatima Ahmadu.
Like so many other women and girls stolen by the militants during years of attacks on civilians, she was taken to a camp in the Sambisa Forest, near the border with Cameroon. There, the 40-year-old mother of seven was imprisoned in a pit until she agreed to marry a fighter who went by the name Abu Sata.
"It was suffering upon suffering. He was always threatening me, saying he knew I wanted to escape," Ahmadu said of the man she was forced to marry.
One afternoon, she tried to creep away but was caught by the group's religious police, the hisbah, who began flogging her.
"My prayers were answered and a plane dropped a bomb as they were beating me, and everybody ran away," she said. "That's when I escaped."
Ahmadu is one of hundreds of abducted women and girls from three northeastern states who have staggered to freedom in recent months, many of them pregnant or carrying babies fathered by Boko Haram fighters.
Just this week, 21 girls taken from their school dormitories in the town of Chibok in 2014 were freed after negotiations between the Nigerian government and the militants. But nearly 200 others captured with them are still missing, and some are believed to have died.
Nigeria's government confirmed 21 of the 218 missing schoolgirls abducted in 2014 by the extremist group Boko Haram have been released.
Thanks in part to a Twitter hashtag that went viral, #BringBackOurGirls, the world has closely followed the fate of the Chibok girls. But theirs is just part of a sweeping tragedy: Thousands of other women and girls in northeastern Nigeria were also abducted and forced into marriages to Boko Haram fighters.
They tell harrowing stories of friends and neighbors killed for refusing to accept marriage to a fighter or for trying to escape, and of beatings for small infractions.
Many of them were seized when Boko Haram took control of their towns in 2014 and 2015, then incarcerated in packed houses. As the group retreated under government fire, they endured terrifying bombing raids, hunger and disease alongside their captors.
Ahmadu had already been abandoned by the father of her children when a massive convoy of Boko Haram fighters attacked her village of Pulka 22 months ago. They unleashed a storm of killing.
"They killed [people] any way they found them, either slitting their throats, or shooting them, or beheading them, or hacking them with machetes," she recalled. "The whole place was burning."
A Muslim who speaks the same Kanuri dialect as the fighters, she was spared killing. But her Christian neighbors were dragged from their house and shot dead in front of her. When she tried to plead their case, she said, the fighters threatened to kill her, too.
After Boko Haram had control of the town, the militants called everyone to the main square to witness the execution of a prisoner, a member of a community resistance force. They also amputated the hands of five accused thieves, then plunged the severed limbs into a pot of boiling fat.
It was suffering upon suffering.  He was always threatening me, saying he knew I wanted to escape.
— Fatima Ahmadu, forced into marriage with a Boko Haram fighter
Ahmadu managed to scrape together enough money to buy her children's freedom and get them out of Pulka. But she said she couldn't afford the face-covering veil that the militants insisted she buy from them before they would let her go.
She is now recovering from her ordeal at a sprawling camp in the northeastern city of Maiduguri that is full of people who fled Boko Haram.
A disquieting aspect of the tragedy has been the differing responses by government officials and the global community to the Chibok girls versus the thousands of other abductees.
One example is the lengths to which the Nigerian authorities have gone to recover the Chibok girls, including entering into negotiations with Boko Haram for the first time. Other abductees had to escape on their own or wait for a military rescue.
When Hadiza Mala smuggled her four children out of a Boko Haram camp with another woman, the fighters tied her down under the blazing sun for a day.
Mala, another abandoned wife, was unaware that her new husband was a Boko Haram commander when she married him in a village outside the town of Gwoza. Horrified when she found his gun, she said she reported him to local authorities, who did nothing.
Her husband's fighters threatened to kill her for betraying him and told her she would never escape.
Two years ago, her husband took her into the forest after the military attacked their village.
"My children were enrolled in a Boko Haram indoctrination school. We were kept in harrowing conditions, in a hut with spikes around it," said Mala, 40.
"I saw them beating and humiliating so many other women. They even took some of them into the bush and killed them."
She finally made her escape when the fighters were away on a night attack, and the guards who were supposing to be watching the camp had fallen asleep.
Another difference between the Chibok girls and the many others who suffered the same fate is their treatment after being freed. The Chibok girls were flown to Nigeria's capital, where a team of doctors and trauma counselors waited. Other abductees said they were placed in military detention camps and interrogated before being released into displacement camps.
When 14-year-old Yakaka was seized from a village near Bama, one of the towns hit hardest by Boko Haram, the fighters who oppose Western-style education told her they were taking her away so that she could learn the Koran.
She said every fighter in the Boko Haram camp had a wife, most of whom were abducted. She was married to a man named Modu Gana.
"I never liked him," said Yakaka, her expression numb and her voice a soft monotone. "I was forcefully married, and if I refused, I would have been killed. I did it to survive."
The Los Angeles Times is withholding her surname because she is a minor and a sexual assault victim.
There was little food at the Sambisa camp and no medicine.
"There were problems like typhoid and yellow fever and all kinds of sicknesses," Yakaka said. "People died."
She escaped with several other girls by convincing the fighters that they loved their "husbands," but wanted to visit their home village for a day.
They trekked through the bush until they met Nigerian soldiers and surrendered to them. They were then placed in the notorious Giwa military detention camp and interrogated for two months.
Yakaka was released from detention last week and sent to another displaced persons' camp in Maiduguri.
She was lucky. When her family saw her there for the first time, they ran and embraced her joyfully.
Some girls face a heavy stigma for being Boko Haram "wives" and are shunned by relatives and community members who fear they may have been brainwashed by their captors.
Four months pregnant, Yakaka is trying to assemble the building blocks to start her life again. She wants to go to school and get an education.
"Thank God I was able to escape," she said. "Now I'll start a new life, with hope for my future."
Twitter: @RobynDixon_LAT
---
Must-read stories from the L.A. Times
Get the day's top news with our Today's Headlines newsletter, sent every weekday morning.
You may occasionally receive promotional content from the Los Angeles Times.