In South Africa, a protest against foreigners turns violent. Why was it allowed to go ahead?
Reporting from Johannesburg, South Africa —
South African authorities are under fire for allowing an anti-immigrant "march of hatred" to go ahead in Pretoria Friday, just days after a series of violent attacks against Somalis, Nigerians and other foreigners.
The results were predictable: Police arrested 136 people, many of them protesters and looters armed with clubs, sticks, pipes and rocks. Migrants, terrified of being attacked, armed themselves with sticks and clubs too.
Police averted a violent confrontation between the two groups at a Pretoria intersection, dispersing both sides using rubber bullets. At another location, tear gas and water cannons were also used.
South Africa, where 35% of people are unemployed or have given up searching for work, has experienced successive surges of xenophobic violence, often targeting Somali and Pakistani people who operate small shops in townships and shanty towns.
During the latest attacks this week — in Rosettenville, near the city of Johannesburg, and in Atteridgeville and Pretoria West, near the capital, Pretoria — houses were set on fire and shops looted.
The Nelson Mandela Foundation, which carries on the conciliatory legacy of the country's late first black president, expressed dismay that authorities had allowed Friday's "march of hatred" to go ahead.
"The Nelson Mandela Foundation strongly condemns attacks on those perceived to be foreigners in South Africa," the group said in a statement. "This is the latest manifestation of a phenomenon which has been troubling our democracy for a long time."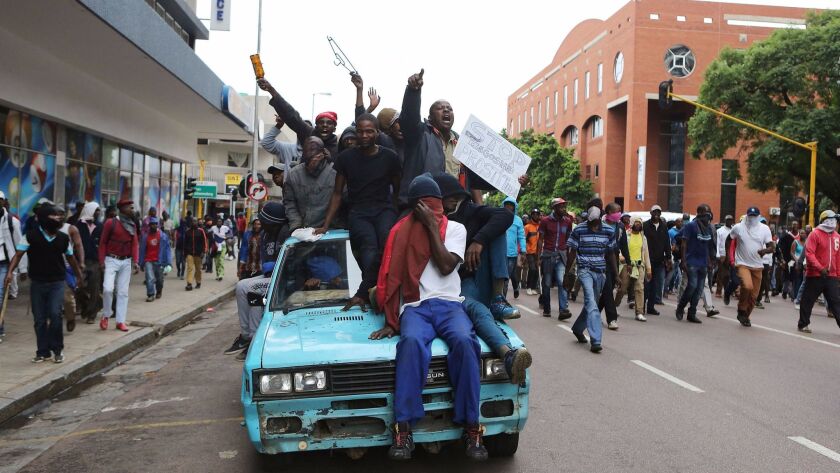 Some of the worst mob violence against foreigners in recent years swept across the nation in 2008, when at least 60 people were killed, many of them dragged from their homes or attacked in their shops. Some people were burned alive.
Similar attacks took place two years ago in Durban, killing at least six people. But smaller incidents occur frequently in South African townships.
Those at the center of this week's attacks accused migrants of drug dealing, pimping and stealing South African jobs.
A three-page petition by the protesters, delivered to the Home Affairs Department in Pretoria on Friday, said foreigners were "arrogant and they don't know how to talk to people," the Associated Press reported. The petition called on the government to prevent foreigners from establishing shops and transport businesses and charging "unfair prices."
The acting police commissioner, Khomotso Phahlane, said the protesters had a constitutional right to air their views, adding that the march was not only about immigrants but the involvement of some foreigners in crime.
"Our constitution provides for people to express their views," he told reporters. "Equally so, the law provides for people to apply for a march or a protest to take place."
But he said the protesters had ignored government appeals to march peacefully and had thrown rocks, burned tires, looted and damaged property.
"They also, without authority to do so, marched on the central business district, where they were dispersed after there was a confrontation with another group apparently consisting of non-South Africans," he said.
Police were criticized for allowing the armed protesters to move into central Pretoria where a violent showdown was narrowly avoided. But Phahlane said police had to be careful not to be too heavy handed.
"We are happy the situation did not get out of hand," he said.
Phahlane said some people had been circulating a fake video on social media to incite violence. The video depicted people sharpening weapons, but was actually filmed two years ago during the Durban violence.
South African President Jacob Zuma said concern about crime and drugs was widespread.
"I've been told people leading the march are saying it's not an anti-foreigners march, it is anti-crime," Zuma told journalists Friday. "Those involved in crime happen to be amongst them, those who come from other countries."
His office later issued a statement calling on South Africans not to blame all foreigners for crime. Although the president noted in the statement that many foreigners living in South Africa were law abiding and contributed to the economy, he appeared to endorse the view that illegal immigration threatens South African jobs.
"The president said government has also noted the complaints of South Africans about companies that employ illegal immigrants," the statement said. "He reiterated that the Department of Home Affairs will be cracking down on all employers who continue with this practice, which is dangerous as it pits locals against non-nationals."
The latest bout of violence has raised tensions between the continent's two major economic powers, South Africa and Nigeria.
The Nigerian government summoned South Africa's ambassador this week to demand an explanation of the handling of the bloodshed after Nigerian citizens were attacked.
On Thursday, protesters broke into the office of the South African cellphone company MTN in the Nigerian capital, Abuja, and damaged equipment in apparent retaliation for the attacks against Nigerians in South Africa.
Twitter: @RobynDixon_LAT
---
Must-read stories from the L.A. Times
Get all the day's most vital news with our Today's Headlines newsletter, sent every weekday morning.
You may occasionally receive promotional content from the Los Angeles Times.