From typist to first lady of Zimbabwe to presidental contender. Did Grace Mugabe's political ambitions topple her husband?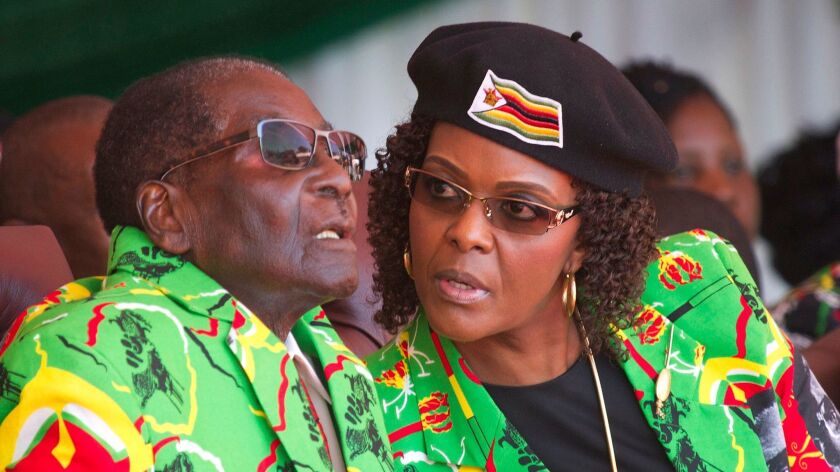 To supporters, she is a talented businesswoman and philanthropist. Detractors consider her a shrewd and power-hungry opportunist.
Now it appears that the machinations of Grace Mugabe have unintentionally led to the downfall of her 93-year-old husband, Robert Mugabe, the president of Zimbabwe and one of Africa's last independence-era strongmen.
Tanks rolled through the streets of the capital, Harare, on Wednesday after the military seized state television and confined the president to his home.
An army spokesman said that it was not a coup and that Mugabe was safe. But there was no immediate word from the president.
So what led to this showdown?
Observers point to Grace Mugabe.
She and Vice President Emmerson Mnangagwa were rivals to succeed Mugabe, and the fight between them fractured the ruling party, the Zimbabwe African National Union—Patriotic Front, known as ZANU-PF.
Last week, the president dismissed Mnangagwa, a former defense minister and independence war veteran, after Grace Mugabe accused his supporters of planning a coup.
The removal cleared the way for the 52-year-old first lady, Mugabe's wife of two decades, to ascend to the top office — until the military intervened Wednesday and took control of the country.
Her fate, like that of her husband, remains unclear.
Their relationship began as an affair while she was working as a typist at the State House. At the time, she was married to an air force pilot, with whom she had a son. The president was also married.
As the story goes, Mugabe wooed his new bride-to-be — who was born in neighboring South Africa — over tea and scones.
"He came to me and started asking about my family," Grace Mugabe reportedly told South African journalist Dali Tambo in 2013. "He just started talking to me, asking me about my life. 'Were you married before?' Things like that. … I didn't know it was leading somewhere. I was quite a shy person, very shy."
His first wife, Sally, died from cancer in 1992, and four years later he married Grace, with whom he already had two children. The nuptials were so lavish it was dubbed the "Wedding of the Century." A third child arrived a year later.
The opulent wedding was an early indication of Grace's extravagant tastes.
After the wedding, she reportedly rejected two official residences offered to the couple, opting instead to order the construction of a new mansion. She has since reportedly overseen the construction of two palaces, one costing at least $26 million.
Today, the Mugabes are said to own properties worth billions of dollars around the world, including in Malaysia and Hong Kong, as well as lucrative farmlands in Zimbabwe.
Grace Mugabe's penchant for shopping sprees became legendary. On one extravaganza in Paris she reportedly spent at least $100,000. Critics nicknamed her "Gucci Grace."
The reproach has come as Zimbabwe's economy lies in shambles due to mismanagement, corruption and a controversial land reform program that evicted white farmers from profitable farms they had run for generations. In recent years, severe drought has ravaged agriculture and driven up food prices.
More than 60% of the country's 16 million people live in poverty. The national currency, the Zimbabwean dollar, is virtually worthless. At one point, inflation hit 500 billion percent.
In 2002, the European Union imposed sanctions on dozens of members of Zimbabwe's leadership, in retaliation for being barred from observing the country's presidential election that year. The United States imposed similar restrictions. The first lady was forced to cut back on overseas shopping trips.
Grace Mugabe's supporters contend that she is misunderstood and is being unfairly treated. They admire her strong support of her husband. They praise her philanthropy, her founding of an orphanage and what they describe as her skills as a businesswoman.
She built a dairy farming empire on land formerly owned by white Zimbabweans. She has also run several mining businesses, although most are reported to have failed.
At rallies supporters serenade her as "mother of the nation."
Her birthday has become a day of national celebration, with gushing tributes splashed on the front page of pro-government publications and on state television.
But for all her purported attributes, Grace Mugabe is feared and has shown herself to be ruthless.
"She has recently gained the reputation of being very arrogant, very autocratic in terms of the way in which she deals with people who question her and who question her husband," said Edmond J. Keller, a political scientist and Africa expert at UCLA.
In August, the first lady was accused of assaulting a South African model with an electric extension cord after finding the woman in a hotel room with her sons. She failed to appear for a court hearing and was granted diplomatic immunity.
Earlier this month, Zimbabwe state media reported that four people were arrested after being accused of booing the first lady at a rally.
Her rise in the political arena gained significant traction with her 2014 appointment as first secretary of the ruling party's women's league.
The position gave her a seat on the party's powerful Politburo. Around the same time, the University of Zimbabwe awarded her a doctorate in sociology that seemed to boost her credentials. But critics questioned the degree's validity because she was registered at the school for only three months and never defended a dissertation, according to media reports.
She soon launched a series of rallies, where she shone as the primary sycophant for her husband. She started accusing the then-vice president, Joice Mujuru, of plotting to oust her husband. Mujuru was ultimately fired.
At one rally she was quoted as saying: "They want me to be president. Why not? Am I not a Zimbabwean?"
For more on global development news, see our Global Development Watch page, and follow me @AMSimmons1 on Twitter
---
Must-read stories from the L.A. Times
Get all the day's most vital news with our Today's Headlines newsletter, sent every weekday morning.
You may occasionally receive promotional content from the Los Angeles Times.